Burda of the Past: My Pick for 1971 (Burda 9/1971, #9760)
Yay for my very first completed Burda of the Past project! It has been a long time in the making, but I think it's really fun and very wearable, so I'm quite happy with it.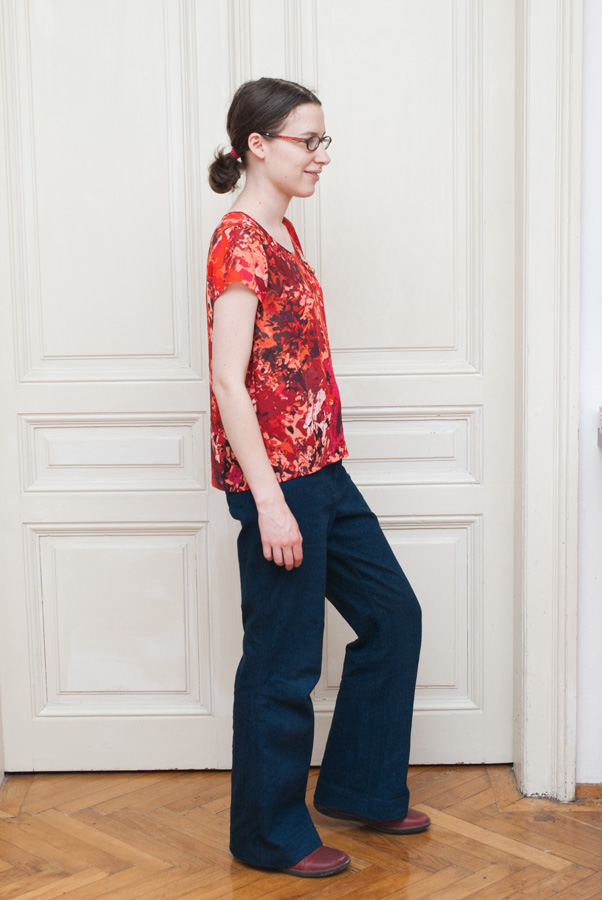 Patterns
The trousers are Burda 9/1971, #9760, trousers with a matching waistcoat, in size 38/40. In 1971, that meant a waist measurement of 64cm (!!), with a hip measurement of 94cm. My hip measurement is close, my waist measurement … is not that close. And no, I haven't made the waistcoat (yet). I was going to, but this is pretty much a wearable toile, and I really didn't want a blue denim waistcoat.
I have decided that it would be fun to include the original model photos of my Burda of the Past projects, as styled in the Burda magazines—so here you go: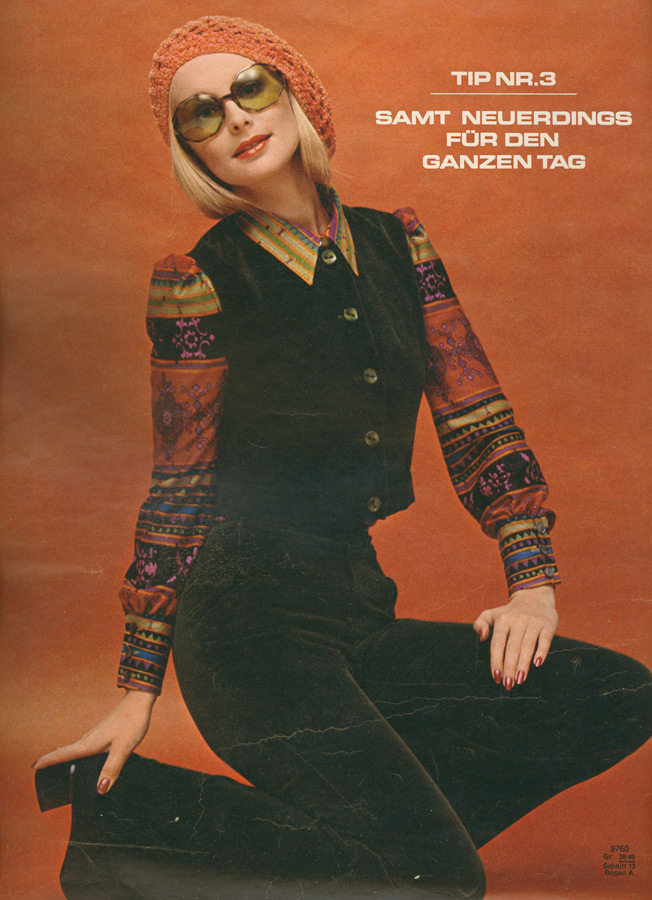 I'm wearing my new trousers with a Grainline Studio Scout Tee I made a while ago from a cheap viscose crêpe I bought at Müller because it was 100% viscose and I liked the colours. It was a bitch to work with, but the result is decent enough—and very comfortable to wear when it's hot! I made a straight size 2, as far as I remember, and didn't take any notes because the process was very uneventful.
Fabrics
The main trouser fabric is a rather heavy denim from Müller. It is allegedly 97% cotton and 3% elastane. It is pretty stiff, with a slight stretch, but since I didn't want the flared legs to droop, it had to be a fabric with some body, and this just about fit the bill.
I used a scrap of cotton plaid fabric for the fly facing and bound the seams with bias tape I made a while ago from a lightweight pink floral cotton fabric.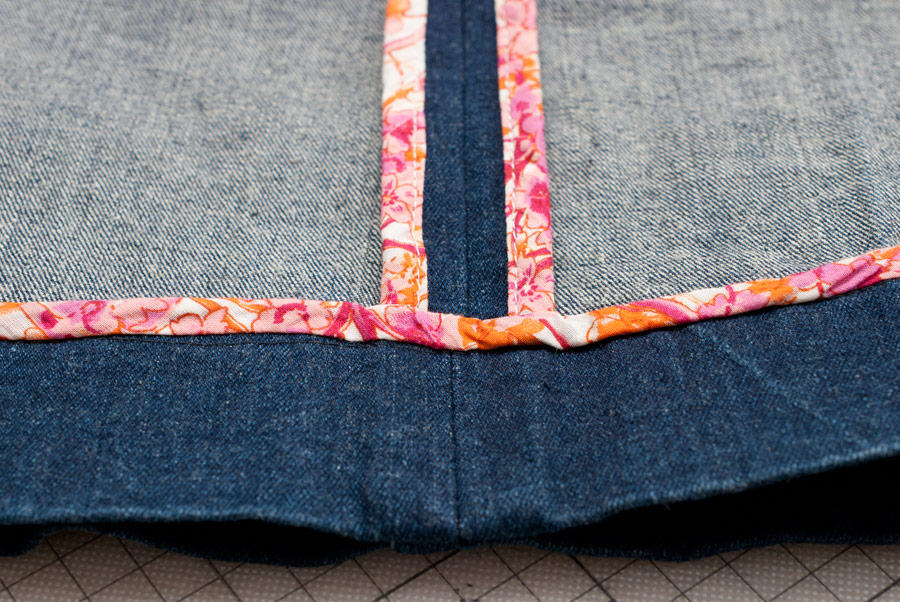 Adjustments
So, as I mentioned above, this pattern was probably about a size too small for me—but since Burda magazine patterns only came in a single size (or sometimes two) back then, there was nothing much I could do other than make a toile and adjust it until it fit. Going by the measurements, I actually thought that this might be the closest size to mine, but Burda patterns didn't have any excess ease back then, it seems. The first toile didn't even come close to fitting around my waist or derrière even though my hip measurement pretty much matches the measurements chart, and the fabric has some stretch.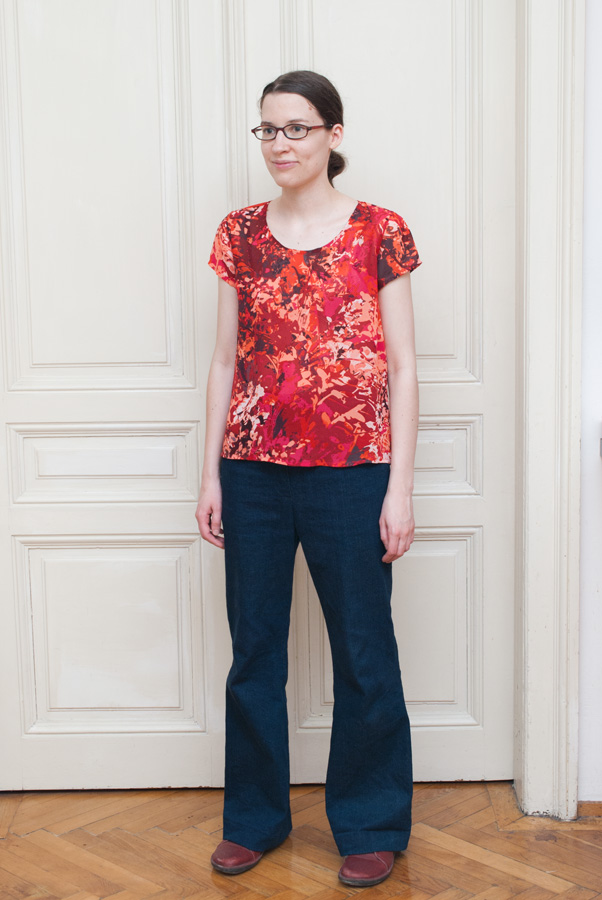 I asked my mum to help me with the fitting, since it's a pain to pin adjustments on one's own behind. We unpicked the side seams and cut the waistband apart at the side seams as well. We then pinned wedge-shaped pieces of fabric in to make the pattern fit around my waist. We were going to do a Large Prominent Buttocks Adjustment as well, but my mum was really happy with how the darts looked after adjusting the side seams, so we left it at that for the second toile.

My mum also drew in new side seams. I ended up moving the original seams to the front by about 2cm, but at an angle around the waist/hips, so they would be straight at my sides.

The above two adjustments made the waist quite a bit bigger and reduced the hip curve to an almost-straight line. I do have a waist, but I have somewhat narrow hips and I often have to adjust hip curves on trouser or skirt patterns.

My mum also pinned out a wedge at centre back to adjust for my swayback. I took about a 1cm wedge off the back pattern piece at centre back.

I lengthened the back piece at the top by about 2cm at centre back, tapering to nothing at the side seam. The trousers initially came up higher in front on me than in the back and that just looked really odd. I'm sure that's because my behind takes up more fabric than the pattern expected, and since I didn't do a proper adjustment for that, it didn't surprise me much that I needed more fabric there.

After the second toile, I did a small Large Prominent Buttocks Adjustment after all, since there was still a tiny bit of pulling in the back. I only added about half a centimetre of ease, but I thought that that might make a difference, and I think it did.

At first I was going to sew single-welt pockets instead of the double-welt pockets the pattern calls for, but then I changed my mind and left them off altogether for this iteration. I still like the idea, but this fabric is very stiff and my practice pocket didn't look great, and since I didn't even know whether the trousers would fit and/or suit me, I decided to save myself some work by leaving the pockets off altogether.

I drafted separate fly facing and fly shield pattern pieces instead of the cut-on fly facings the pattern had. I just really prefer to construct a fly from all the traditional pieces, I suck at the other construction method. I also made the fly topstitching a little wider. It was really narrow on the original pattern, which looked odd to me. (I'm sure it was perfectly normal for the 70s and I was tempted to leave it for more authenticity, but then I chose to adjust it for my personal taste after all.)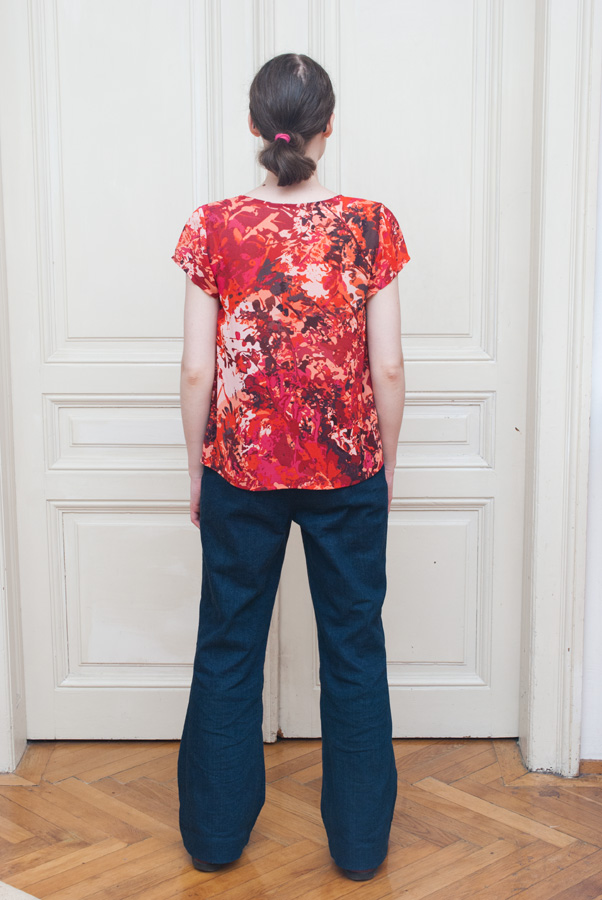 What I want to do differently next time
I seem to have overdone the ease around the waist, and I think that I lost a little weight between fitting my toile and finishing the trousers—so now they sit lower on me than I wanted them. I should probably either remove a little ease around the waist and upper hips again next time, or add belt loops, or both.

I'd definitely like to slim down the legs above the knees, and possibly make them slightly wider at the hem. I feel like this pattern is a very toned-town version of 70s flared trousers, and I think that a more pronounced flare might be fun.

Having said that, I might also try a version with straight legs. I like the overall fit, so I'm thinking that this pattern might work well for all kinds of trousers if I adjust the leg width and shape.

I might convert the waistband to a contoured one next time. It's the main thing that I'm slightly unhappy with on this version: The back gapes a bit when I sit down. It's nowhere near as bad as it is for any and all ready-to-wear trousers I own, but I think that a contoured waistband would probably improve the fit in the back. I thought that for trousers that sit at the natural waist, it wouldn't be necessary, but I might have been wrong—or perhaps it's mostly because the trousers don't actually stay at my natural waist.

I should have been more zealous about trimming/grading the seam allowances, particularly inside the waistband. It has ended up quite bulky and doesn't look very professional.

Pockets, definitely! I still want a version with slanted single-welt pockets in front, and I think that I'll try that for the next version that isn't made from quite as stiff and heavy a fabric. I'd also like patch pockets in the back—if only they weren't so dang hard to position! And I might even play with adjusting the front piece to add jeans pockets—which won't be completely trivial because of the double darts in front.
Photos of me taken by my boyfriend.