Finished: Bright Red Thread Theory Jutland Trousers
So, I made my boyfriend some trousers months ago and never got around to writing about them. They're red, which is a notoriously hard-to-photograph colour, my boyfriend doesn't like to pose for photos, and he wore the trousers before I got around to taking pictures. The resulting photos are pretty bad, but sometimes you'll just have to take what you can get.
Pattern
These are the Thread Theory Jutland Pants. I made Variation 1 in a size 30, but with the back patch pockets of Variation 2. My boyfriend would probably be closer to a size 28, but the 30 is the smallest size for this pattern, so I had to take the trousers in quite a bit in various places, as detailed below.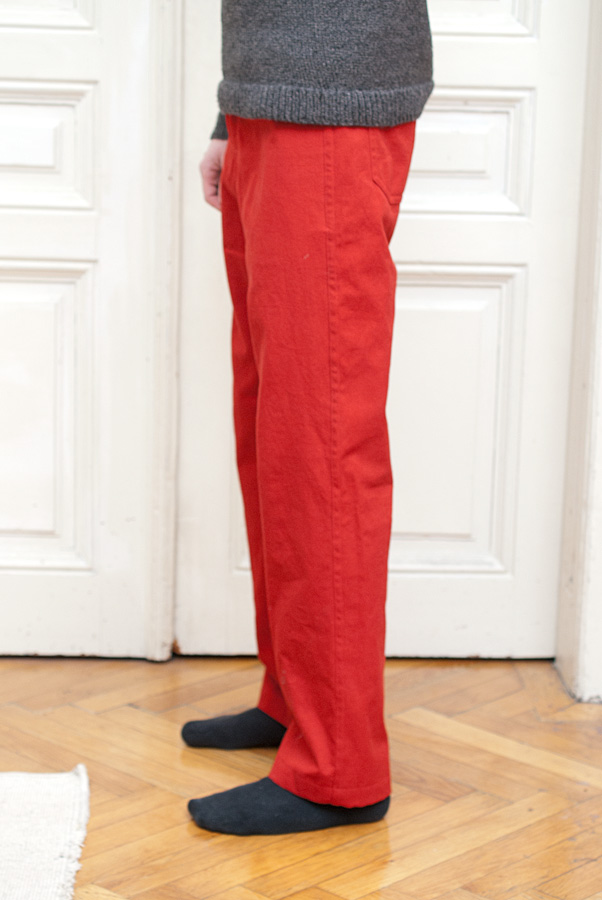 Fabrics
The main fabric is from Komolka and it was originally an even brighter shade of red. When my mum saw it, she thought that it was too bright for my boyfriend, and since I hadn't been quite sure of it either, I let her convince me to dye it. (I couldn't ask my boyfriend, since the trousers were a birthday surprise.) We used Dylon Fabric Dye in Rosewood Red, if I remember correctly. The colour is much nicer now, but still quite bright—and fortunately, my boyfriend loves it.
I made the waistband facing from a bright orange quilting cotton that I had in my stash.
I used white pocketing from Komolka for the front pocket bags. Quilting cotton pockets are fun, but I can't imagine they'd hold up well if you put things like keys into your pockets.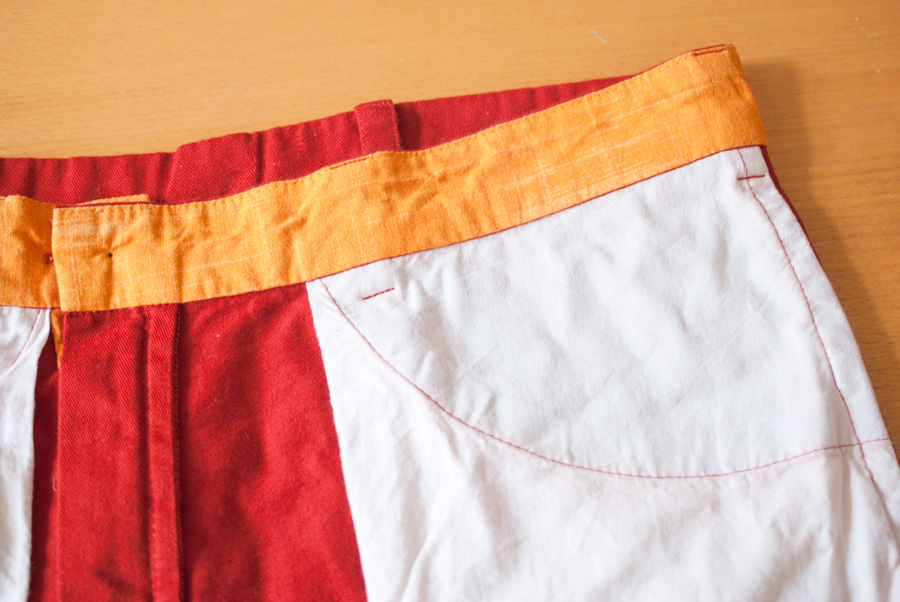 Adjustments
I tried a Flat Buttocks Adjustment. I don't quite know how much I removed, however, because I just did this using my … uh … intuition, I guess? My boyfriend could've used this on the Jedediahs as well and the Jutlands are wider overall, so I thought that it should definitely make them fit better. I followed the instructions for the Slash Method in Elizabeth Liechty's (et al.) Fitting and Pattern Alteration: A Multi-Method Approach to the Art of Style Selection, Fitting, and Alteration. This was the first time that I used the book, but I found the instructions pretty clear (though concise).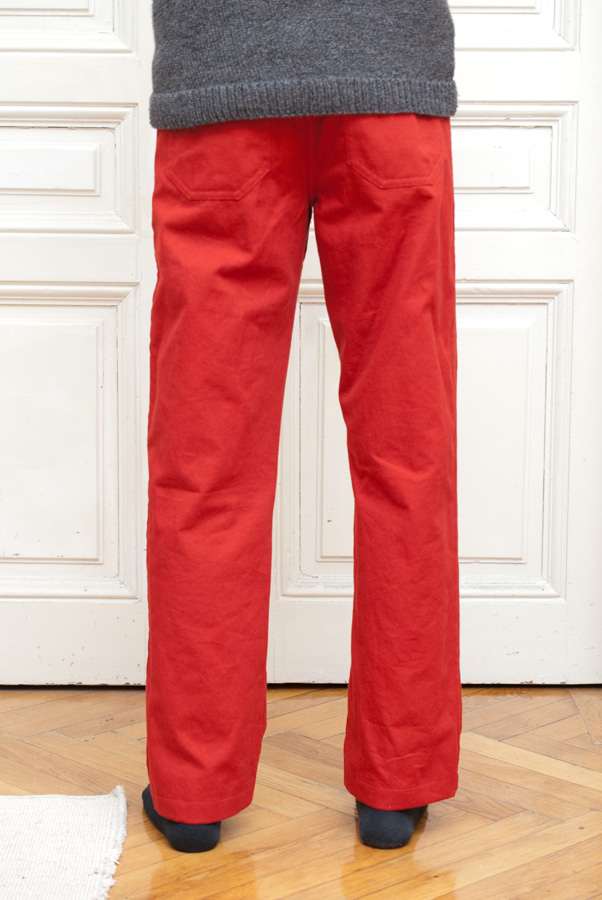 I removed a 7mm wedge from centre back because the waistband was gaping a bit on the toile.

I unpicked the back darts. I had my boyfriend try on the almost-finished trousers, with the waistband basted on, and they were slightly tight around the waist. I didn't fancy unpicking and redoing my flat-felled seams, so I decided that unpicking the darts might work. It's a dirty fix and I would definitely not do this on the next pair, but I figured that slightly visible holes from unpicking and a slightly-off shape were much better than trousers that aren't comfortable to wear (and thus won't get worn).

The waistband piece was quite a bit longer than the circumference of the trousers after my buttocks adjustments, so I just attached it without easing anything and cut off the extra fabric at both ends. The instructions tell you to "ease the excess pants material into the waistband", but I'm not sure there was any "excess pants material" even before my adjustments. I can't say for sure, I haven't kept a print-out of the original pattern.

I took in the side seam on both the front and back pieces by about 1cm each at the hips. The side seam is not very curved in the original, but it was still sticking out around my boyfriend's rather narrow hips.

I slimmed down the legs by 1cm on both the front and back pattern pieces. I had to make the Jedediahs slightly wider to suit my boyfriend's taste, but the Jutlands are quite a bit wider already and I thought that they would be a little too wide on him. I did this by following the Slash Method for the Thin Legs Adjustment in Liechty's book, just for fun. I'm trying to learn more about how to properly adjust patterns, so this seemed like another good chance to practise. (The pattern pieces do look rather hacked up by now, I'm afraid.)

I shortened the legs by 5cm at the lengthen/shorten line.

I don't like cut-on fly facings, so I removed them and drafted separate fly facing and fly shield pieces for a 14cm zip instead. I just really prefer a fly construction method that uses all of those little pieces.

I added six belt loops rather than the five the pattern calls for, and I placed them slightly differently to make them more practical for my boyfriend's needs. I placed two of them at the front pocket openings, two at the side seams, and the last two 2cm from the back darts toward centre back. He says that he hates it when the end of his belt sticks out because there's no belt loop to hold it; the side seam loops fix that issue.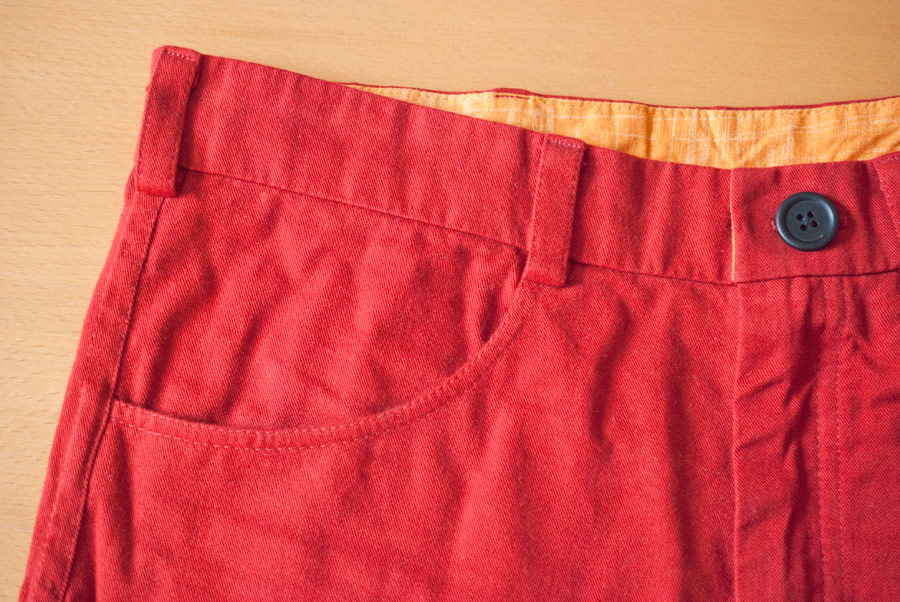 I also made the belt loops slightly narrower than they would have turned out if I'd followed the instructions exactly. I just don't really like wide belt loops.

I slip-stitched the inside waistband rather than topstitching from the outside. I don't usually like visible topstitching on waistbands.
What I want to do differently next time
I need to improve the fit around the waist. I would like to keep the darts for next time, but I'll have to add a little more room to the front piece, probably about the amount of the dart intake.

I think that my boyfriend has uneven hips or something, because it looks as if the trouser legs aren't the same length on him? I'll probably want to account for that next time.

My boyfriend would like slimmer legs on the next pair, he says. Personally, I usually prefer slimmer legs on men's jeans, but he was fine with them as they are for this pair. I specifically asked him when he tried on the toile. Still, he wants them slimmed down for the next pair and I'll gladly do that.

I think that the patch pockets are a little big and perhaps slightly too low. I'll have to play with pocket size, shape and position. Personally, I prefer the shape of the Jedediah back pockets, so I might steal that pattern piece for my next Jutlands. I asked my boyfriend which pockets he wanted for this pair and he chose the Jutland shape.

The fly facing and fly shield pieces I drafted were slightly short for the zip I used. I don't know what I messed up, but next time, I should either use a shorter zip or lengthen those two pieces a bit. They worked as they are, but the result looks a little messy from the inside.
The next pair of trousers I make for my boyfriend will probably be modified Jedediahs rather than Jutlands. I prefer the front pocket shape of the Jutlands, my boyfriend prefers the fit of his black Jedediahs—so I might just copy the Jutland pocket shape onto the (already adjusted) Jedediah pattern pieces and continue from there.