Well, you guys … I desperately need a winter coat, a rain jacket, some more trousers, underwear … So, obviously, I made a crazy dress that I'm highly unlikely to wear more than once or twice!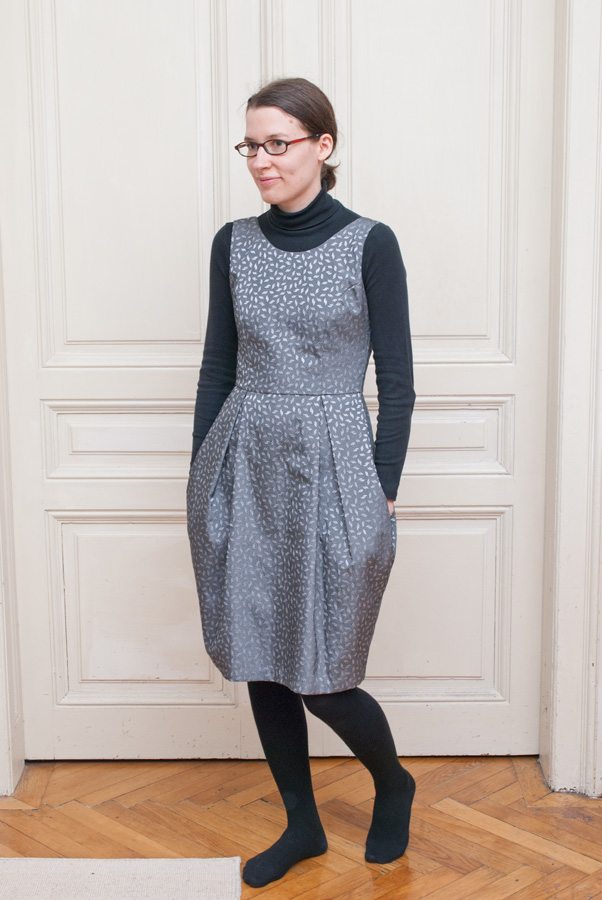 To be fair, I made this months ago. I wore it to Christmas tea at a friend of my mum's. I just never managed to take even half decent photos because the fabric is a real pain to photograph, the photos show every tiny wrinkle and everything.
I'm quite proud of this dress, actually. It is as well-made as I know how right now, I think that it fits me really well, and it turned out pretty much exactly as I'd envisioned it. The tulip skirt is a little too over-the-top for my boyfriend's taste, but my mum loved it, my dad also thought that it was fun, and a friend of my mum's, who is a professional seamstress, complimented me on the dress when I showed it to her.
Pattern
This is the By Hand London Elisalex Dress, in a size US 4/UK 8. I won the pattern in a giveaway by Anne of Mercury – Handmade Fashion (thanks again, Anne!).
Fabrics
The main fabric was once a tablecloth. My mum bought it for me on a whim on her summer vacation. She didn't think that I would make a garment from it, she thought it might be suitable for fun pocket bags or something like that. Ha! I don't know the fibre content, the label on the tablecloth just said that it was "easy to care for", could be washed at 40°C and ironed warm. At first I thought that it was mostly synthetic, but I did a burn test and I now think that it's mostly viscose with some actual metallic fibres in it. My mum would not usually have been drawn toward something like this, but she liked the jacquard leaf motif and it was on sale. When I first saw it, I immediately thought "disco jumpsuit", but when Anne had her giveaway, I thought that it would also be awesome as an Elisalex.
I used the wrong side of the tablecloth as my right side. The right side is even shinier! I have no idea what someone might want to use a tablecloth like that for …
I bought a matching dark grey viscose lining fabric at Komolka. That slippery stuff is such a pain to work with, but it's just so very lovely to wear.
I used a scrap of black and white cotton gingham from Müller for my pocket bags.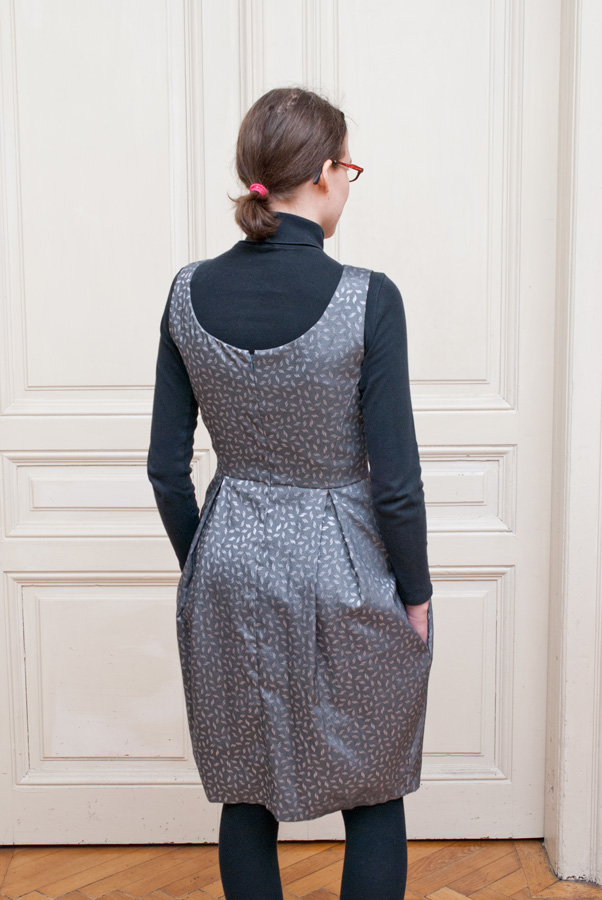 Adjustments
Surprisingly, I didn't need a Small Bust Adjustment! I chose my size based on my waist measurement and my first toile fit me really well around the bust, but the waist was rather snug. Take this as a warning, fuller-busted ladies!

I added 5mm to both sides of the front princess seams from below the bust down to the waist, so 2cm of ease in total. I know that the dress is supposed to be very fitted at the waist, but I like to be able to breathe (and perhaps even eat). I adjusted the front skirt pleats to match, of course.

The shoulder seams were far from my actual shoulder line, so I redrew the shoulder line, cut a strip off the centre front pattern piece and taped it to the centre back piece instead. The strip was about 1.4cm wide at the armhole and 2.2cm wide at the neckline.

The bodice was tilted on me and longer in the back than the front, so I lengthened it by 2cm at the centre front, tapering to nothing at the back princess seams.

The original back neckline gaped on me, so I cut a wedge out of it that was about 1cm wide at the neckline, tapering to nothing at the armhole.

I also raised the back neckline by 4.5cm. I'm not really comfortable with very low back necklines and I was going to wear the dress over a turtleneck top, which I thought looked really odd with the original neckline. My mum helped me determine a curve that she thought would work better on me. I ended up changing the original V neck to a scoop neck, which I will readily admit I mostly did because I found it easier to draw in that shape.

The original front neckline has a slight V shape, which looked more like a drafting error than an intentional V neck to me, so I redrew it to make it properly rounded.

I changed the back bodice and skirt grainlines so that the centre back is on grain. I thought that the slightly slanted grain would look odd with my jacquard pattern.

I shortened the skirt by 20cm. I did this somewhere in the middle of the pattern piece rather than at the hem because I didn't want to lose the exaggerated tulip shape.

I fully lined the dress. I don't know the fibre content of the tablecloth fabric, so I was rather unsure whether I would want it next to my skin if I ever ended up wearing the dress without tights. And if I wear it with leggings or tights, a skirt lining will help prevent it from sticking to my legs.

I understitched the neckline and armholes as far as I could. I did this after sewing the side seams, which was stupid, but I only thought of it then and didn't feel like unpicking the side seams.

I used an invisible zip instead of the exposed one the pattern calls for. The fabric is crazy enough without any extra design features.

I added side-seam pockets, as detailed in this Elisalex Sew-Along bonus tutorial. I didn't know whether I would appreciate side-seam pockets in a dress, so I thought that I'd try and see whether I like them. I used the Victoria Blazer pockets for convenience, just as they do in the tutorial. I don't think that they are very useful, except to put in my hands, but it's kinda fun to have gingham pockets in a crazy disco jacquard dress.
What I want to do differently next time
There is something wrong with the hem allowances. The hem doesn't meet neatly at the side seams, there's a kind of slant to the front and back pieces that makes the edges meet at a weird angle. The hem allowance also doesn't account for the tulip shape, so that the turned-up allowance isn't the same length as the place it is turned up to, and thus it was a bit of a struggle to hem the dress neatly. (Does that make any sense?) If I use the original skirt again, I'd like to fix both of those issues.

I think that I'd like to add a little more room to the waist. The dress fits me really well, but it isn't the most comfortable garment I own, and I would be afraid to eat much while wearing it.

As so many other people have, I might make a version without the tulip skirt. I think that it is fun—and for this dress, it wouldn't have been over the top enough to just use a metallic tablecloth, it had to have a tulip skirt as well! But with another fabric, it might be fun to switch out the skirt.
Photos taken by my boyfriend.