Finished: Not a Saiph Tunic, or: The Genesis of My Christmas Dress
Ladies and Gentlemen, let me present to you … my 2013 Christmas Dress!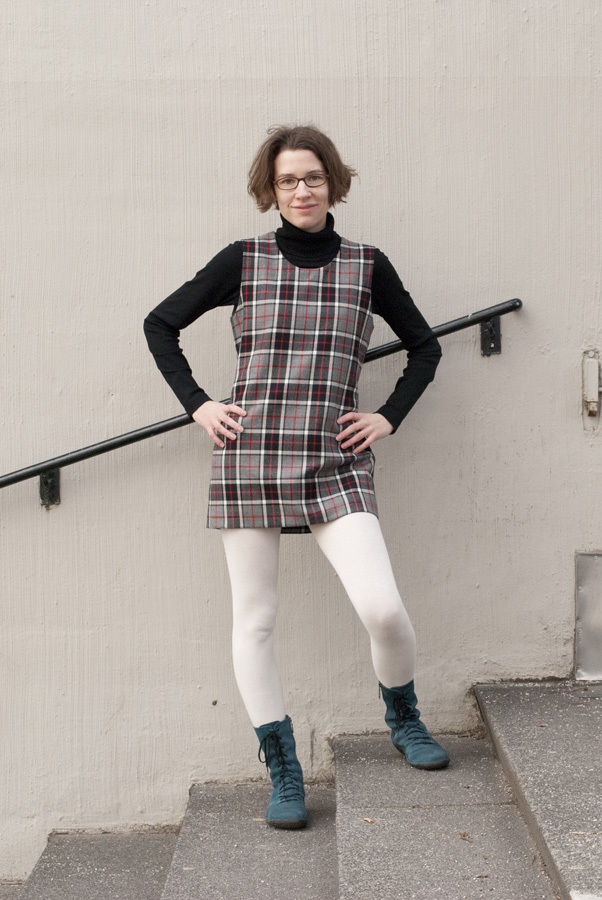 I've never owned anything like a "Christmas Dress" before—but when I saw all of the amazing party dresses on everyone's blogs, I thought that it would be fun to make something I could wear to the Christmas dinners I was invited to. Since I'm not one of those fashionable ladies who wear gorgeous fitted, full-skirted party dresses made from shiny silk, however, I chose something slightly different for my take on a "Christmas Dress".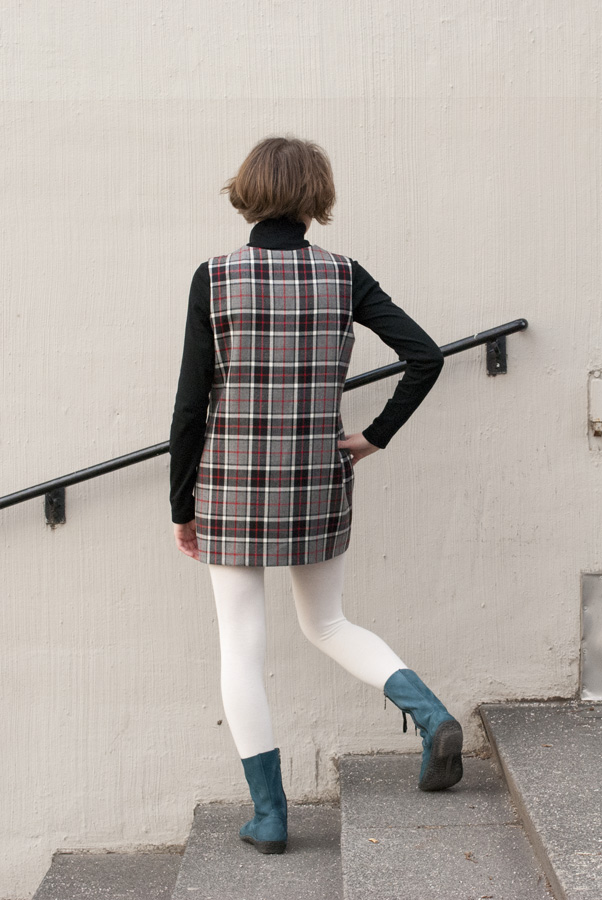 These pictures are my first attempt at self-timer portraits.
Pattern
I was going to make a Papercut Patterns Saiph Tunic (Variation 1). I ordered the pattern the instant it was released because I thought it looked cute, comfy, and easy to sew. Then I made a toile and it was all wrong on me. I took some notes on what I'd have to do:
fix baggy sleeves and saggy arm holes
lengthen both body and sleeves
move shoulder seam forward
shorten bust dart
move bust dart down
grade hips up (from size XXS to XS)
move the horizontal seam down a bit
After looking at that list, I decided that for something as simple as the Saiph Tunic, it would most probably be easier to draft a new pattern with a similar look than to fix a pattern that is wrong in pretty much all of the places that it can be wrong.
So I consulted Guido Hofenbitzer's Schnittkonstruktion für Damenmode, the second volume of which I got for Christmas from my boyfriend's parents. I cheated and got the book a little earlier so that I could use it for my Christmas Dress Project. I drafted a basic bodice block with no darts and quite some ease and a matching sleeve. I made a toile and it was so much better than the Saiph, but the sleeves were still not quite right.
I showed my toile to my mum and told her that I didn't even know which fabric to use yet. That was a few days before Christmas, and I was determined to get it done on time without rushing through the construction. My mum offered to accompany me to the fabric store and help me find something suitable. When I showed this lovely plaid fabric to her that I had been eyeing for weeks with no project in mind, she offered to buy it for me as a Christmas gift. So I got it and decided to leave off the sleeves and the front pockets and make my dress a very simple tunic dress that would showcase the awesome fabric. Best decision ever!
Fabrics
The main fabric is an Italian wool plaid. I'm actually very sensitive (allergic?) to wool, but I decided that it didn't matter, since the dress would be lined and I would always wear something under it as well. I was right, I've worn the dress for hours at a time and it was no problem. This fabric was the most expensive fabric I've worked with so far, and it was really, really lovely to sew and press.
I lined the dress in a matching silver 100% viscose lining fabric. It was a bitch to work with, but it feels really nice now that it's done.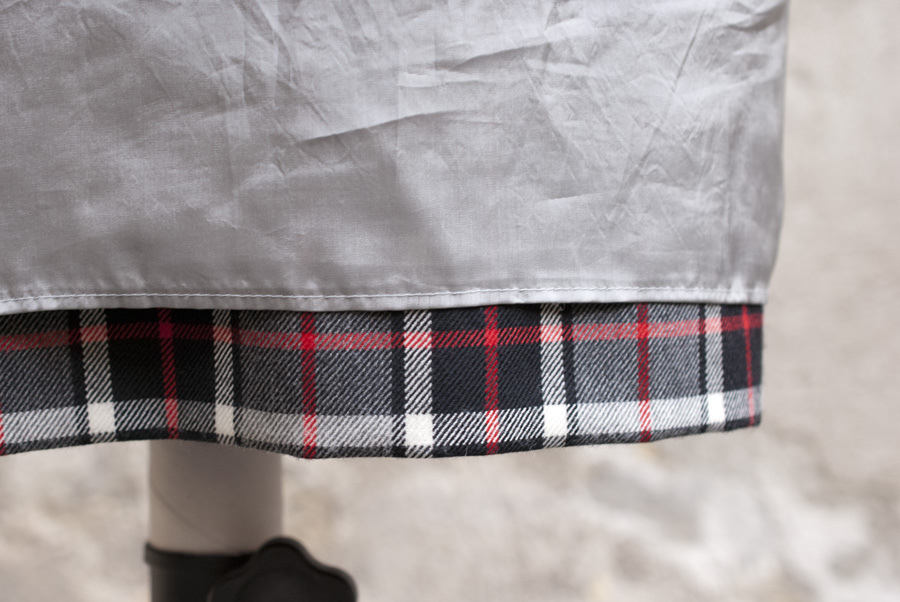 Challenges
Matching the plaid. I am really proud of the placement, the lines ended up exactly where I wanted them on my body, and the side seams are also really neat.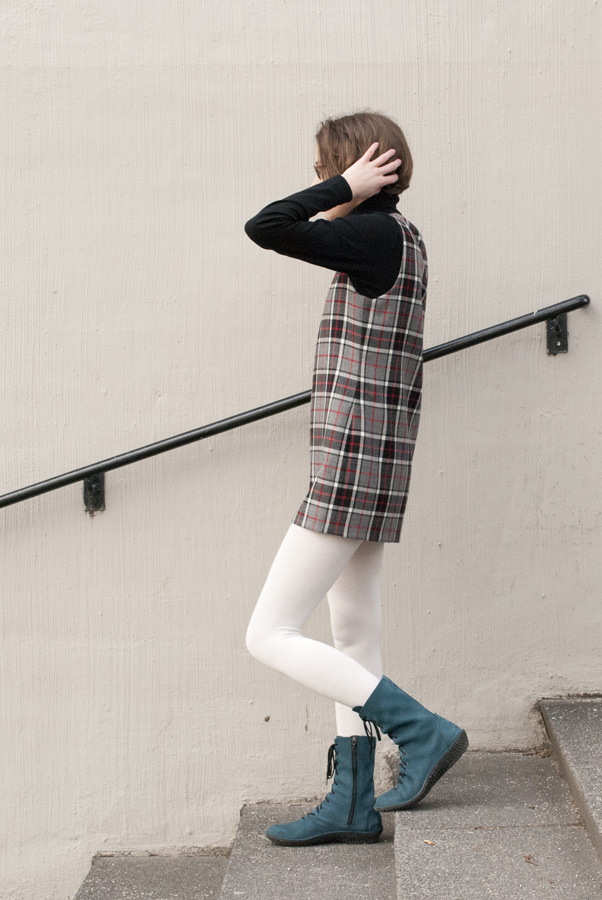 Fully lining the dress. This was my first attempt at a bodice lining. I'm pretty happy with how it turned out, but want to try a different approach next time I make something like this.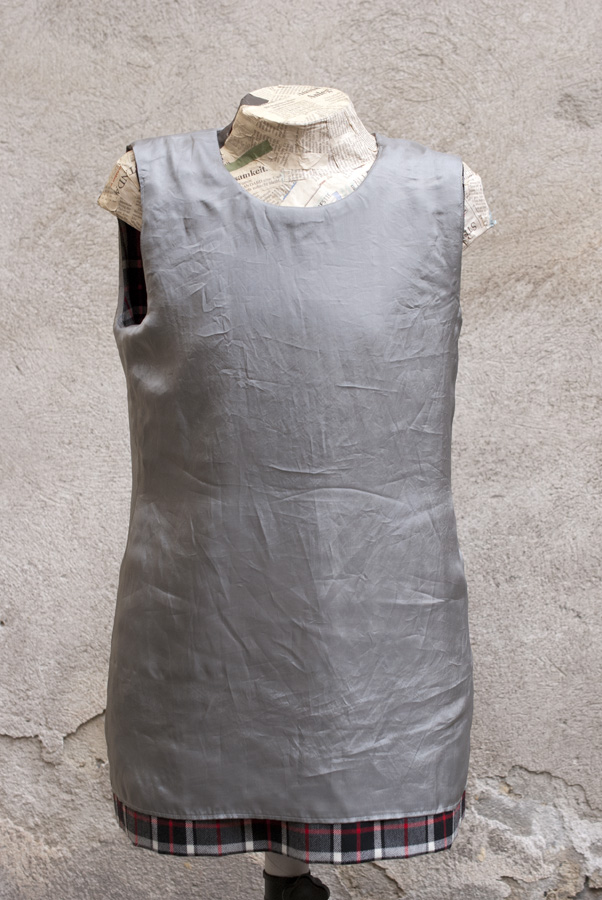 Hand-sewing the hem. Another first attempt which turned out really well!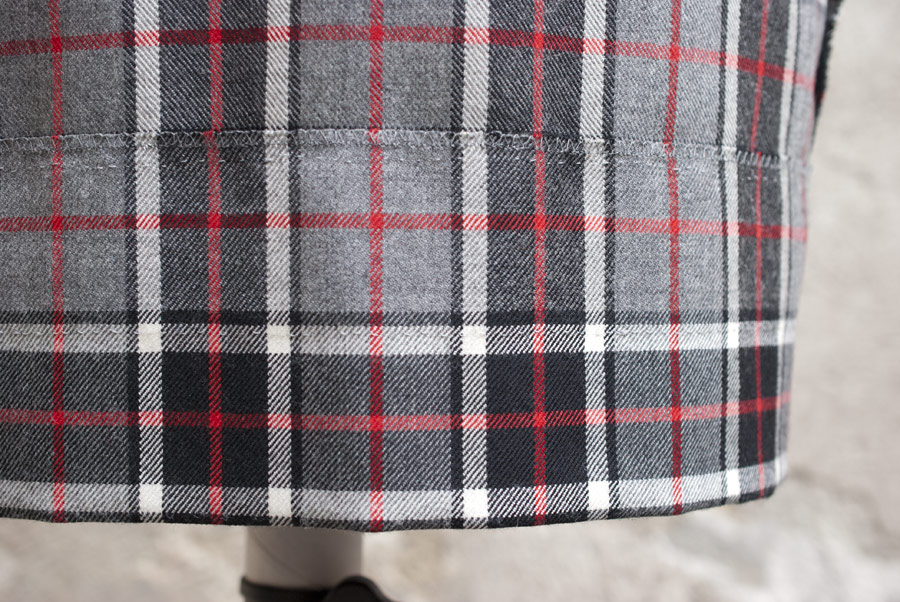 Taking my time. I had actually planned to finish the dress in time for a Christmas party I was invited to on the 20th of December, but it was more important to me to do things right than to get the dress done earlier.

Being brave enough to cut into the fabric. I changed a few things on my pattern between the toile and the final version without making a second toile—and as the fabric was a Christmas present, I was extra nervous about ruining it.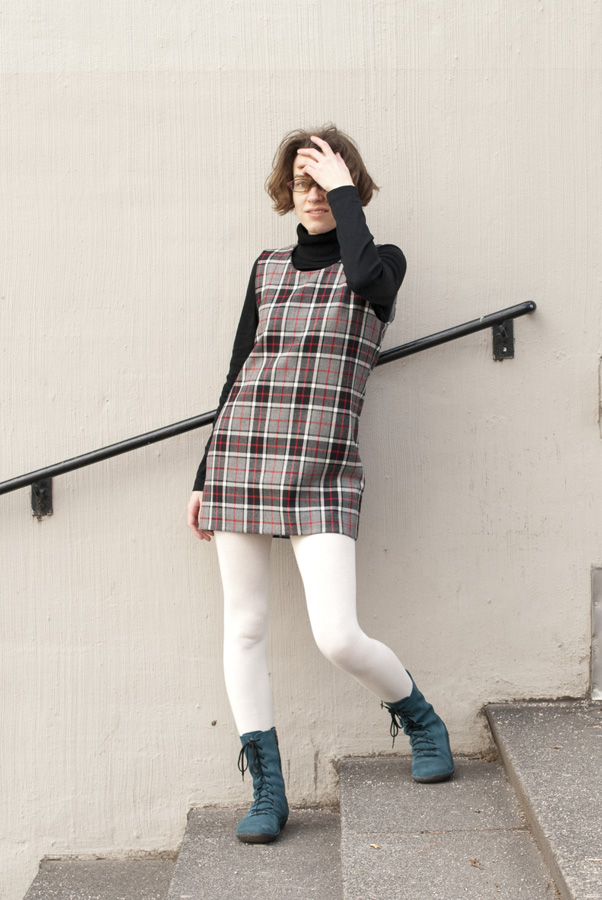 What I want to do differently next time
I think that next time I make a lined dress, I'd like to try adding facings in addition to the lining. I'm not 100% happy with the neckline and armholes, the lining peeks out a bit even though I understitched the edges as far as I could.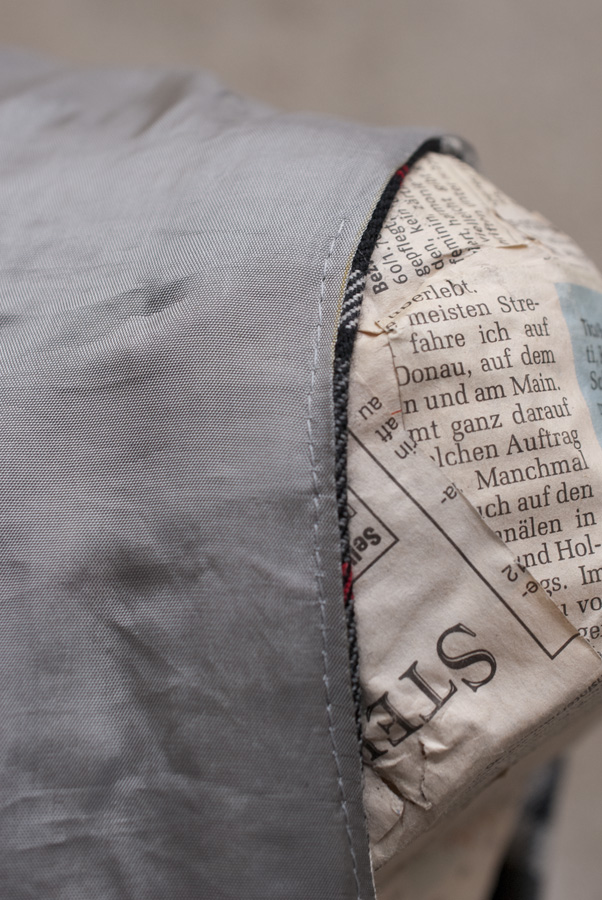 I actually wanted the dress to be slightly longer, but I also wanted to hem it at a good place in the plaid pattern. It was either making it a little short or a little long, and I opted for short because that looked better to me. I wanted to be able to lengthen the dress if I change my mind in the future, so I left a pretty wide hem. If I make another of these, it will be longer—unless, of course, I'm working with another plaid fabric with the same issue.

I still want a Saiph Tunic (look-alike) with pockets in the horizontal seam. I just decided that it wasn't the right pattern for this fabric. I will attempt to draft a pattern like that eventually.
Helpful links
crafterhours: All-In-One-Facings Tutorial explains how to fully line a bodice with no closure.

Pattern Scissors Cloth: Sewing an Invisible Hem explains how to hand-hem a skirt/dress. I read several tutorials on hand-hemming and this one looked best to me. Because of my wide hem, I also followed the extra tip she gives toward the end of the tutorial:

if you have a heavy fabric, an initial row of stitching done at mid hem level will relieve stress on the upper layer of stitches, and prevent them causing indentations on the outside because of the weight of the hem.