Wheeee, this was really quick and simple, and I like the result!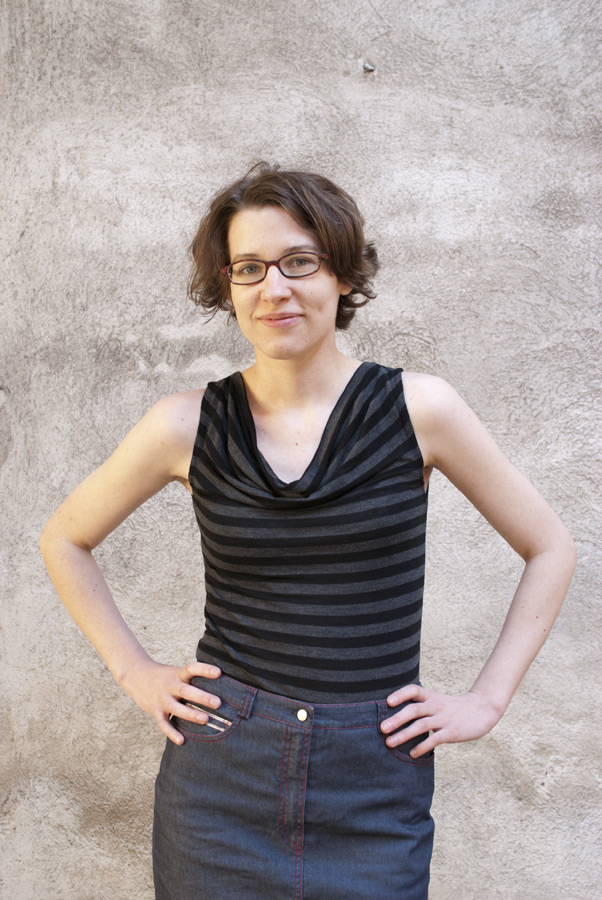 When I saw Jo's Cool Cowl Tanks, I really wanted one of those myself and put the pattern onto my wish list. And then I realised that it was drafted for a D cup and … uhm … I wasn't sure I wanted to jump through the hoops that Jo must've jumped through to make hers fit. So I put the idea aside for a little while. And then Maria Denmark opened her new online shop and had a sale and I rediscovered her Day-to-Night Drape Top—which I had seen before but not paid much attention to because I thought, for some reason, that that kind of neckline wouldn't suit me. When I saw it again, I realised that it was pretty much the same thing as the In-House Patterns Cool Cowl Tank, only drafted for a B cup! I don't have a B cup either, but at least it would be closer than a D cup … So I got the Day-to-Night Top, printed it out, assembled and cut out the pattern, grabbed a knit fabric that I had lying around and was indecisive about, and made the top in a few hours. (That will still sound like a lot of time to some people, but I'm persnickety and slow, was slightly afraid of the fabric, had never used clear elastic before, and wanted the side seams to match.)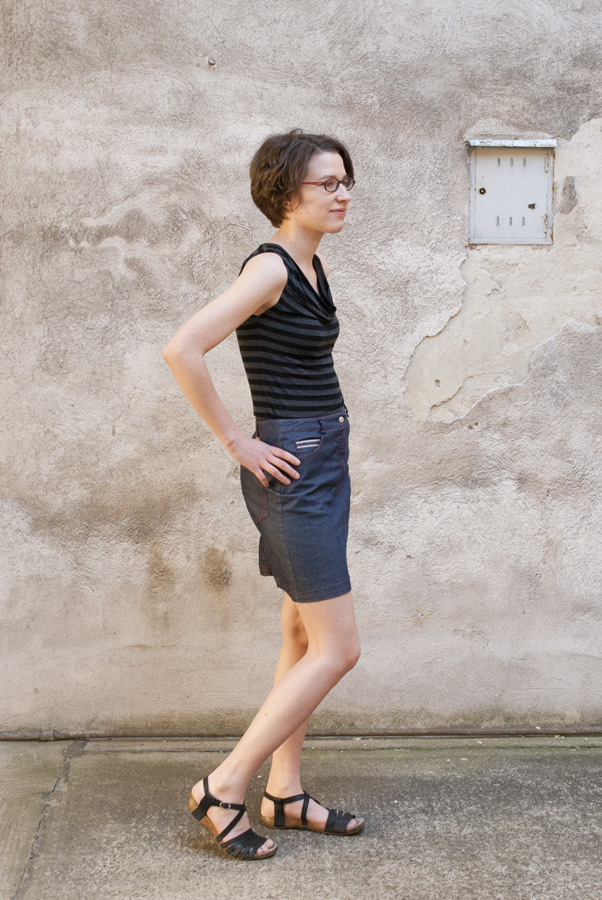 So, there we go! Probably my quickest garment to date, and everything pretty much just worked out perfectly! The PDF pattern pieces matched up well, the instructions were succinct but clear and the fabric behaved itself better than I initially feared it might. And the top suits me better than I expected a drapey cowl-neck top would suit me. Yay! I have Jo to thank for convincing me to try this!
Pattern
Maria Denmark Day-to-Night Drape Top, in a straight size XS, which my body measurements are reasonably close to (except for the B cup).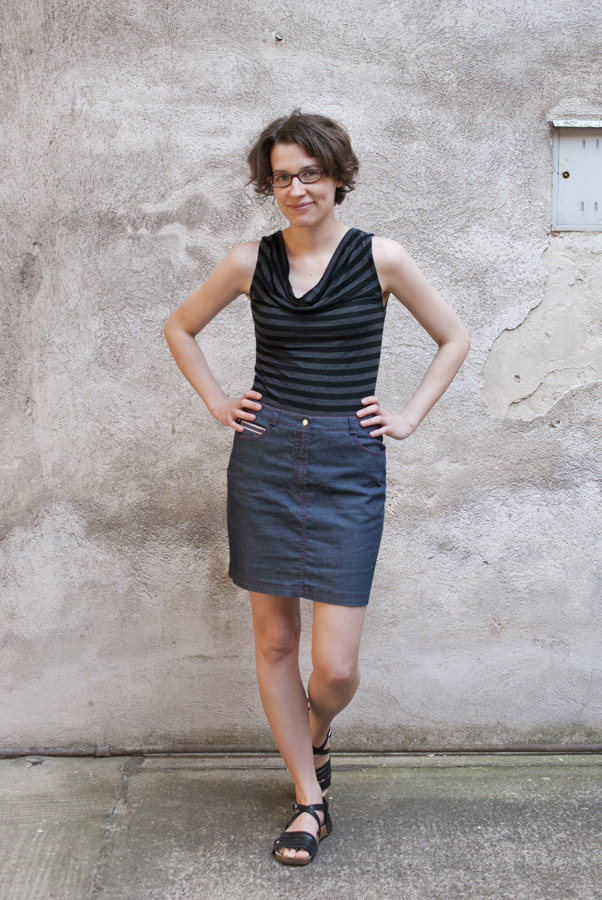 Fabric
Less than a metre of a drapey, slightly sheer, stripey viscose knit. It's 95% viscose, 5% elastane, and is from stoffe.de. When I ordered this, I expected it to be less flimsy and wanted to make a dress from it, but when it arrived, it was a lot thinner than I had hoped and I really didn't want it to cling to my behind. I don't know how well it will hold up to wear and tear, but I figured I'd rather make something out of it and enjoy it while it lasts than stash it away forever because it might not hold up to much.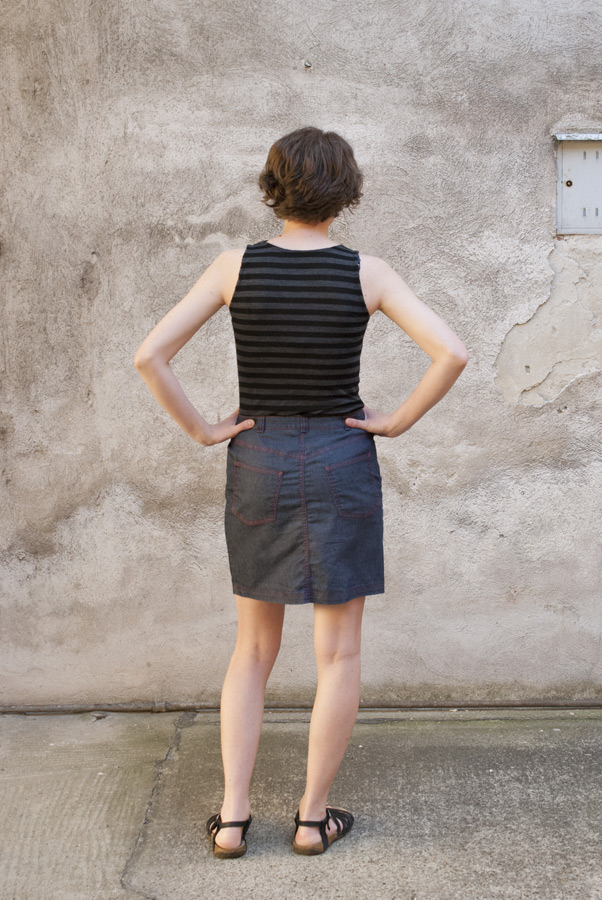 Adjustments
I changed the hem to a straight hem instead of the original curved one. I really like the curved hem, but I thought that it would look neater to have a straight hem with this stripey fabric. I'm definitely going to use the original hem if I make the top again from a non-stripey fabric.
What I want to do differently next time
I might add a little width to the hips. It fits me, but I think it's just a tad snugger than I would ideally like it to be, and might therefore ride up a little when not tucked in. It's not a real issue, but I will probably change this for the next version.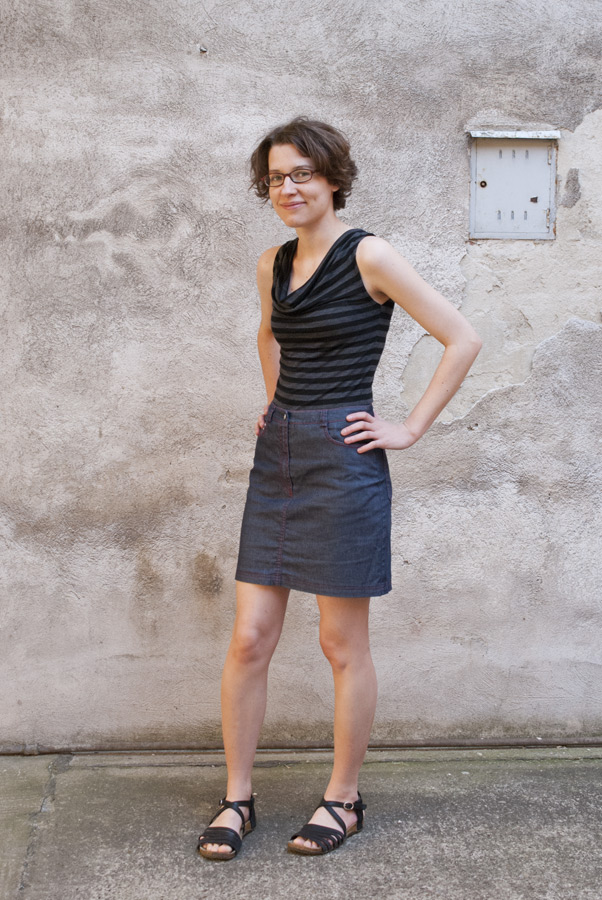 Photos taken by my boyfriend.