Finished: Tiny Houndstooth Thread Theory Jedediahs … for Me!
Hey guys, I've made men's trousers for myself! I tried on a lovely linen pair I made for my boyfriend this summer, for which I used the same modified pattern pieces as for his jeans, just with slightly wider legs. And, surprise! His trousers fit me really well, they were just a tad tight in the back and the straight waistband gaped on me. So I decided to try and adjust that already-modified men's trouser pattern to fit me—and I'm really happy with the result!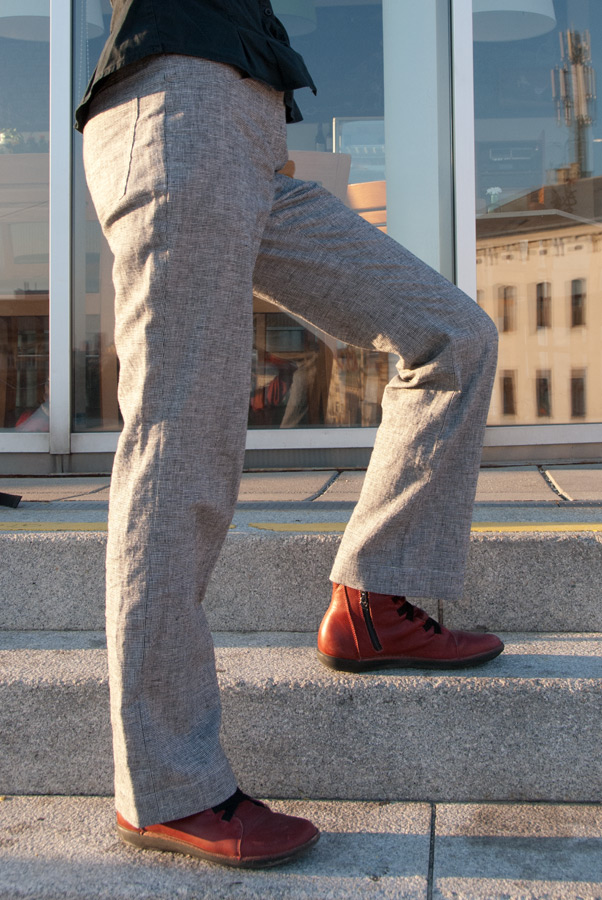 Pattern
These are the Thread Theory Jedediah Pants, in a heavily modified size 30.
Fabrics
The main fabric is a cotton/linen blend with a tiny black and cream houndstooth pattern from UK Fabrics Online. I'm bummed that I didn't get more of it, it's a lovely fabric and was really cheap.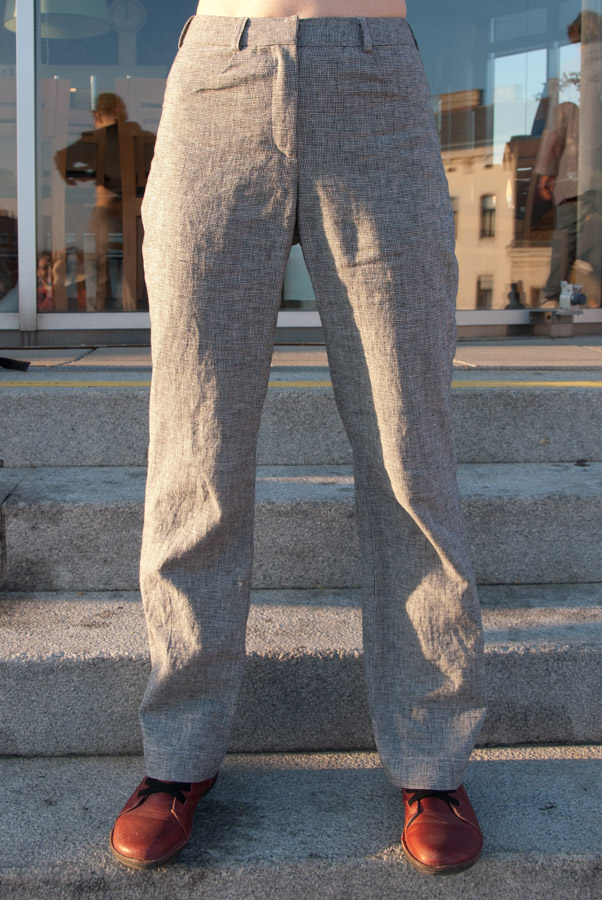 I used a black cotton pocketing fabric for the pocket bags and for lining the back yoke.
Adjustments
Starting with my boyfriend's jeans pattern, I made another few adjustments.
I did a smallish Large Prominent Buttocks Adjustments to give my derrière a little more room.

I "drafted" a contoured waistband. I actually just sewed a straight waistband to the trousers, put them on and pinned out darts to make the waistband fit me. Then I marked the darts, unpicked the waistband from the trousers, traced the whole thing and rounded the resulting pattern pieces a bit. Ta-dah! Perfectly fitting contoured waistband!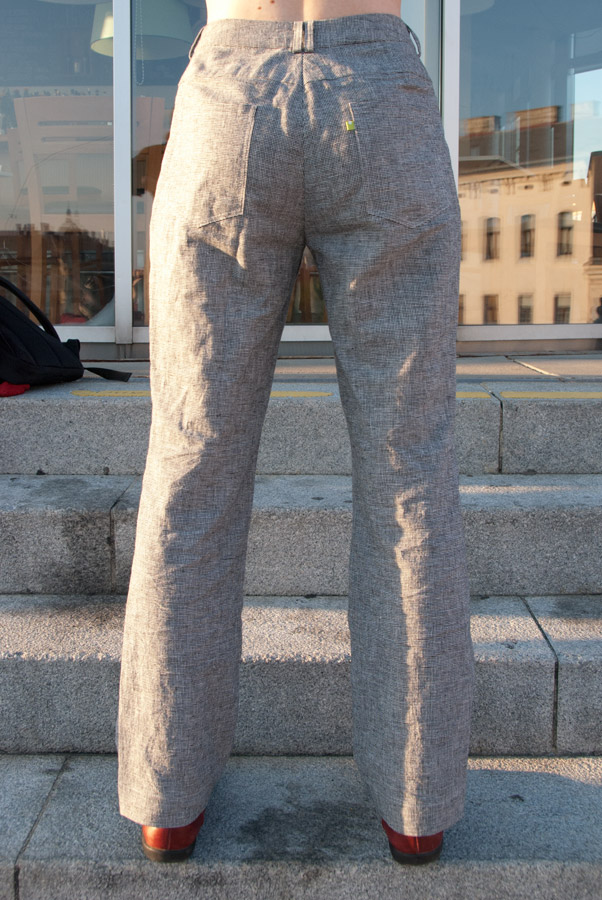 I stole the front pocket shape from the Thread Theory Jutlands. I prefer that curved shape to the original Jedediah front pocket shape, plus these don't gape open as much (the pockets on all of my boyfriend's Jedediahs do, but he says he doesn't mind at all).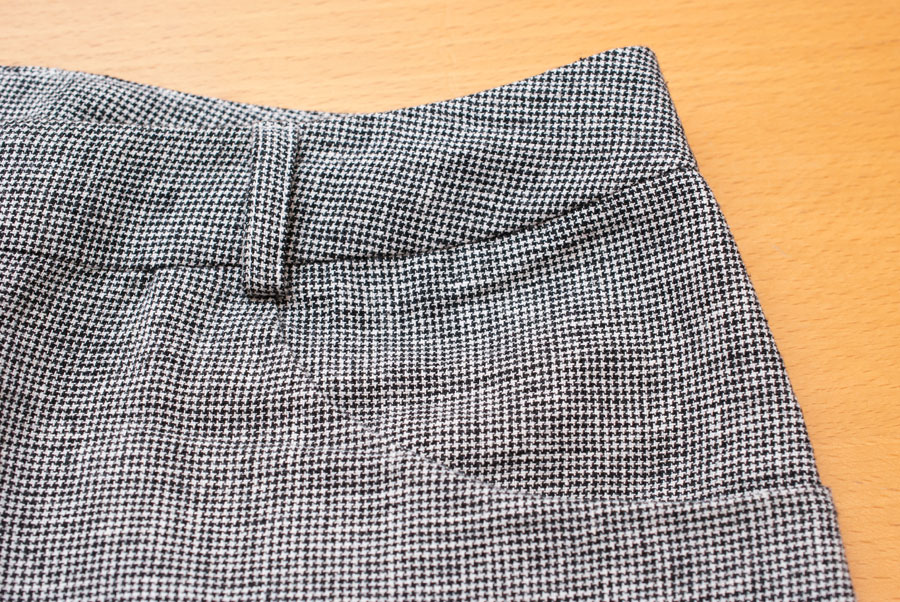 I widened the legs a bit, as I thought that would look better for linen trousers.

I used a piece of ribbon to add a tiny little tab thingy to the right back pocket. I really wanted to add something unique to these, but I wanted it to be a small detail, not anything that would be very noticeable, so I came up with this tiny thing.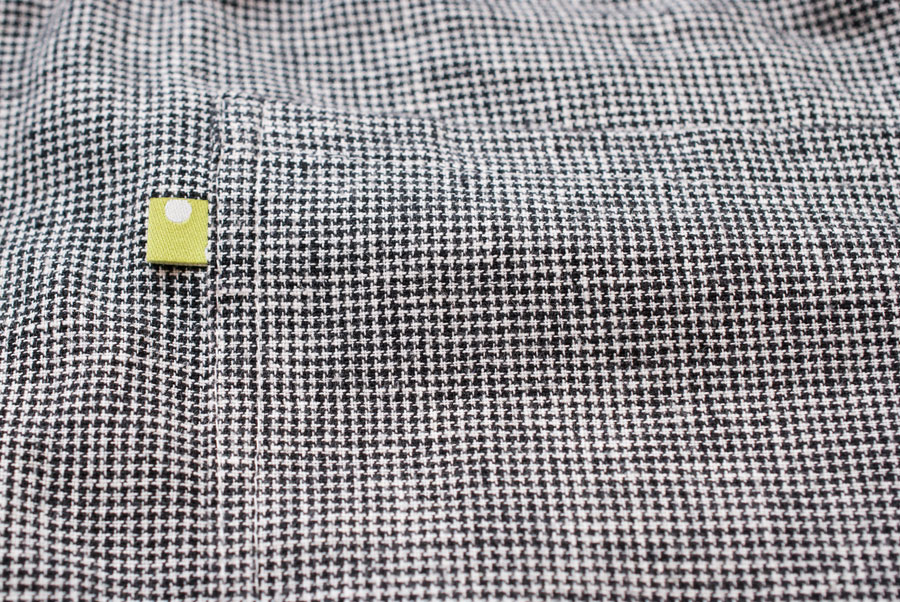 I lined the back yoke. I did the same on my boyfriend's linen trousers and I think it helps stabilise the back a bit.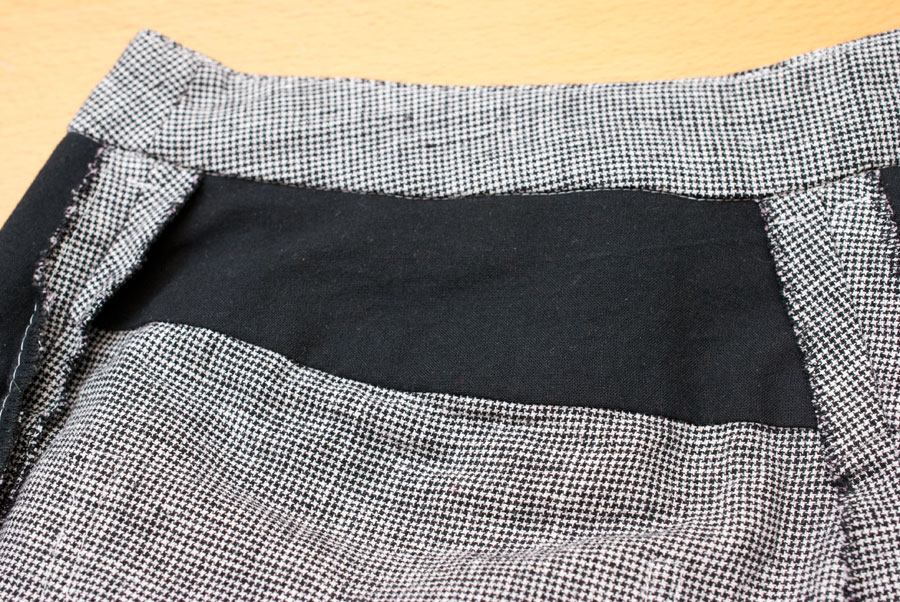 What I want to do differently next time
These trousers fit me quite well, so I really want to make several more versions of them—and play with adjusting the leg width and shape. I want flares! And perhaps some more slim-fitting jeans.

For some reason, I always have trouble fitting back yokes. My toiles usually look fine and then something goes wrong with the real fabric somehow. This one is okay-ish, but not quite where I'd want it to be, and I don't know how to get it right. I'll have to look into this some more.

I might convert the back yoke to darts for my next version. I feel like they are easier to fit, even though I prefer sewing yokes to darts.

I might want to move the back pockets around and see what works best. I find this the hardest part of making trousers, actually! For this pair, I just kept the original position, but I'm not sure the pockets are all that flattering on me like this.
Photos of me taken by my boyfriend.