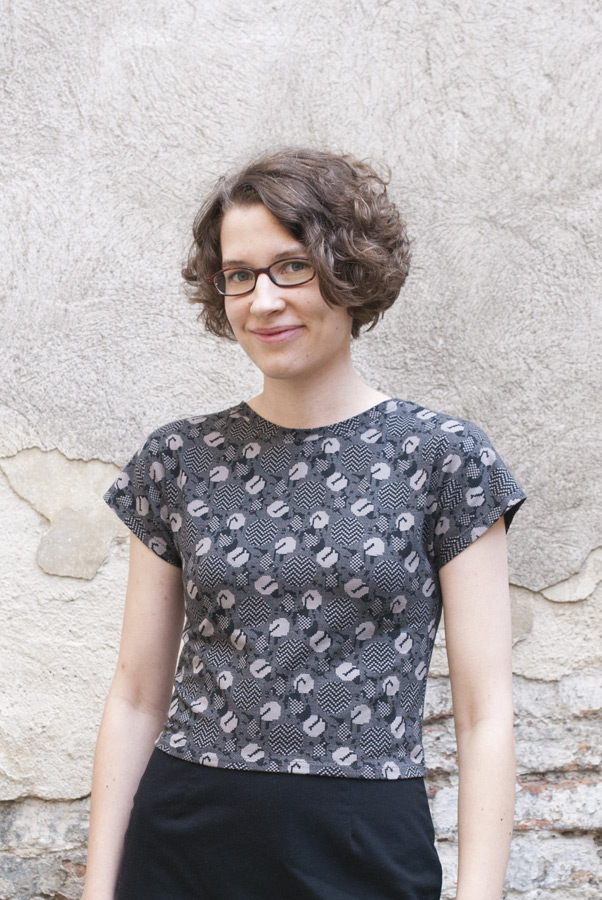 Disclaimer: This T-shirt is not what you'll get if you buy the pattern I used to make it. I volunteered to test Lindsay Woodward's first pattern, the Senna Dress, knowing that it was not a style I would usually go for. I thought that it would be fun to try something new—but in the end this hasn't changed my feeling that a very tight knit skirt doesn't really work on my shape. I just look completely out of proportion if I emphasise my behind like that. I still made up the crop top and skirt as drafted and sent Lindsay very verbose feedback, much of which she has incorporated in the final pattern—but in order to get a garment out of this experiment that I would actually want to wear, I modified the bodice pattern to make a simple T-shirt.
Pattern
This was initially going to be a toile of the Senna Dress test pattern by Lindsay Woodward, but I adjusted it quite a bit (see below). I started with the dress bodice in a size 0. (I used the test pattern, but judging by a quick comparison, I don't think the bodice piece has been changed in the final version.)
Fabric
The fabric is from Müller and I don't know its fibre content. Based both on how it feels to the touch and a burn test, I'd guess it's cotton with some elastane, but I can't say for sure. My dad went to the fabric store with me and bought this for me because, as he said, technically I was on the Summer Stashbust Challenge at the time and wasn't allowed to buy any fabric. I actually allowed myself the option of buying fabric for toiles if I needed to—but I wouldn't say no to free fabric when my dad insisted, of course!
I don't love the print, but I don't hate it either, and I thought it might look cute as a two-piece set (which was what I was initially planning to make). Also, it was very cheap, and I didn't want to spend a lot of money on this test garment.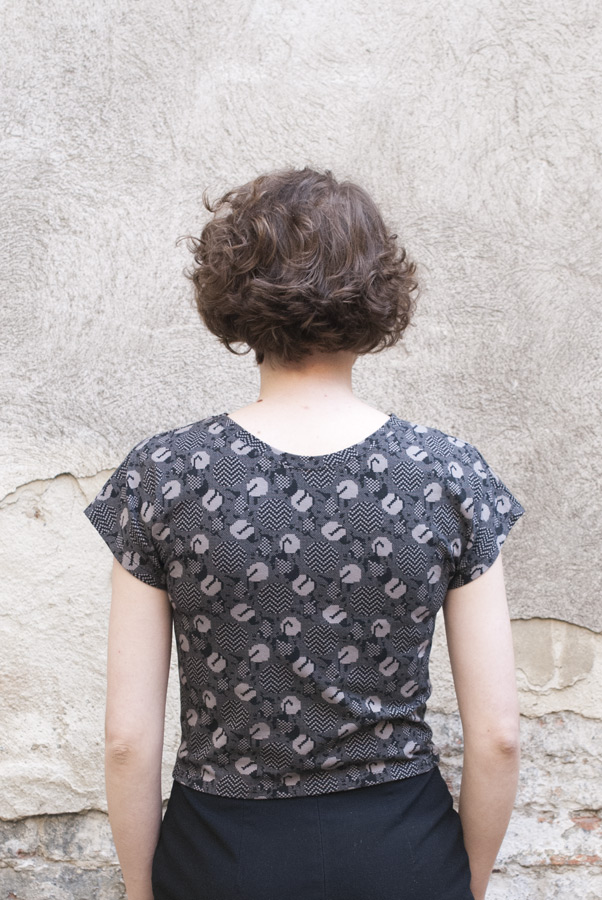 Adjustments
I cut the top at the cutting line for the dress bodice rather than the one for the crop top. I tried the original length and didn't like it on me, at least not without the matching skirt. I like the two-piece on Lindsay, but it just didn't work for me.

I took some width out of the front/back pattern piece because the original was rather wide on me. That's the look Lindsay was going for, of course, and the wide crop top looks kinda cute when worn, by the right person, with a snug-fitting high-waisted bottom—but the width wouldn't have worked for my T-shirt. I did this by cutting through the pattern piece from the middle of the shoulder seam to the bottom of the side seam and overlapping the pattern by 3.5cm at the top, tapering to nothing at the bottom. (I'm sure this wasn't the "correct" adjustment, but it worked for what I wanted.)

I also straightened the side seam a bit. The original is very tapered, which, again, wouldn't have looked good for a T-shirt. And the hem isn't tapered out, so I would have had to adjust this anyway in order to get a nice hem. (Yes, I mentioned this to Lindsay in my feedback. No, it didn't get changed in the final version.)

And then I lengthened the sleeve a bit, also mostly to make it easier to hem.

Here's a sketch comparing the original pattern piece (in purple) to my adjusted version (in teal):

For my first attempt, I made the scoop neck rather than the crew neck, but didn't like the result on me. I also had some trouble with the binding on that one. For this version, I made the crew neck and multiplied my neck binding length by 0.9 instead of the 0.85 suggested in the instructions. I don't know which of these changes solved the issue, but I'm glad that I got the binding to look good on this version.

I turned up 1.5cm instead of the suggested 2.5cm for the bottom hem to match my sleeve hems.
What I struggled with
Overall, the pattern went together well and the instructions, including the construction diagrams, look pretty and are very clear. Also, most of the issues I had are probably irrelevant by now, since Lindsay incorporated a lot of her testers' feedback in the final pattern. There are two things that I think probably still apply, however.
I had serious sizing issues with the skirt. Lindsay adjusted the waistband pattern piece after my initial feedback, but even with the adjusted version, I couldn't pull the skirt over my thighs, let alone my behind. From what I know, I was the only tester with this issue, so I'm suspecting that everyone else might've used very stretchy fabric and an overlocker—and/or the others' waist/hip ratio is radically different from mine. My zig-zag stitch was definitely not stretchy enough for attaching the waistband to the skirt. So if you don't have an overlocker either, you might want to thoroughly test different stitches and stitch lengths/widths on your sewing machine to make sure that you can actually come up with a combination that is stretchy enough. If you have a prominent derrière, you might also want to go up several sizes for the skirt. Note: If you make a skirt with no closure, the whole thing—including the waistband—has to fit over your thighs, your bottom and your hips. If there's a significant difference between your waist and hip measurements, you will need a very stretchy fabric with good recovery and a very stretchy waistband seam—or the skirt will either be too tight to put on or somewhat loose around your waist once it's on. That's my understanding, anyway.

I struggled with applying the neck binding neatly on the scoop neck version of the top. I'm guessing that the suggested binding length should only be taken as a guideline and should be adjusted depending on the fabric you're working with, and I think that I'll also have to practise applying knit bindings evenly.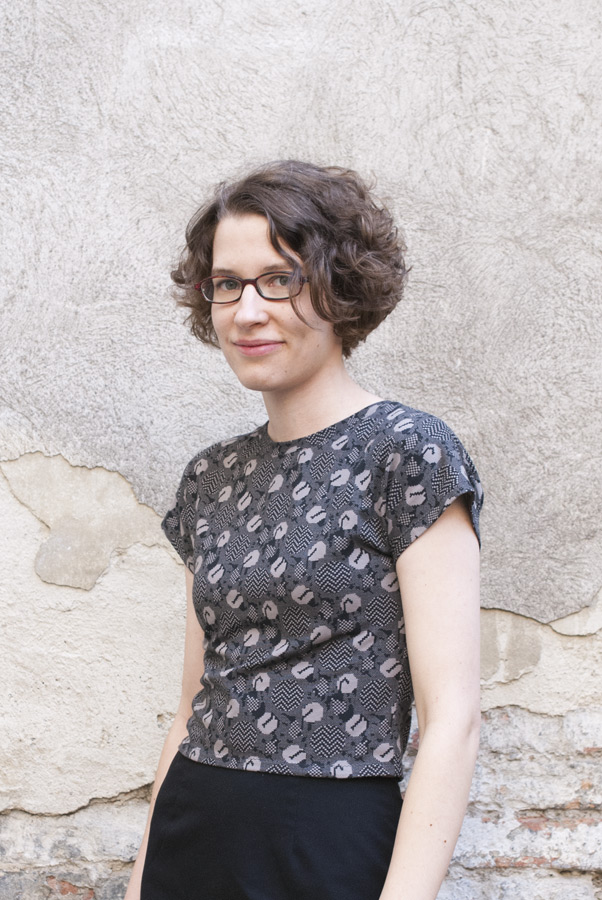 What I want to do differently next time
I rather like my easy, basic T-shirt, so I think that I might well make some more of these if I can find suitable fabrics. If so, I would consider making a few more minor adjustments to the pattern.
I should lengthen it some more. This length is fine for a summer top that I want to wear untucked with high-waisted bottoms, but with lower-waisted bottoms, or if I wanted to tuck it in, it would be too short.

After lengthening it, I should probably take my swayback into account somehow. Sigh. Not sure I want to deal with this.

I might have shaved a bit too much off the width. I usually wear my T-shirts looser than this, so I might add back a little width to the side seams for next time—depending on the stretch percentage of my fabric and on what kind of look I'm going for. I actually think it looks good as it is and it is very comfortable—I'm just not sure it's "me". We'll see.