Pattern Testing: Named Clothing Quinn Shirt
When Saara and Laura of Named asked for testers for their Spring/Summer 2015 collection on their mailing list, I was really excited about the opportunity and wrote back immediately. I hadn't actually gotten around to making any of their patterns, but I owned several already because I just love the Named aesthetic, and I figured it would give me a push to finally sew one of their designs! Unfortunately, my reply ended up in the junk folder and the Named girls only found it after the sign-up deadline. They were really lovely about the whole thing, however, and gave me a chance for the Autumn/Winter collection instead! I tested two patterns for them, but I'm more excited about this shirt, so figured I'd post it first. (: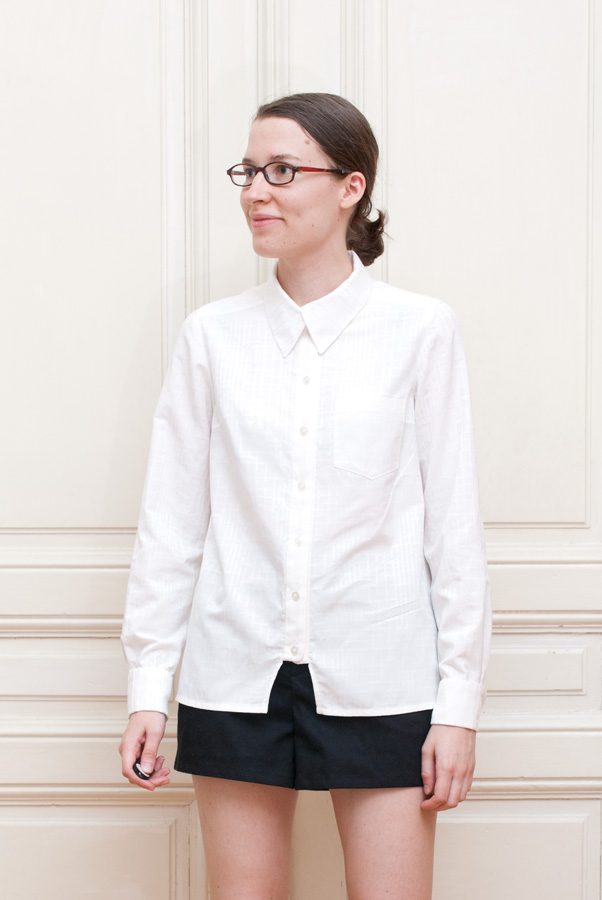 I don't think I have ever owned or worn a white shirt before in my life, but I actually think that this one suits me okay. I expected to look horrible in it, and I really don't think I do. White is definitely not my best colour, but it also doesn't seem to be the worst.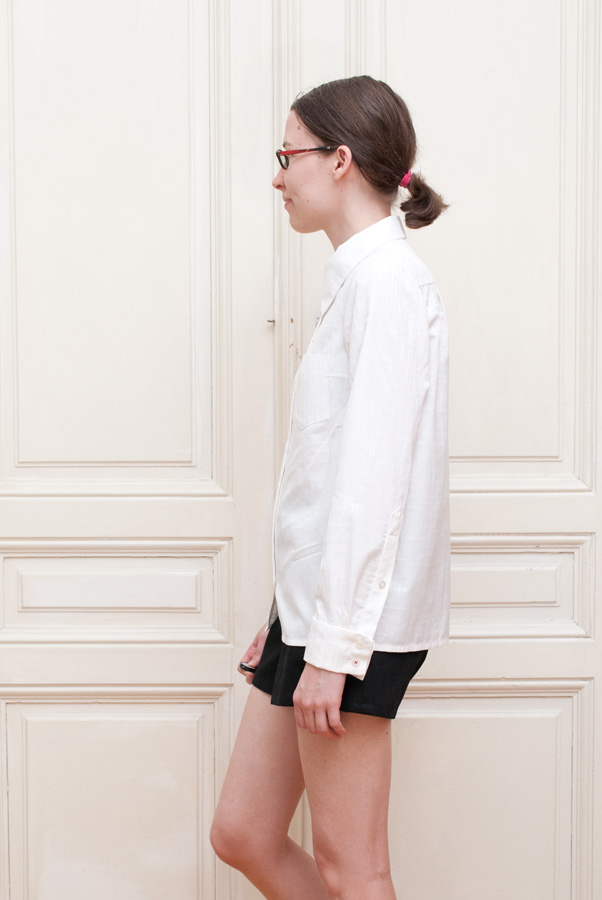 Pattern
This is the Named Clothing Quinn Shirt, in a straight size 36. I made the shirt from the test version of the pattern, not the final version. The Named girls made some minor changes to the pattern after testing, but overall my version should be close to the final pattern, I think.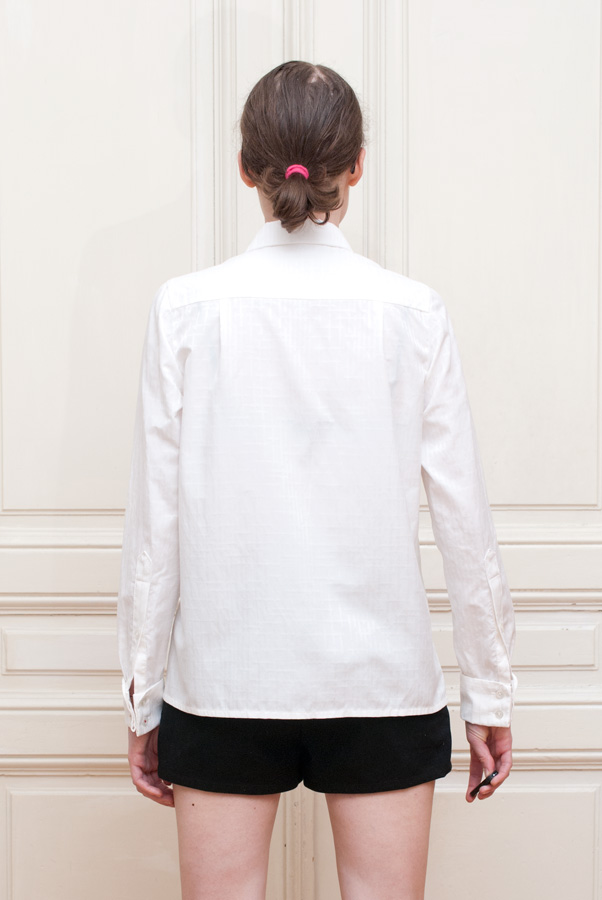 Fabric
The fabric is from Müller and, as almost always, I don't know the fibre content. It is slightly sheer and has a shiny pattern woven in that can be seen in the detail shots. Judging by a burn test and by how it behaved while I worked with it, I would say it is probably mostly viscose—though my mum was sceptical when I suggested that to her. The fabric was easy to cut, sew and press, but frayed quite a bit, wrinkles somewhat easily, and I struggled with ironing the finished garment—as you can see very well on my photos, I'm afraid!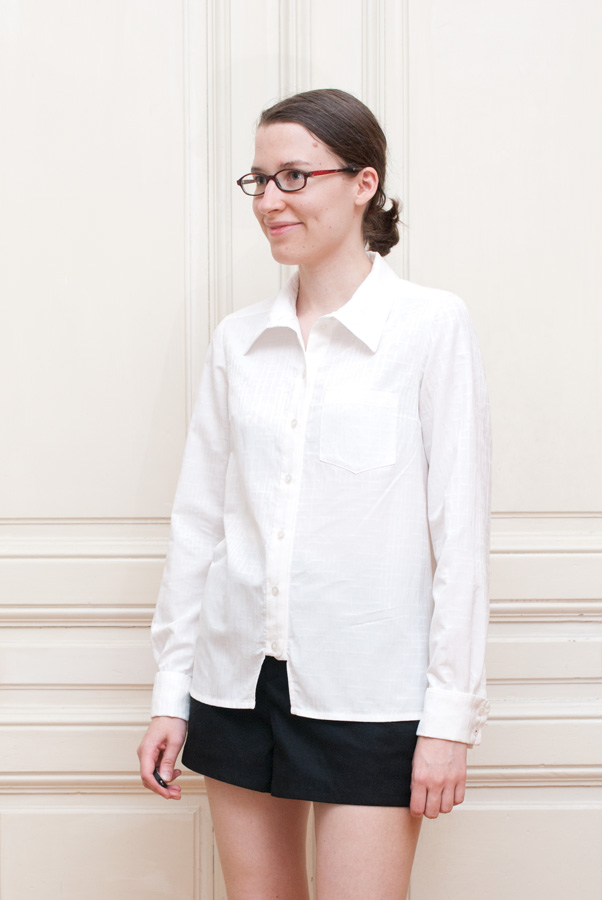 Adjustments
Since this was a pattern test, I asked the Named girls whether it was okay with them if I changed the collar shape. I'm just really not into the kind of small, cute collar that seems to be popular right now, so I always end up making my collars bigger and pointier. Laura said that they were fine with my suggested change, so I went ahead and pretty much copied the shape of my adjusted Grainline Studio Archer pattern—making sure to keep my pattern as asymmetrical as the original. I like the result a lot more than the original, though I must admit that it doesn't look quite as neat and balanced!

I only sewed on the left front pocket. I'm particular about the features I like on a shirt, and if I have the choice, I prefer one front pocket to two.

Okay, this wasn't a planned adjustment, but I should mention that I botched the front vent and it doesn't look like it should. I struggled with the instructions and had to resort to an ugly hack in order to make it look … acceptable. It was even worse before I winged it.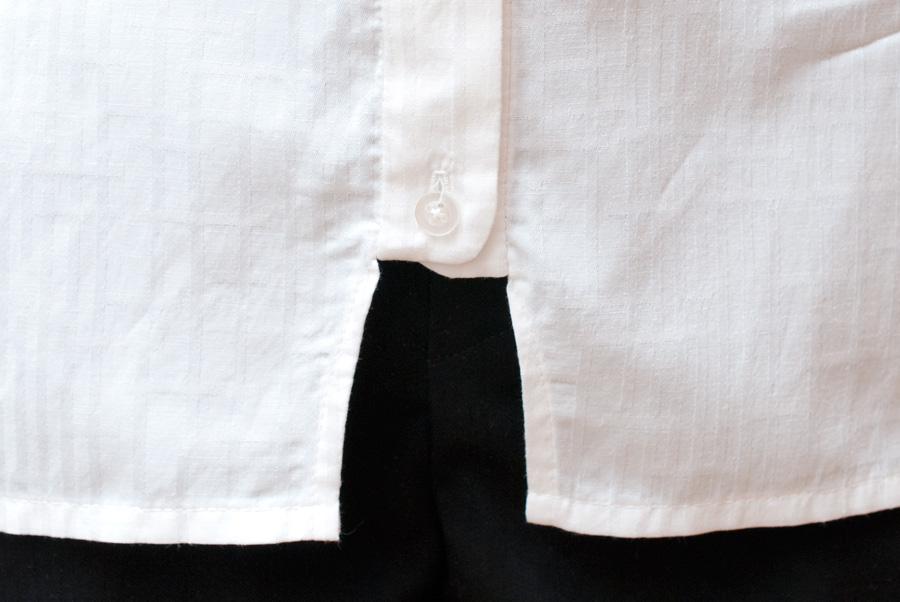 What I want to do differently next time
I am really impressed with the fit of both the Quinn and the other pattern I tested. It's nowhere near perfect, but the Quinn fits me at least as well as any of my ready-to-wear shirts—with no fit adjustments at all! There are still several things I'd like to tweak, but my first attempt is perfectly wearable—and with a few adjustments, this could become a great tried-and-true semi-fitted shirt pattern for me.
The position of the bust darts is completely wrong on me, I need to lower them by about 2–3cm next time. I found this really perplexing. How could bust darts be too high on me? I have a very small bust, so I need less fabric than someone with a fuller bust would, so less fabric gets pulled up, so the darts end up lower on me than they would on someone with, say, B cups, don't they? Perhaps my logic is flawed somehow, but I was really baffled by this. The Named girls have told me that they lowered the bust darts after testing, however, so apparently I wasn't the only tester who had an issue with this. I'll have to compare the test pattern to the final version to check whether the darts are low enough for me now.

I might want to give myself a tiny bit more room around the derrière. The shirt isn't really too tight, I just think that I would prefer a tiny bit more ease, particularly when I'm sitting.

I will probably eliminate the front vent. I really struggled with sewing it, and the result shows my struggle. I thought that it was a cute detail at first, but I'm really not a huge fan of it on my finished shirt, I'm afraid.

I didn't like the construction method for the tower plackets, the finish isn't quite as neat as I would have liked. It looks fine from the outside, but there is a raw edge on the inside, and I don't like that. None of the plackets on my own or my boyfriend's ready-to-wear shirts look like this! I think that this was also rectified in the final version, but I might still steal the pattern piece and instructions from the Sewaholic Granville Shirt for my next Quinn.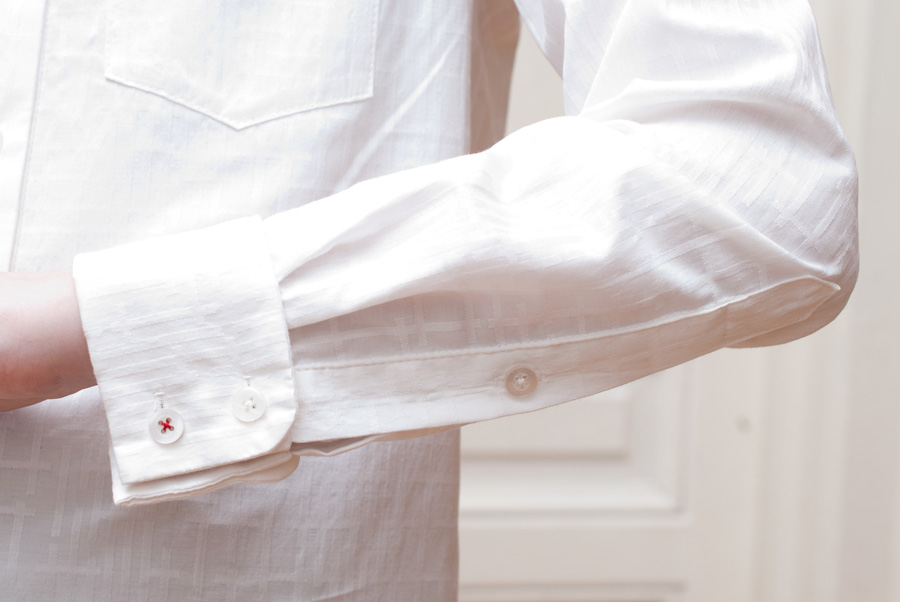 I definitely want flat-felled or French seams for the side and sleeve seams! I followed the instructions this time, since this was a pattern test, but next time, I would increase the seam allowances for the sides and sleeves to 1.5cm and sew neater seams.

I would use my favourite methods for sewing the collar (including cutting a smaller under-collar) and achieving neat collar points again next time. I followed the Named instructions to the letter for the pattern test, but I'm happier with how my collars turn out when I use the other methods.

Speaking of the collar … I might want to tweak the shape a bit to make it look more balanced. The Named ladies really made sure that the original collar looks symmetrical even though it is not—and I messed that up by changing the size. I think that my asymmetrical collar is okay, but I'm sure it could look better.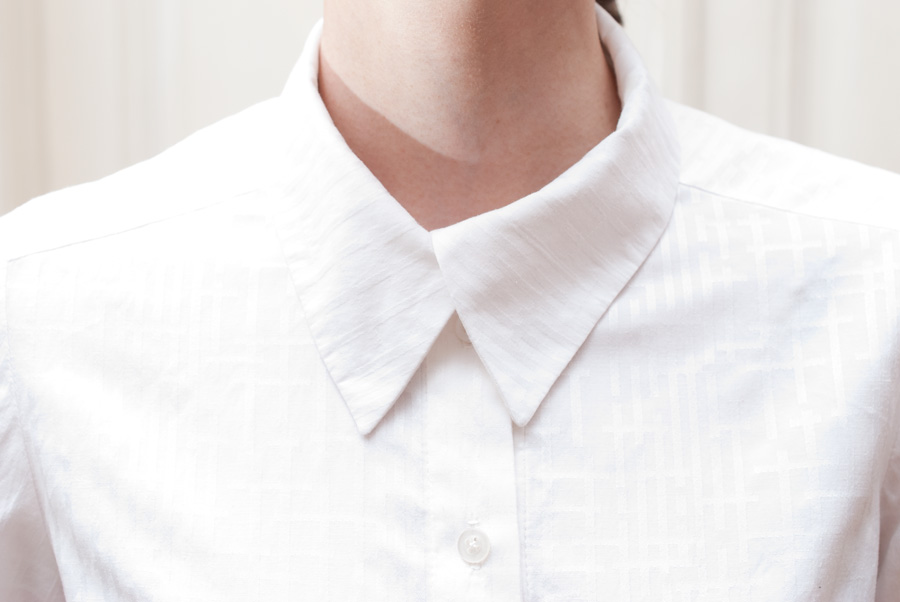 I would completely eliminate every single step that says to stitch in the ditch, and replace all of them with hand-sewing. I might be the odd one out, but I hate stitching in the ditch with a passion, and I don't mind hand-sewing details that look much, much neater when I do.
Detail photos taken by my boyfriend.