Okay, I'm not completely convinced by this skirt.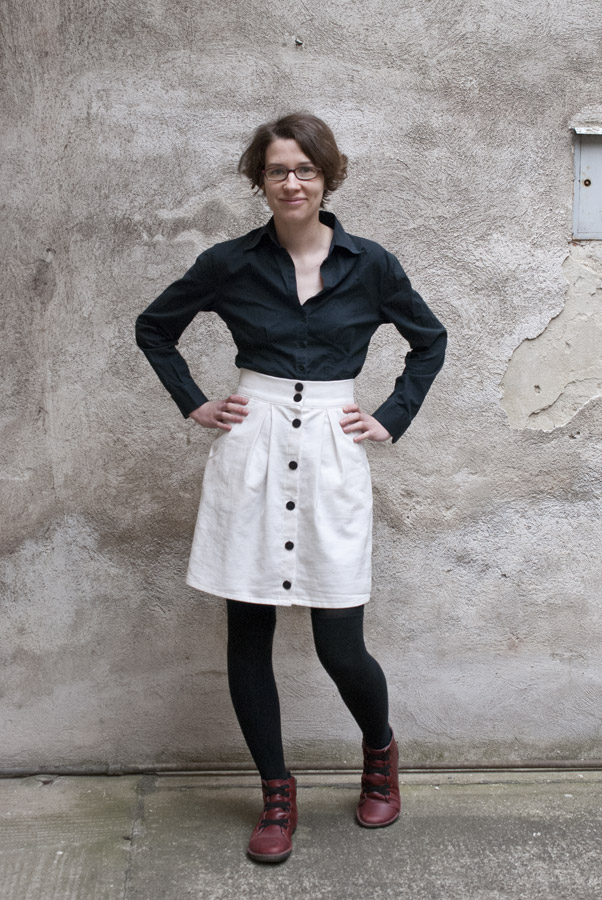 I think it's fun and it fits pretty well out of the envelope, but I feel like a bit of a … caricature in it? The high waist in combination with the pleats, in a fabric with some body, creates a bit of a tulip-like effect that I'm not sure is very flattering on me. It also seems to elongate the legs, which makes the whole thing even more comic.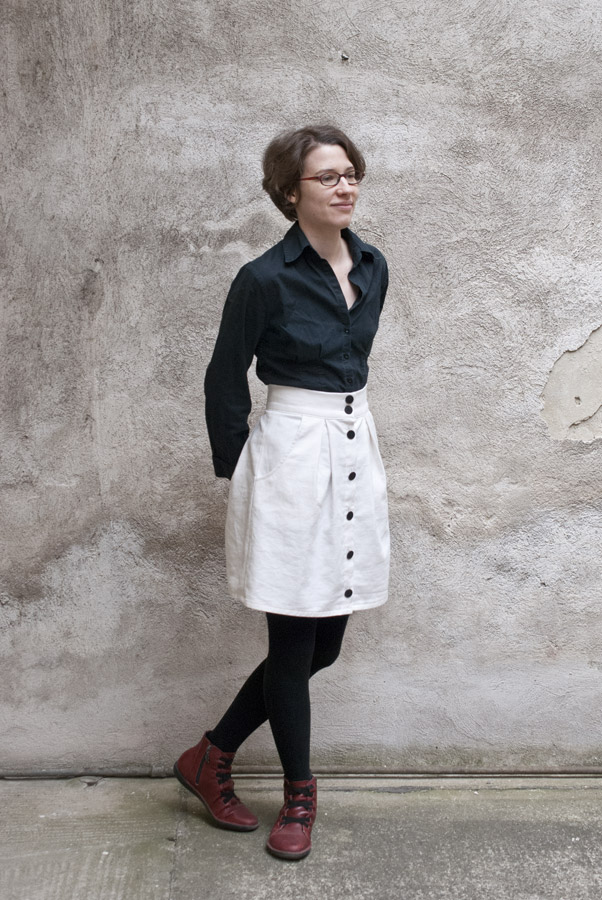 Oh, and I don't usually wear white. At all. Or high-waisted skirts. But I think that I'll just wear my Kelly anyway—in defiance of what people might consider "flattering" for my body type, ha! I'm actually growing quite enamoured with it for some reason.
Pattern
The Megan Nielsen Kelly Skirt, which I won in a giveaway by Sarah of Fabric Tragic (thanks again, Sarah!). I made a straight size XS, which exactly matches my waist measurement (but not my hip measurement).
I was really surprised when I took the pattern pieces out of the envelope and realised that they're rectangles with the pocket shape cut out of the front piece. I was expecting more of a … shape? All of the shaping in this skirt comes from the pleats, which actually works surprisingly well. The pattern doesn't give the finished hip measurement, which I took as another hint that there should be enough ease in a straight size XS—and there definitely is.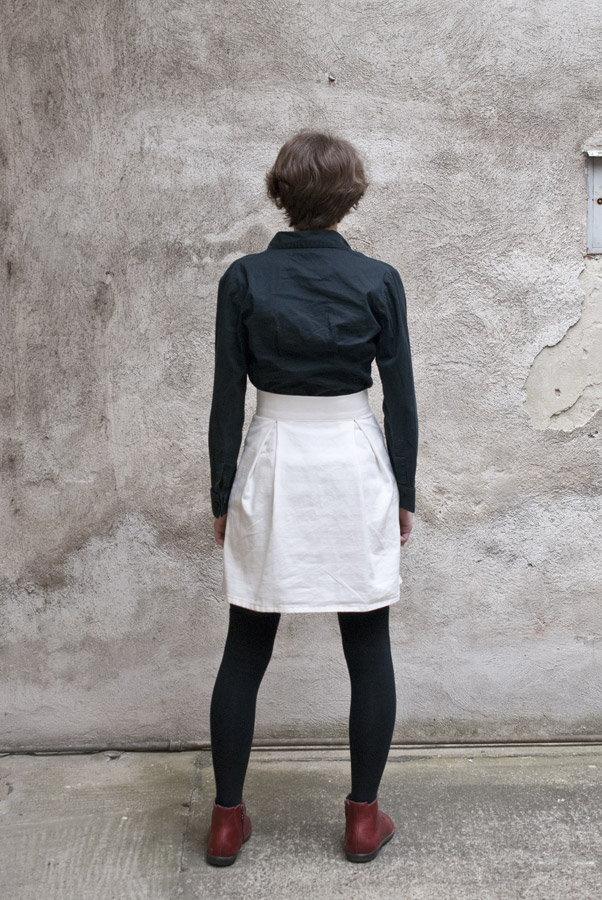 Fabrics & Notions
Uhm. An IKEA tablecloth. It's called CAJA and it has a pretty subtle woven stripe texture. I made a pair of shorts out of it pre-blog and it's not the best fabric for clothes, but I figured it would work for another possibly wearable toile. I did wear the shorts quite a bit last summer.
I cut the pocket lining pieces from an old bed sheet to reduce the bulk.
The contrasting matte black buttons are from Komolka. They were more expensive than the fabric, but that didn't surprise me.
Adjustments
I French-seamed the pocket bags. I just really prefer the neatness of that, and it isn't that much more work than overcasting the edges.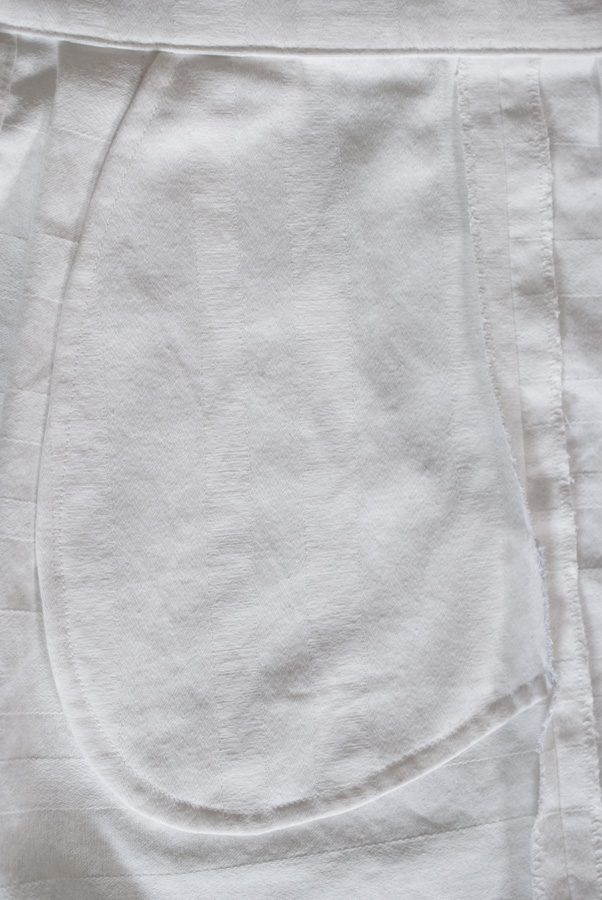 I used the original (much narrower) tablecloth hem, so cut the front and back pattern pieces without the hem allowance. It was supposed to be a toile, so I wanted to spend as little time on it as possible. I'm not sure this actually saved me any time in the end, however, since I had to unpick and re-sew the hem at the side seams and front plackets. And I'm pretty sure the skirt would look much better with the deep hem that Megan Nielsen drafted. Oh well, next time.

I left off all of the optional topstitching to save time. This is a toile, after all.
What I struggled with
The buttonholes were a bit of a pain. My lovely old sewing machine doesn't do any fancy 1-step stuff, it's a pretty manual 4-step process and I haven't practised much yet. My two test buttonholes turned out beautifully, and so did the two on the waistband, which I made first. And then I tried to make the ones on the front placket and the first one was … not pretty. And the unpicking wasn't fun either. Things went fine after that, fortunately, and I'm quite happy with the result—considering this is my first garment with more than one buttonhole.

I had trouble with placing the buttons so that the front placket lies flat. I think that part of the problem might be that I need a little more ease around the waist, and part of it might be the tablecloth fabric. And part of it is definitely that I don't know what I'm doing, and the instructions just say, "Sew buttons to the left placket in the corresponding positions"—which isn't particularly helpful if you don't know what you're doing.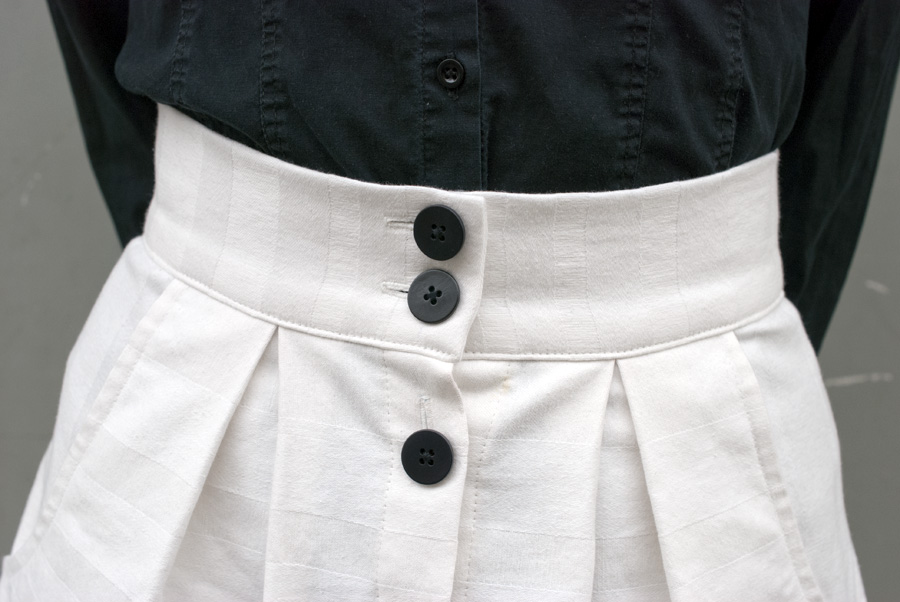 What I want to do differently next time
I might want to add about a centimetre of ease around the waist. The skirt fits pretty well as it is, but I'm not used to wearing high-waisted skirts and I think it might feel more comfortable with just a little more ease. I'll add half a centimetre to the back pattern piece and a centimetre to the waistband for next time and see whether that's better.

I think that flat-felled side seams would work really well, and I really don't know why I didn't think of that for this version. They would hide the only exposed seam allowances that I still have after French-seaming the pocket bags.

I'd like to try a version with the back pleats converted to darts for a less comic look. I'm not sure the back pleats are doing my protruding derrière any favours. My boyfriend agrees, he's not a big fan of the back pleats either; my parents disagree, they like the look as it is. I want at least seven different versions of the Kelly right now anyway, so we'll see what variation I come up with next.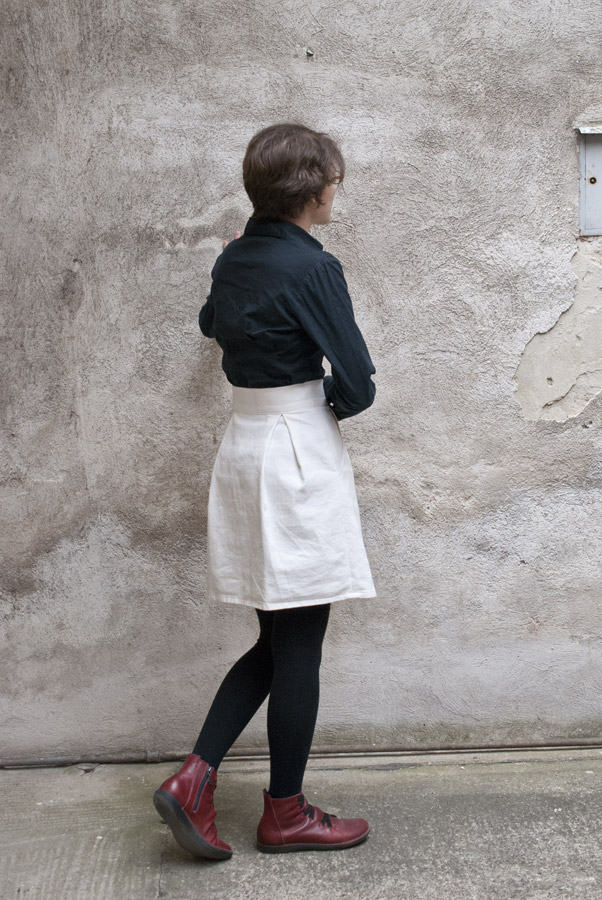 I'd like to try a mini version.

I'd like to try a version with some interest added to the hem, perhaps a contrasting band or something like scallops. I'm actually not a huge fan of scallops, but I have a similar idea that might just work.

I want more topstitching! I left most of it off this time because I wanted to get the skirt done as quickly as possible—after all, I wasn't even sure whether it would end up wearable. But now that I know it fits, I'd like to spend some more time on a neater version with more topstitching—and made out of a nicer fabric.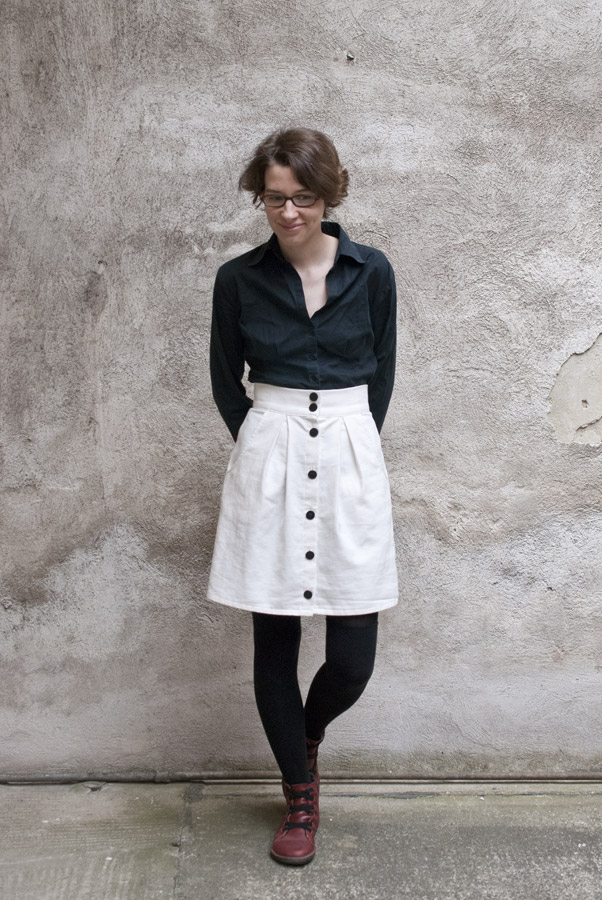 Photos of me taken by my boyfriend.