So, I don't wear bodysuits, and I have made a bodysuit. I don't wear skintight clothes, and my new bodysuit is skintight. I don't wear scoop necks, and my new bodysuit has a scoop neck. I don't wear "tribal" print, and my new bodysuit is made from a crazy "tribal" print fabric.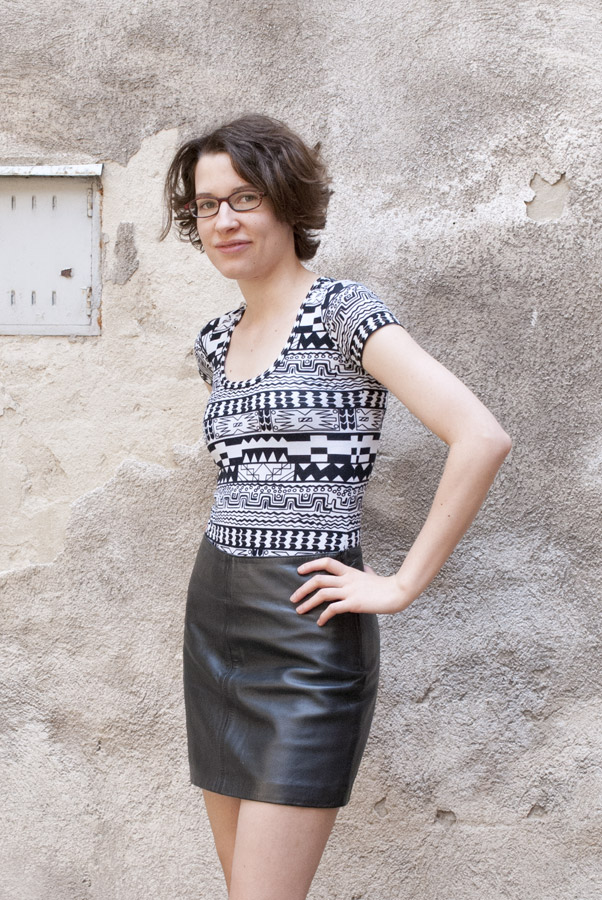 And the most fascinating thing about all this is that, even though it isn't perfect, I feel pretty in this thing!
Usually, when something isn't quite right with a project I'm working on, I will toss it aside in frustration and not look at it for weeks or months (or ever again, in some cases). Not so this time. For some reason, I don't mind that much that the fit of my bodysuit isn't quite right and the finishing isn't as flawless as I would like. For some reason, I finished it anyway, and am planning to wear it as it is, and damn anyone who even notices that this thing isn't perfect! Thank you, Heather, for helping me learn to ignore this stupid destructive perfectionism of mine!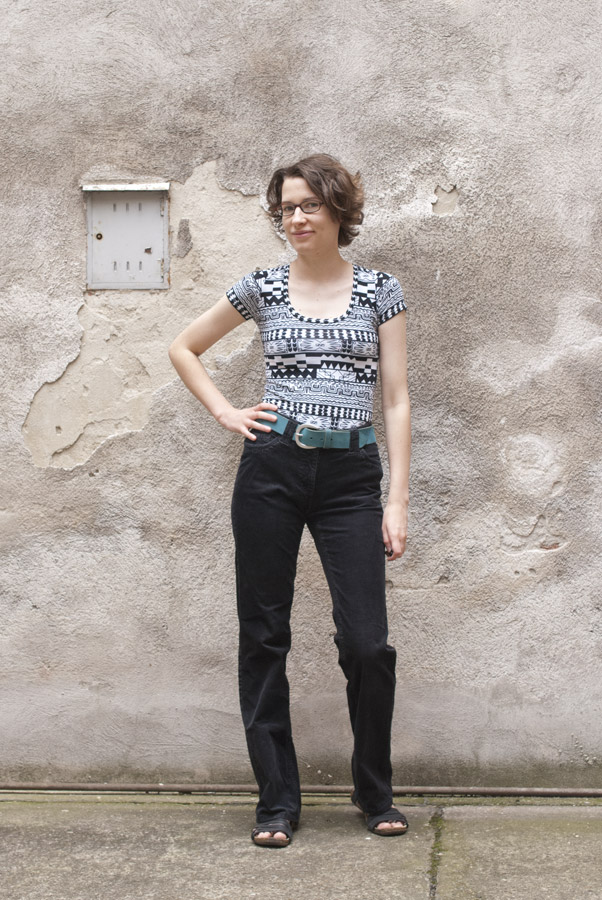 And now my problem is that I don't even know when one wears or how one styles a bodysuit. Or a skintight shirt, for that matter, because obviously no-one will know it's not just a skintight shirt. But, in the name of science, I have come up with some random outfits for this photo shoot anyway! I have no idea whether they work, but who cares, I can wear whatever I want!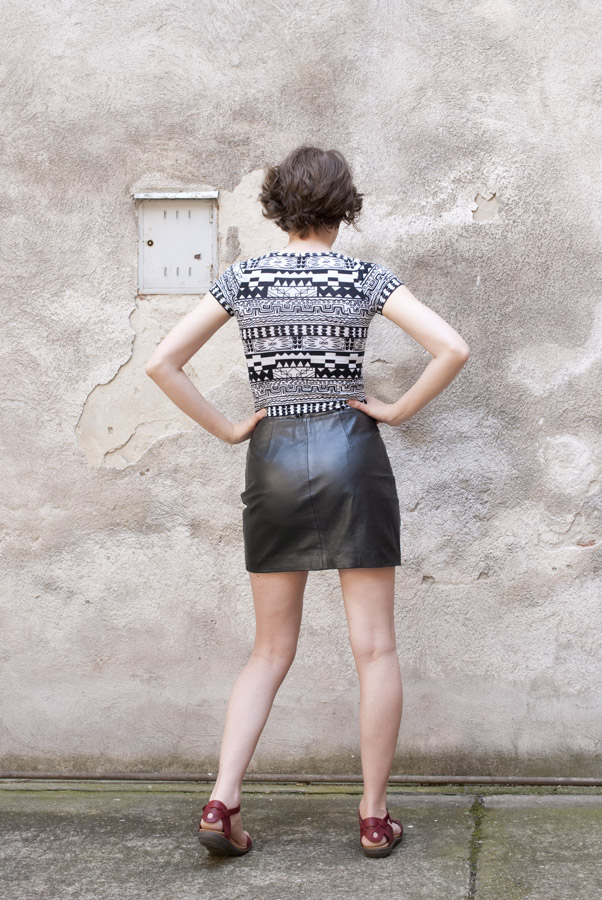 I'm really happy with my fussy-cut neck binding! I used my favourite part of the "tribal" pattern for that, and I also cut the sleeves so the same pattern goes around their hems.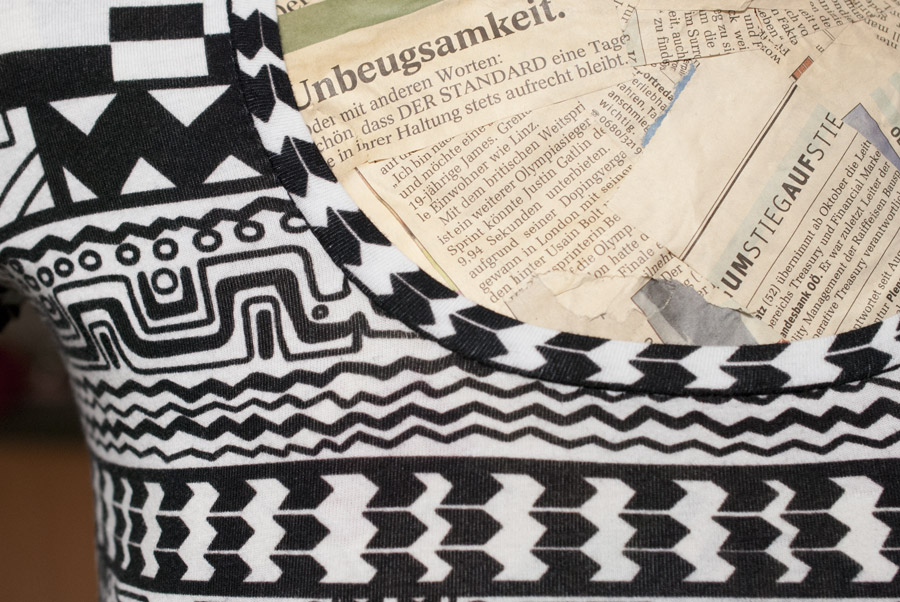 Pattern
This is the Nettie Bodysuit by Closet Case Patterns, in a size 4–8, with scoop neck, high back, short sleeves and crotch snaps. I love that there are so many options, even though not all of them are for me. (Or so I thought initially. Who knows what Heather will do to me next!)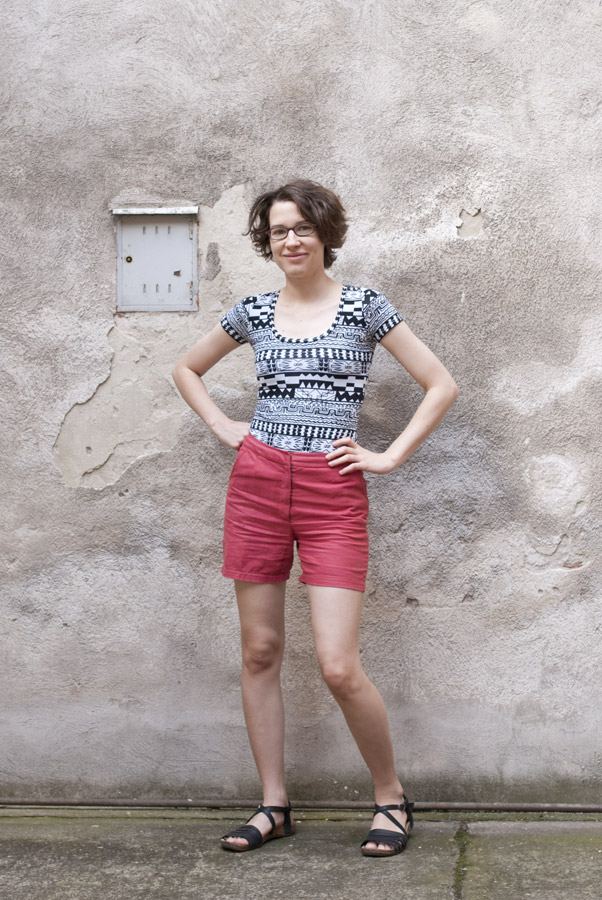 Fabrics
As the main fabric, I used a rather lightweight "tribal" print knit fabric that I got from Marina in the Stash Diet Swap. (I wish I knew what kind of pattern this really is, but I guess it's most likely a "generic print from a big box store", as Meg calls it.) It was offered as a cotton knit, but there's definitely some elastane in there. It stretches a lot, with good recovery. When I asked for the fabric, I had no idea what I wanted to do with it, I just really liked the pattern. Good thing the Nettie has since come along and made me use it! I used less than 85cm of 140cm wide fabric, and I could have fit the long sleeves onto that piece instead of the short ones as well. And I have enough left over to make another Nettie once I have tweaked the fit, I think!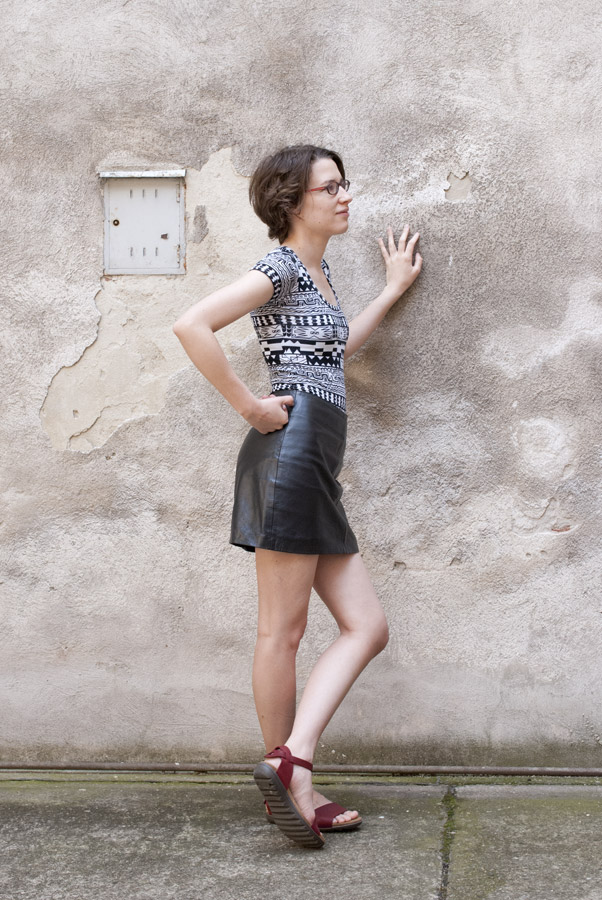 For the "snap crotch lining" piece, I used a plain purple cotton. I went through my scrap box and my stash of quilting cottons and, surprisingly, didn't find anything I really liked with the "tribal" knit.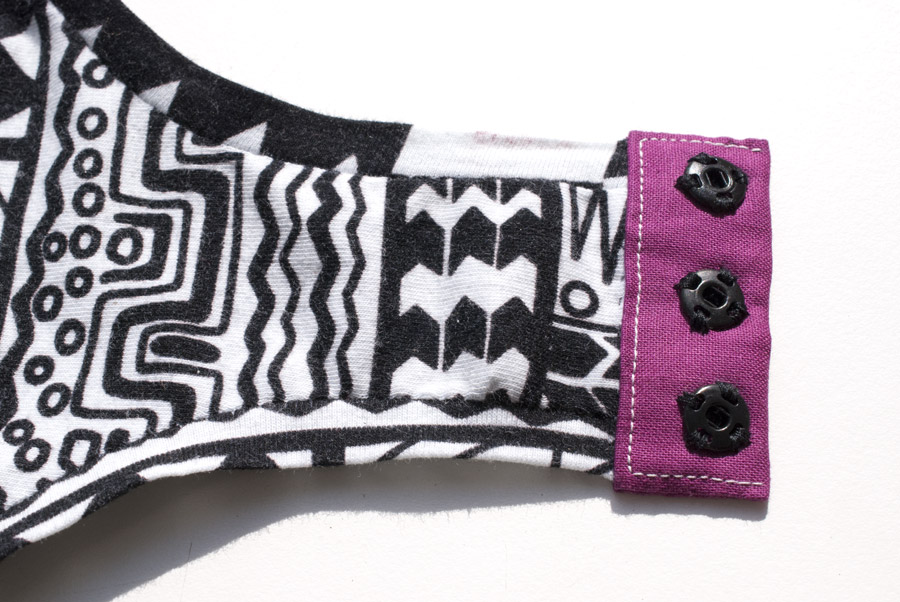 Adjustments
I graded from a size 4 at the bust to a size 8 at the hips. I wasn't sure whether a size 6 would be enough, but I thought that since I was already grading between sizes, it didn't make much of a difference—and I'd much rather not have my bodysuit cut into my behind.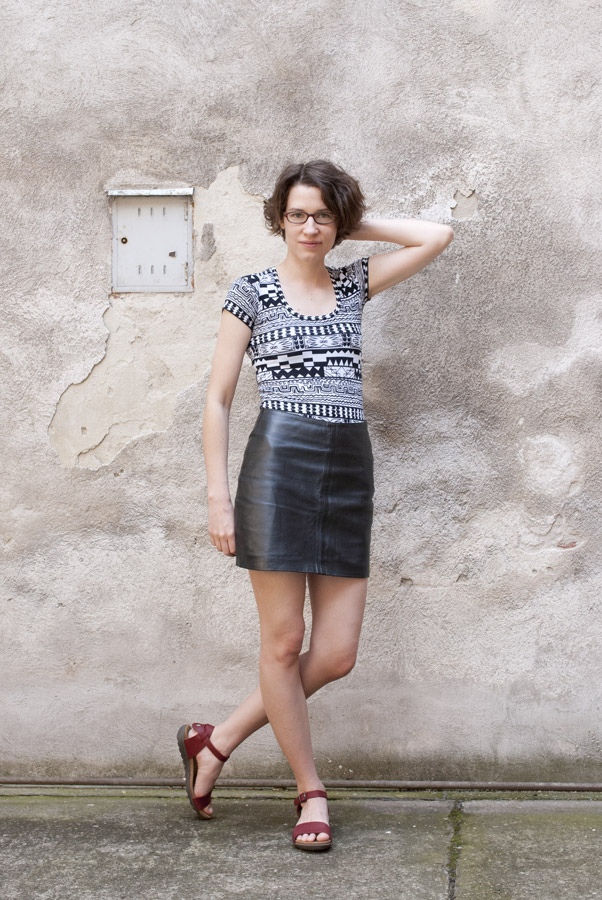 What I want to do differently next time
I'll have to refine the grading somewhat. The size 4 at the bust and waist is perfect. The size 8 at the hips was probably overcautious and a size 6 would be fine there, it's a tad roomier and a tad longer than I think it would have to be. What's worst, however, is that my shoulders seem to be quite a bit wider than the size 4 is drafted for. It's just my bust that is small, but my shoulders are an average width. So next time I should grade from a size 8 (?) for the shoulders and sleeves to a size 4 for the bust and waist and then back up to a size 6 for the hips, I guess, and see how that works out. This version is pretty much wearable, but the shoulders are narrower than they should be, and the sleeves are rather tight, so it isn't all that comfortable.

I have a really fun idea for a Franken-Nettie, however, that I want to try before I make up another "straight" Nettie. I've already started to work on adjusting the pattern for that, so hopefully I'll get that done soon as well!
Helpful links
The instructions for the pattern are excellent, but for anyone who wants even more detail, Heather did a great Nettie Sewalong with lots of tips and photos.