I finished these two dresses last year, but only got around to taking photos now.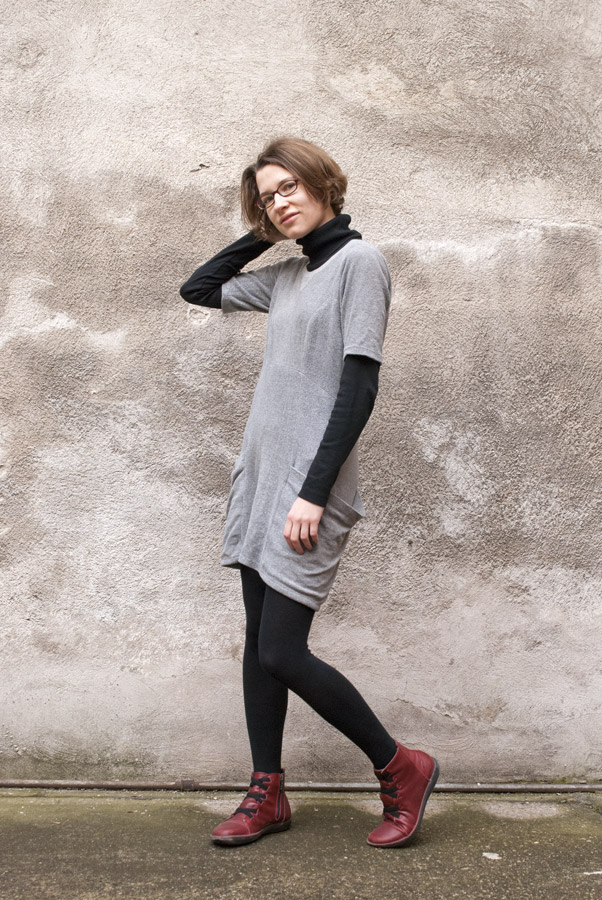 I've been wearing these a lot and I'm calling them my pyjama dresses, they're so comfortable—but still cute. (And yes, I also sleep in them. Why wouldn't I?)
I'm thinking that this will be my very first "tried and true" pattern! Yay!
Pattern
Victory Patterns Lola, in size 2/4.
Fabrics
For the first attempt, I cut up an old sweatsuit of my dad's. The grey doesn't really suit me, but it was free fabric, so who'd say no to that?… It's a kind of velvety sweatshirt knit made from 100% cotton. I wasn't actually going to wear this version, but it turned out well enough and was really comfortable, so after I'd worn it around the house in its unfinished, toile-ish state for a few days straight (with threads hanging out everywhere and no hems or neckband), my boyfriend encouraged me to actually finish it.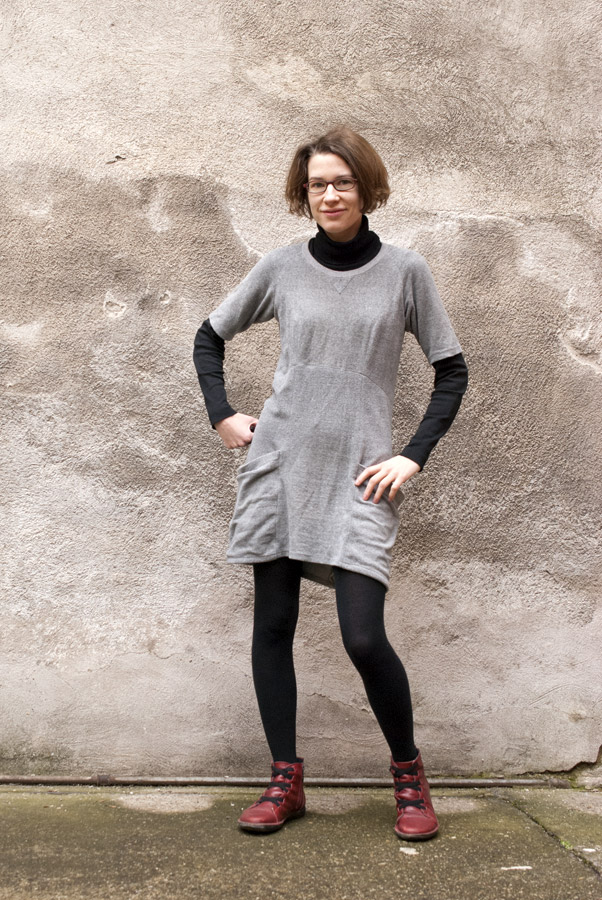 For the second version, about 1.3m of drab green 100% cotton sweatshirt knit, from Giraffenland. My boyfriend didn't like the colour, and I wasn't that sure of it myself any more when I saw it in natural light (note to self: don't buy fabric you're unsure about in the evening!)—so I dyed the dress black(ish) when it was done. The fabric behaved itself very well and is really comfy and cosy, so I've already gone back for some more of it for another version.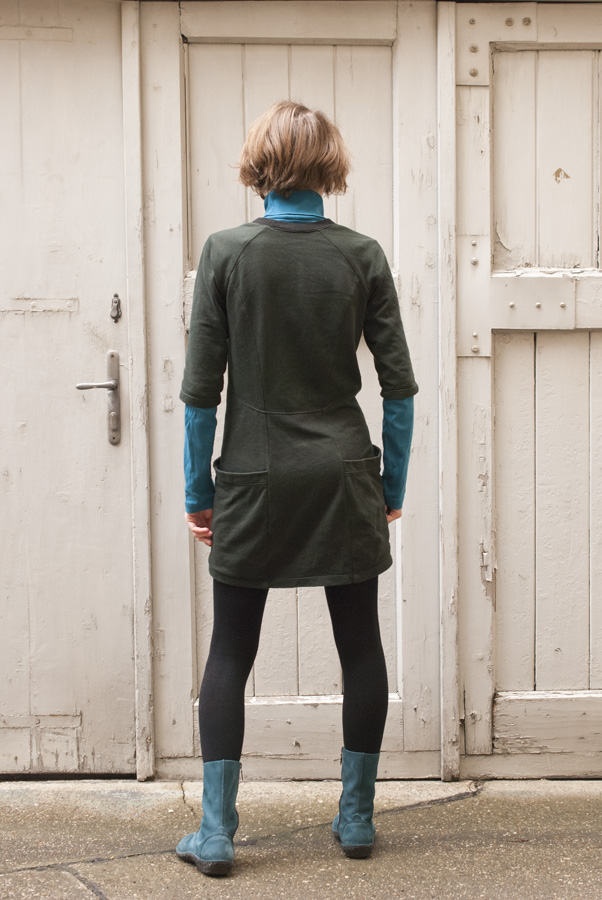 Less than 10cm each of black and light grey ribbing (about 90 or 95% cotton with some elastane) for the neckbands. The black was from Stoffsalon, the grey from Komolka.
Alterations
Fit adjustments
I graded from a size 2 at the bust to a size 4 from about the waist down.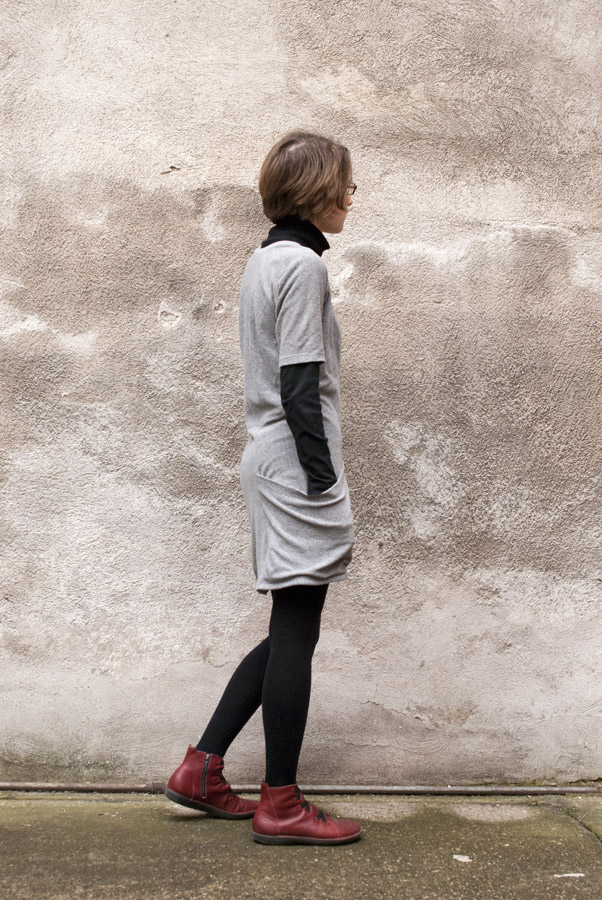 The bust on the first version was still too big and/or the wrong shape for me, so I adjusted the curve on the upper side piece for the second version. I basically just flattened the curve a bit because the pointy bust shape looked silly on me. Gotta love princess seams on a Mine Will Stay Perky Longer Than Yours Bust—easiest adjustment ever!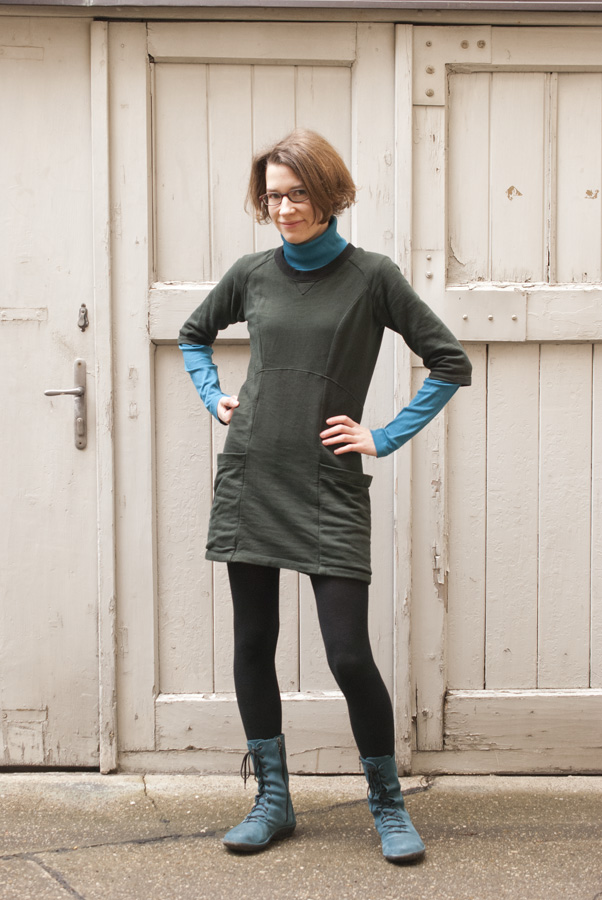 Design adjustments
I omitted the bands on the sleeves and hem. I just turned and stitched the hems with a twin needle.

I was going to use self fabric for the neckband of the second version and struggled a lot with that (see below). Note to self: Don't use 100% cotton sweatshirt knit for neckbands; just don't.

For the second version, I lengthened the sleeves by about 10cm at the lengthen/shorten line. This was partly to make up for the missing bands, but also because I wanted slightly longer sleeves that would cover my elbows.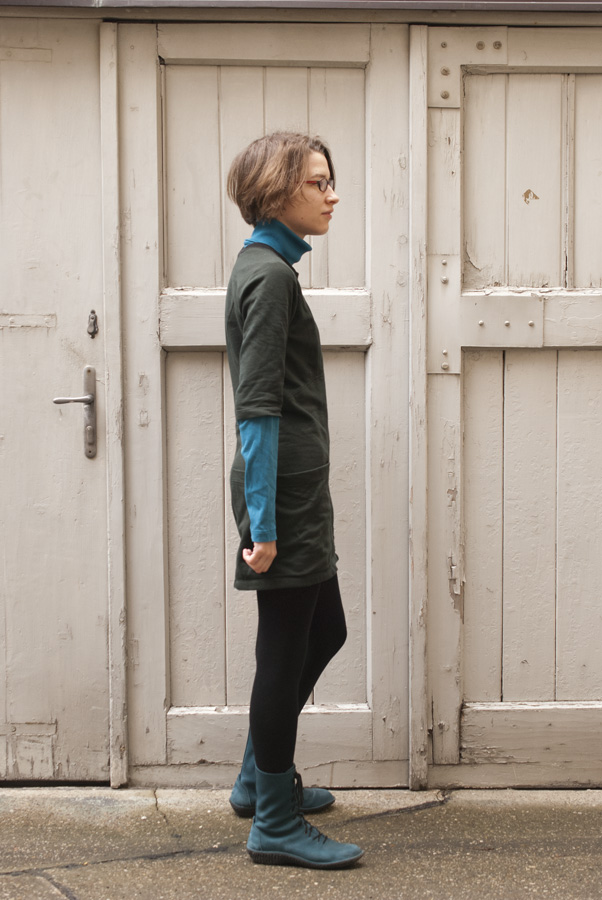 What I struggled with
The blasted neckband (of the second version, I did that one before the first one)! I basted it on three times and it still wasn't right. The first band was too long and floppy and just looked ridiculous; the second one was too snug, made the dress quite hard to get over my head and caused some pulling on the fabric around the neckline; the third one still didn't sit right and caused weird ripples in the fabric. I was going to leave it, but it still bothered me, so I got some black ribbing fabric and with that, it worked pretty well on my first try. I think that I stretched the neckline out of shape on my first three tries, so it is still not great, but at least I can put the dress on and it isn't gaping or rippling too much any more.

The hem of the second version, particularly on the pieces with the pockets. Those areas are bulky. My hem isn't quite even or straight, but I have decided that I don't care enough to beat myself up over it. No-one's going to look that closely at my hem!

The V neckline detail wasn't all that easy to apply. For the green/black version, I used an overcast stitch around it, which was a bit of a pain and doesn't look perfectly neat. For the grey version, I just attached the V using a straight stitch, since the velvety texture hides the raw edge and the fabric is unlikely to fray much anyway. (It was a toile and I just wanted to finish it as quickly as possible without putting too much extra effort into it. But I wanted the V anyway because it makes it quicker to tell the front and the back of the dress apart.)
What I want to do differently next time
Do I need a bit of a sway-back adjustment? Perhaps I should try and see how that looks.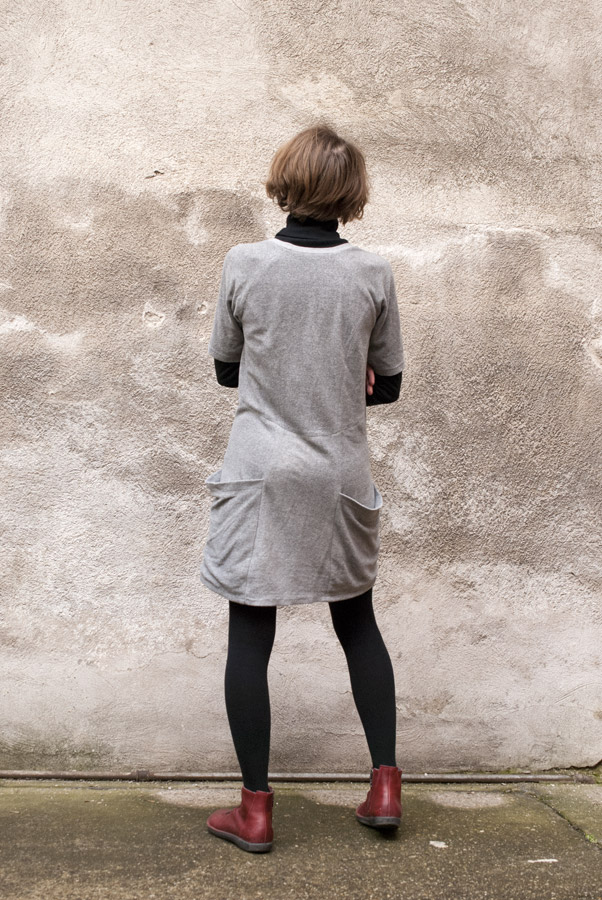 I might lower the neckline a bit. That should hopefully help with the gaping and non-neat neckband application.

I'm unsure about the length of the sleeves. I'll have to think about what I actually want before cutting several more of these. (:

I'll use ribbing for the neckband from the start, or choose a stretchier fabric with better recovery for the whole dress.

I should really try out Lauren's knit band application method.

I'll have to consider using a self-fabric band for the hem after all, cut to the length of the hem. Might be easier to do than the turn-and-stitch hem on a bulky fabric like this. I still don't particularly like the ribbing hem of the original pattern, at least if it's cut that much shorter and pulls the dress in at the bottom, so am rather unlikely to do that.

I might try taping together the upper and lower pieces to eliminate the waist seam. I love the original look, but it doesn't look that great on me because it really highlights my asymmetrical body. The waist seam isn't all that comfortable either, to be honest, at least in a heavy fabric like my sweatshirt knit. It's fine if I'm wearing something under the dress, however, so I might just leave it after all.

I'd like to make a "dressier" version without the pockets and the V neckline detail. I love the pockets, but some variety wouldn't hurt. I love this pattern enough that I see myself making a few more versions of it.
Other versions I like