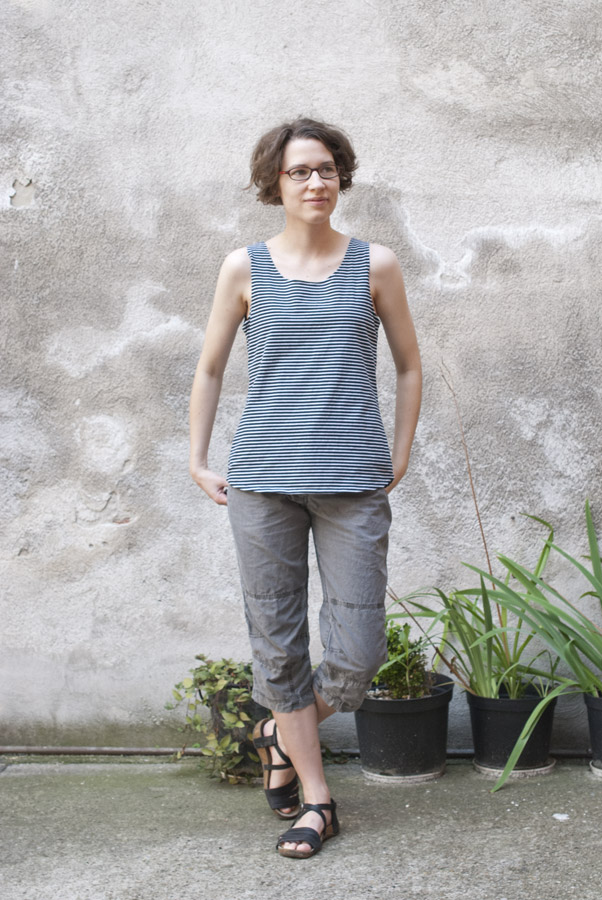 Okay, it took me quite a while to write up this post. It usually does anyway—and then this one contains four finished garments instead of one! I made all of them in May and June, if I remember correctly, but only now got around to taking a million photos.
I was on a bit of a mission when I made these. I've been wanting to play some more with drafting my own patterns and I thought that I'd best start with something really simple: a tank top. Also, I can be quite stingy. I love Megan Nielsen's Eucalypt, but I thought that I should be able to make my own pattern for something as basic as that—and hopefully have it fit pretty well right away. I didn't realise at the time that something as simple as a dartless tank top has to fit very well or it will look terrible. So this became a more elaborate project than I had planned, and yielded three tank tops and a dress—in addition to several unwearable toiles.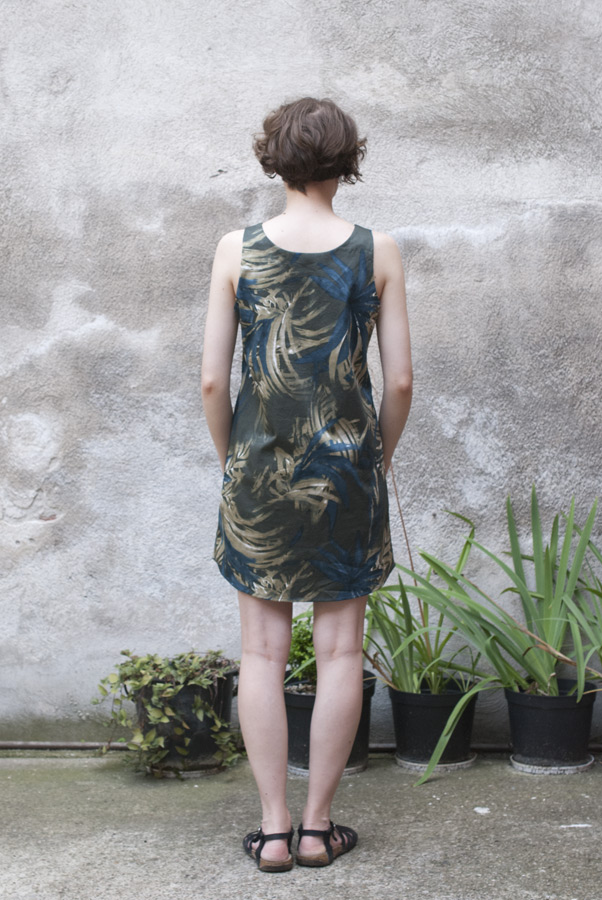 Pattern(s)
The Purple Tank Top
For the first version, I started with the pattern for last year's Christmas dress and then pretty much redrew everything. I don't think I left a single line exactly as it was. I changed the neckline, the armholes, the side seams, the shoulder seams and, obviously, the length. It was very helpful to have a pretty well-fitting bodice to start with, however.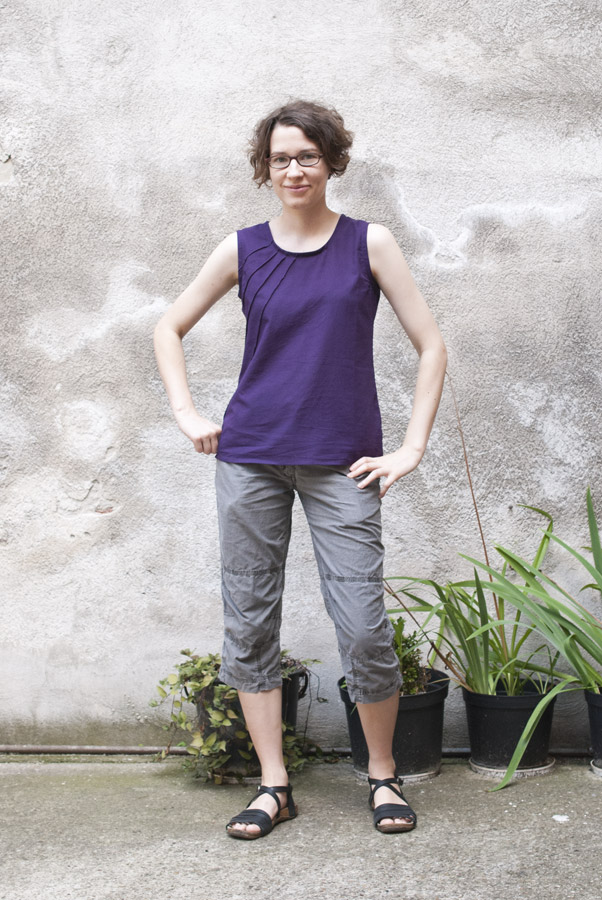 I added tiny little darts to the back neckline. I didn't need them in the heavier-weight wool I used for the Christmas dress, but I couldn't convince the back neckline to lie flat without them in a lightweight cotton. They're tiny, but they improved the fit a lot.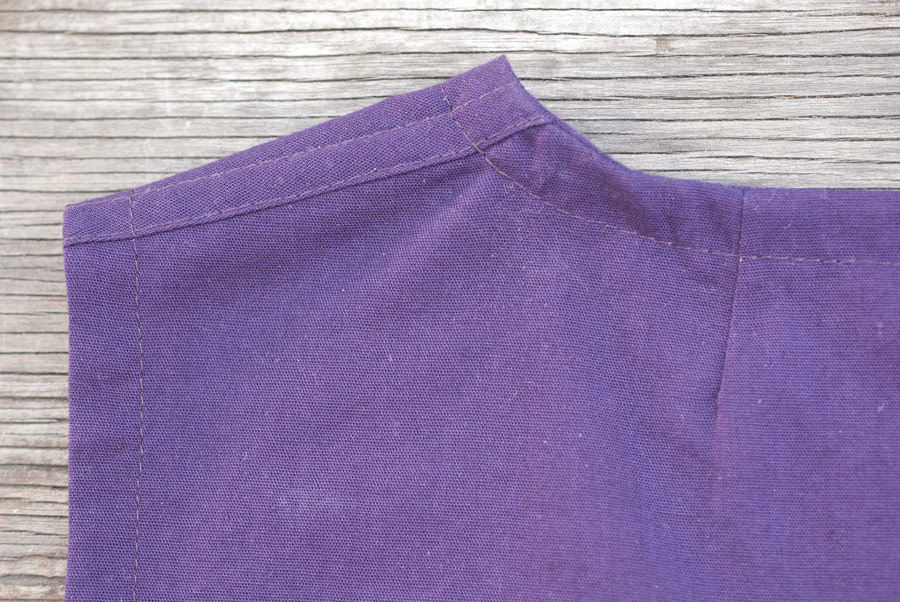 I added some improvisational pleating as well. It's subtle, but I thought that it would add a little detail to an otherwise very nondescript top. I was slightly bored with the project after two toiles, so decided to challenge myself a little by adding a few pintucks. I didn't measure anything, so this should count as An's method B—only not quite as exciting. I really like her more "crooked" look as well, and also her method A.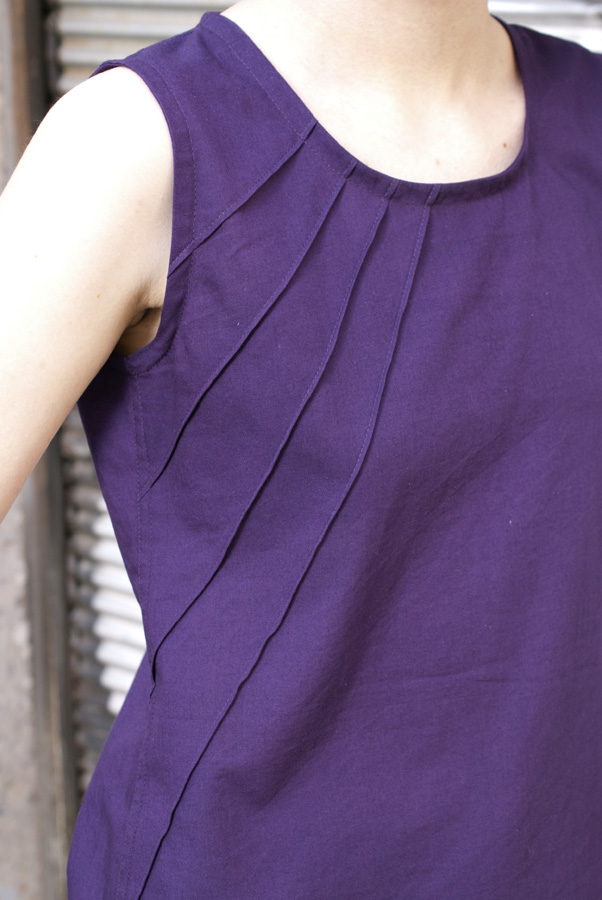 The Plaid Tank Top
After making up the purple version, I decided that I wanted to try scooping out the neckline and armholes some more, so I redrew those curves. I actually digitised my pattern for that, so that I could play around with it in Illustrator (which I hadn't ever used before) and print out different versions. I got rid of the neckline darts because I didn't need them with the deeper neckline, and I made the straps quite a bit narrower. I also curved the hem to a kind of shirt-tail hem, just because I thought that that would be a fun thing to try.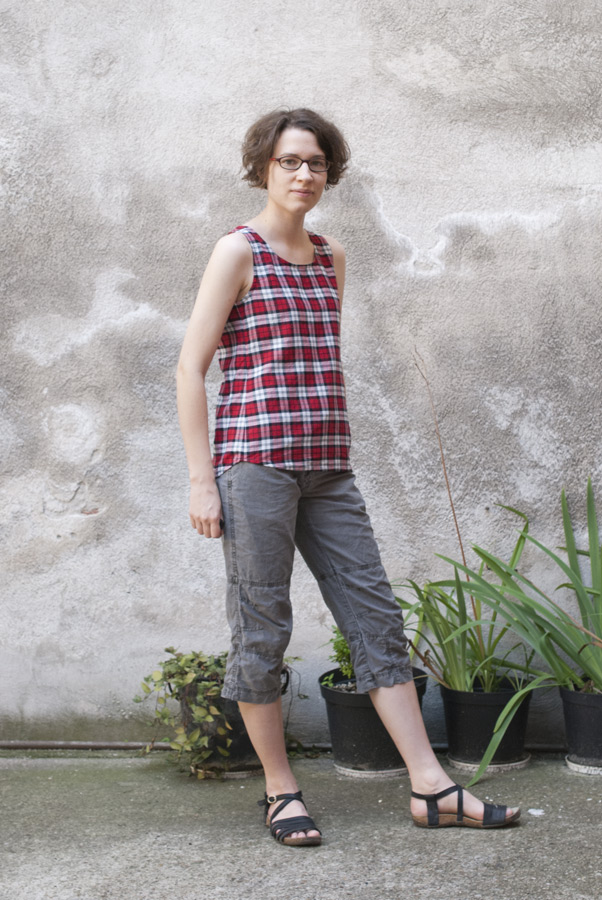 The Stripey Knit Tank Top
This is the exact same pattern as the Plaid Tank Top. I wanted to try out whether it would work in a knit fabric too, and it did.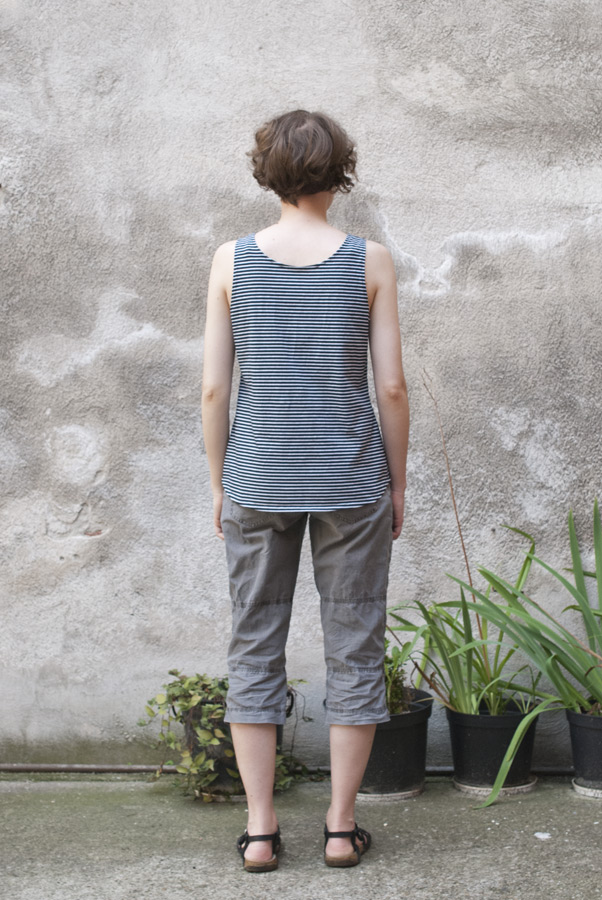 The Dress
After making up the three tank tops, I thought that perhaps I could lengthen the pattern and make a sleeveless summer dress to wear around the house. The pattern is the same as for the previous two tops, only lengthened, and also with a shirt-tail hem. I'm becoming rather fond of them—even though they were a pain to sew in most of the fabrics I've used so far.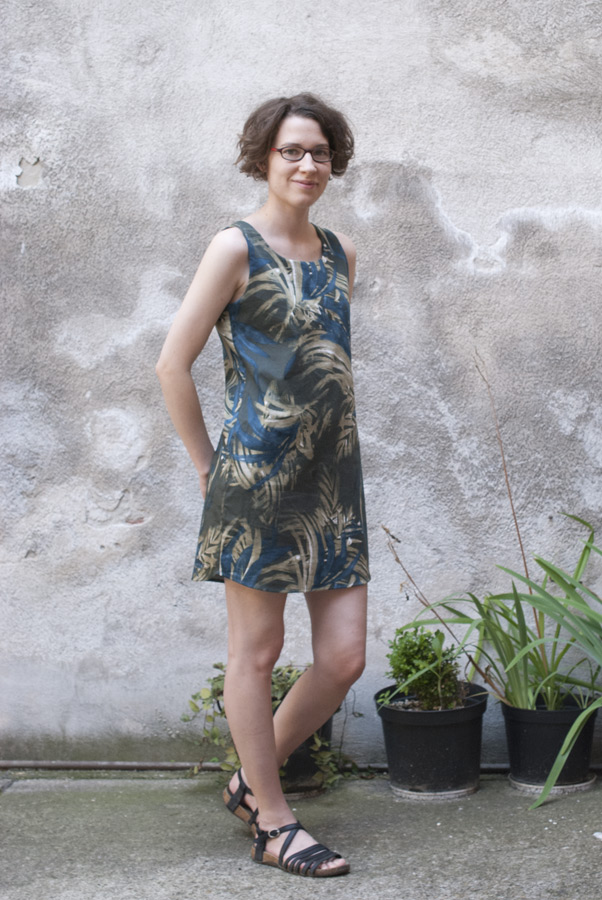 Fabrics
For the first version, I used a lightweight, slightly sheer dark purple cotton from stoffe.de. I got about a metre of this on sale a while ago with no plans for it and decided to use it for my first tank top because I wouldn't be heartbroken if I ruined the fabric.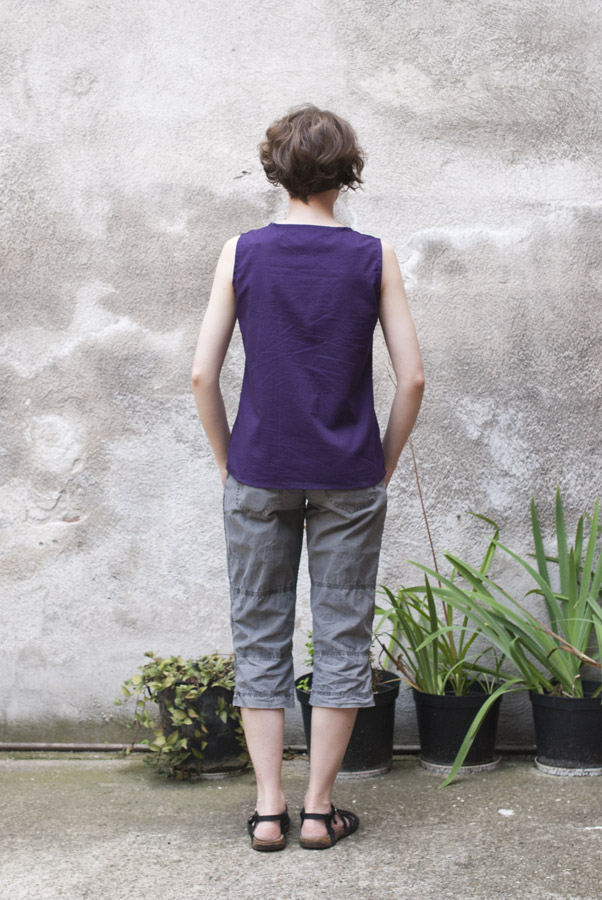 The plaid fabric is from Stoffsalon, and it's also 100% cotton, but slightly heavier. I actually meant to make a skirt for my sister out of it, but then she wanted something completely different, so I had to find another use for the fabric. I thought of making a button-up shirt at first, but then I was afraid that that might end up looking too rustic, so it became a tank top (with some fabric left over). I took great care to match the plaid at the side seams, which, due to the skewed grain in the fabric, caused the finished top to twist. You can see quite clearly that the side seams don't stay where they belong and the lines of the plaid don't run straight up and down on my body. Oh well.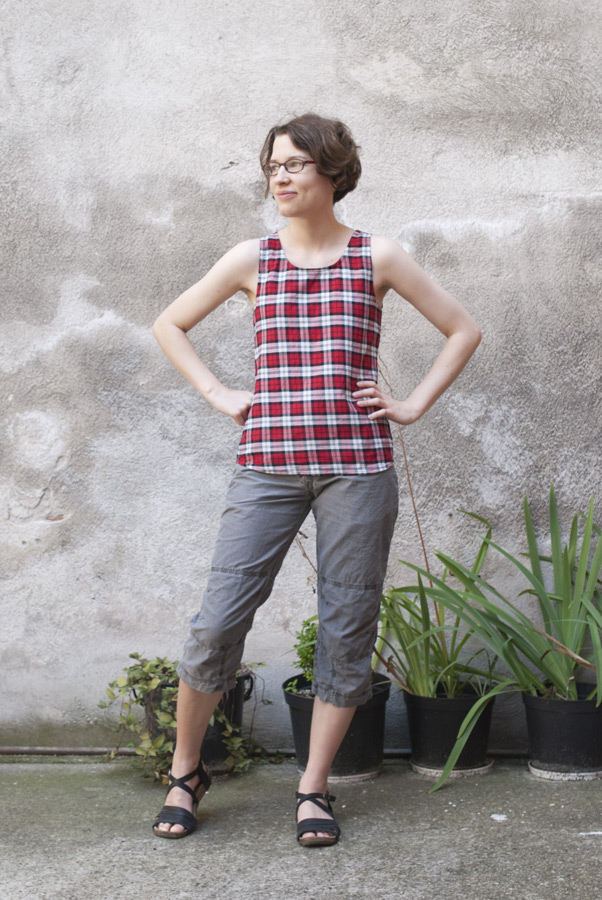 The stripey knit fabric is cotton with some elastane (around 7%, I think, but I don't remember exactly). It is from Herzilein, which is actually a children's clothing boutique, but they also sell some fabrics. Most of them are very much too cutesy for my taste, but they also have some good basics. You can't really see this very well in the photos, but I painstakingly matched the stripes at the side seams.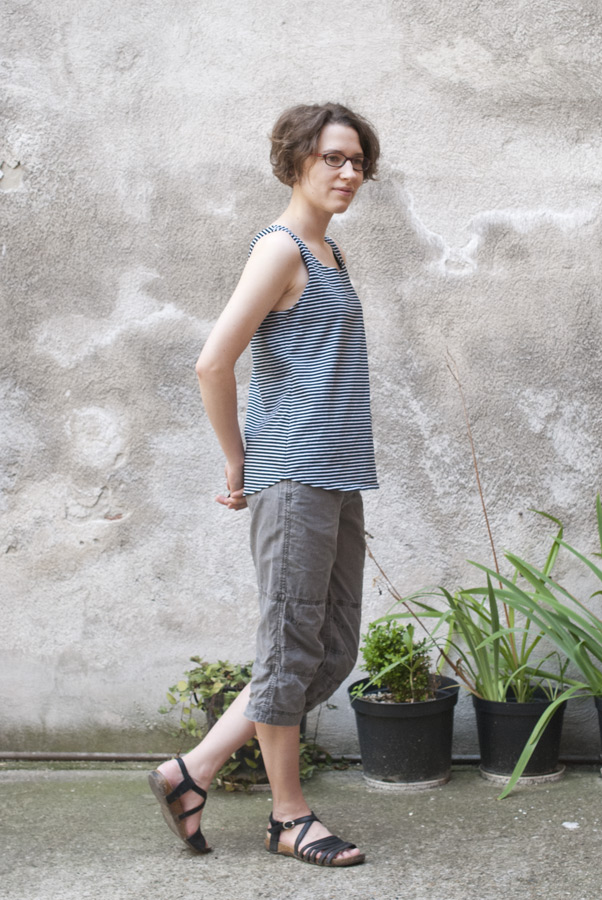 The fabric I used for the dress is from Müller and it's a cotton with 2 or 3% of elastane in it. I don't think the colours suit me and I don't wear florals, but I just liked the print for some reason and it was really cheap, so I got it to make some kind of wearable toile out of it. Like this dress. I did not attempt to match the pattern because it's wild enough that I didn't think it would matter.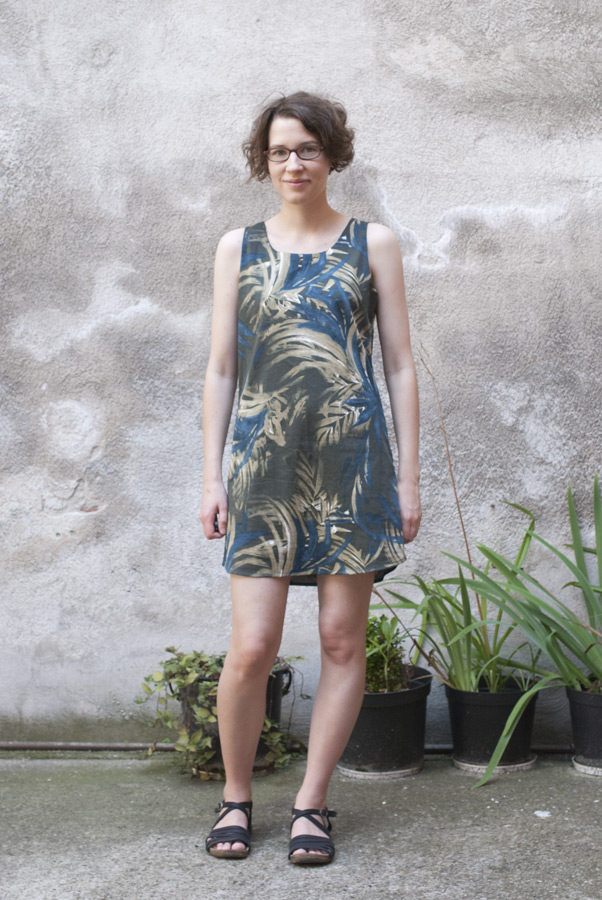 Construction techniques
Apart from trying to draft a well-fitting pattern, this was probably the most fun part of the whole project. Making basically the same pattern four times in a row isn't particularly interesting, so I played around with different construction methods and finishing details.
The purple tank top has flat-felled shoulder and side seams and a narrow double-folded hem. The neckline and armholes are faced with bias strips cut from the same fabric.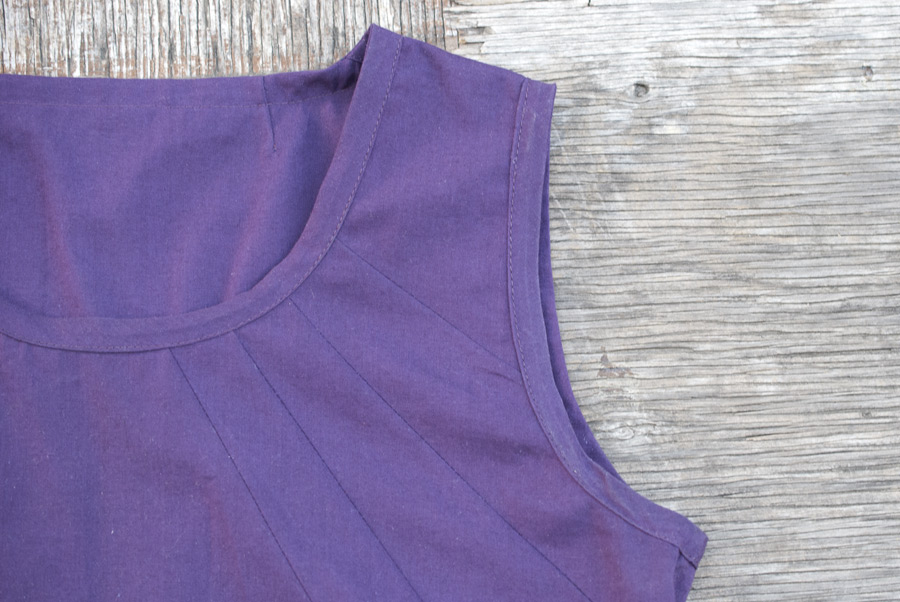 The plaid tank top has faux-French shoulder and side seams and a narrow double-folded hem (which is a bit of a mess on the inside). The neckline and armholes are faced with contrasting bright orange bias tape.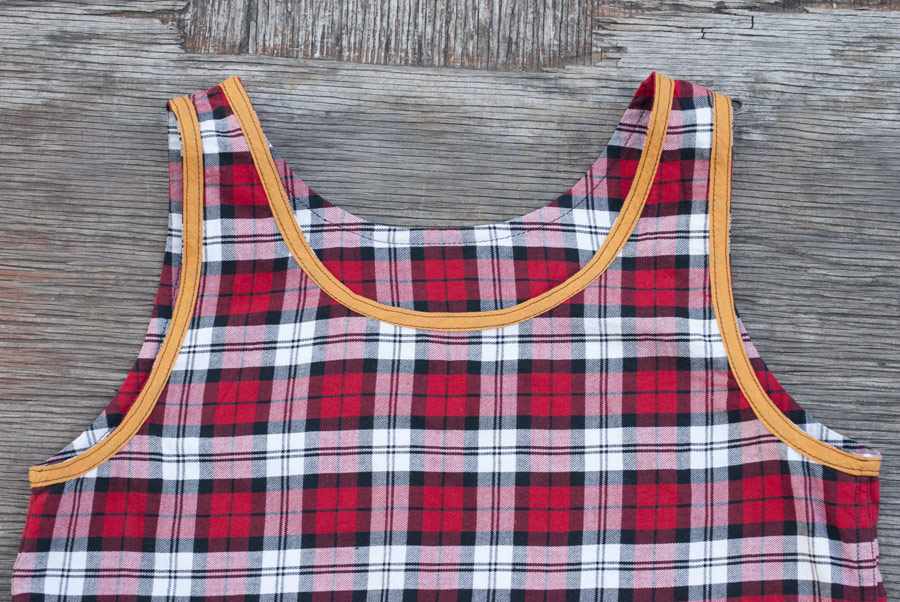 I left the seams of the stripey knit tank top raw and just turned the hem up once and top-stitched it (with a straight stitch, since the hem is wide enough that it doesn't need to stretch). I also just turned the neckline and armholes under and top-stitched them, which worked fine in the knit fabric.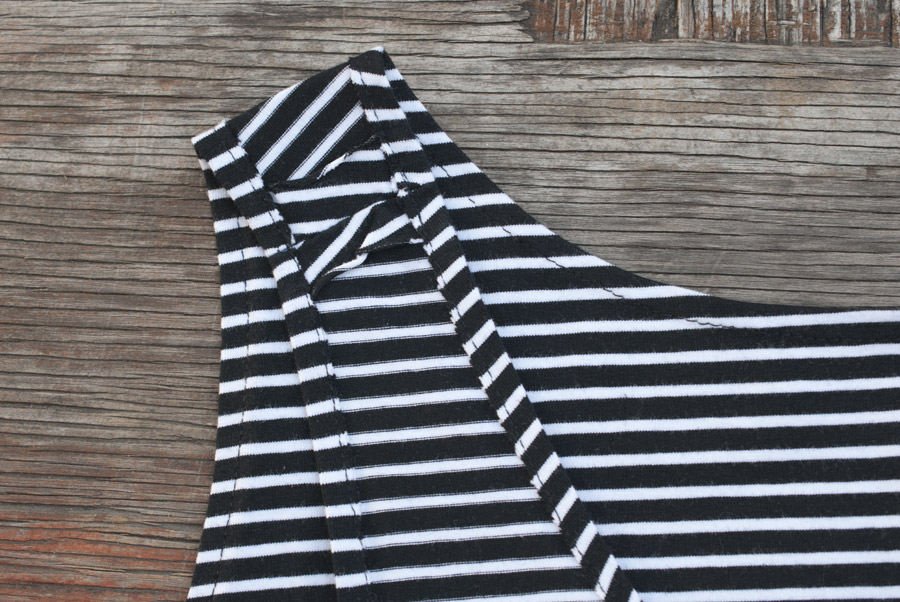 The dress has French side seams and a narrow double-folded hem again. For the neckline and armholes, I made an all-in-one facing, following this very helpful tutorial. I've pinked the edge of the facing and tacked it to the seam allowances at the side seams.
Detail photo of the pintucks on the purple tank top taken by my dad.