Yay! The Paprika Patterns Jasper has finally been released! It took Lisa a long time from the initial idea to the release, but I think that it was worth the wait. I was a tester for the pattern and this was one of my most pleasant pattern testing experiences so far. Lisa really took her testers' feedback seriously and she basically redrafted great parts of her pattern after seeing photos on several different bodies. She also didn't seem to be too annoyed with my terribly nitpicky comments, which was a relief.
I've printed out the final pattern and compared the pattern pieces to the original ones and there are quite a few significant differences, so take my photos and notes with a big grain of salt. I'm looking forward to making up another Jasper and comparing it to this one. I love the style of the pattern, it's one of the rare patterns where I like all variations and had trouble deciding which one to make first!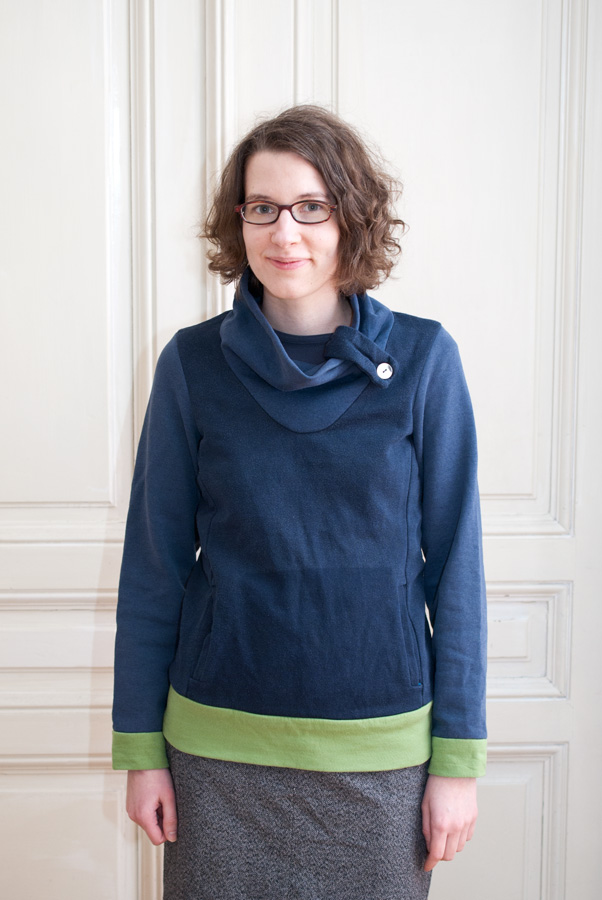 I'm currently playing around with finding a way to take decent photos inside when there is no natural light. I've borrowed a flash from my dad, but I don't really know how to control its settings yet. I'm not particularly happy with these photos, but I have decided that they'll have to do. I need to tone down the photo perfectionism a bit or I won't ever get anything posted again! I have quite a backlog already as it is.
Pattern
The pattern is a test version of the Paprika Patterns Jasper Sweater/Dress, in a size 1/2/3. I made the sweater length, but with the collar of the dress variation instead of the hood. This choice was dictated by the small amount of fabric I had to work with.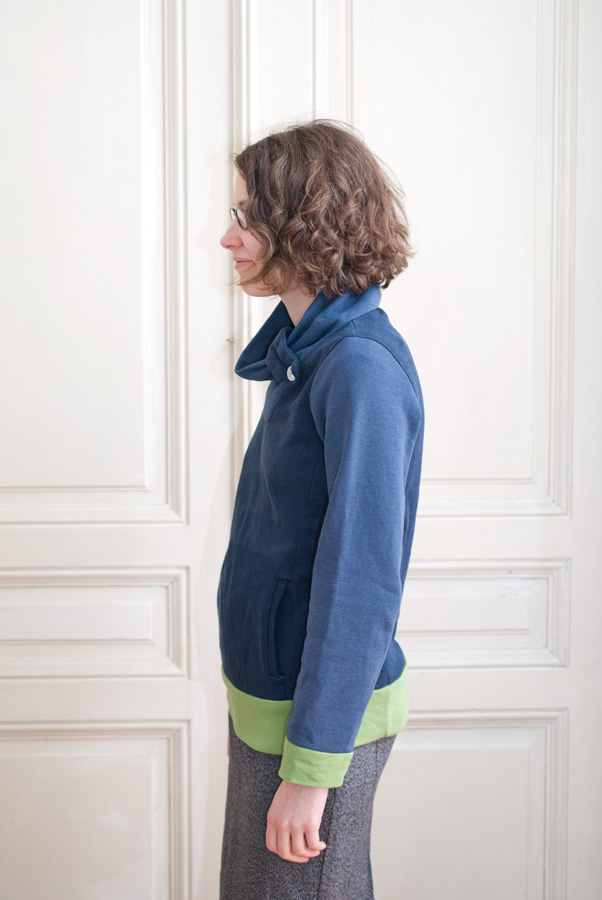 Supplies
The two blue fabrics are from two old sweaters that had been on my refashion pile for a long time. I'm delighted that I finally managed to use them for something!
The green fabric was left over from my second wearable toile for the Victory Patterns Lola. This is the original colour that I ended up disliking enough to dye the dress. I don't really like it with the blue fabrics, but as the sweaters weren't big enough to fit all of the pattern pieces on them, I had to use something else, and these were the only sweater knit scraps I had in my stash. The lack of fabric is also the reason for the crooked shadow of a front pocket on my front piece.
For two of the pocket pieces, I used cotton jersey scraps that were left over from my paint-splattered Burda T-shirt. (In the test version, there were two separate pockets made from two pocket pieces each. They have been changed to a fancier kind of kangaroo pocket in the final version.)
The button is a random button from my stash. It was the closest I had in size to the pattern's suggestion. I might replace it with a matching button at some point—but knowing myself, I probably won't.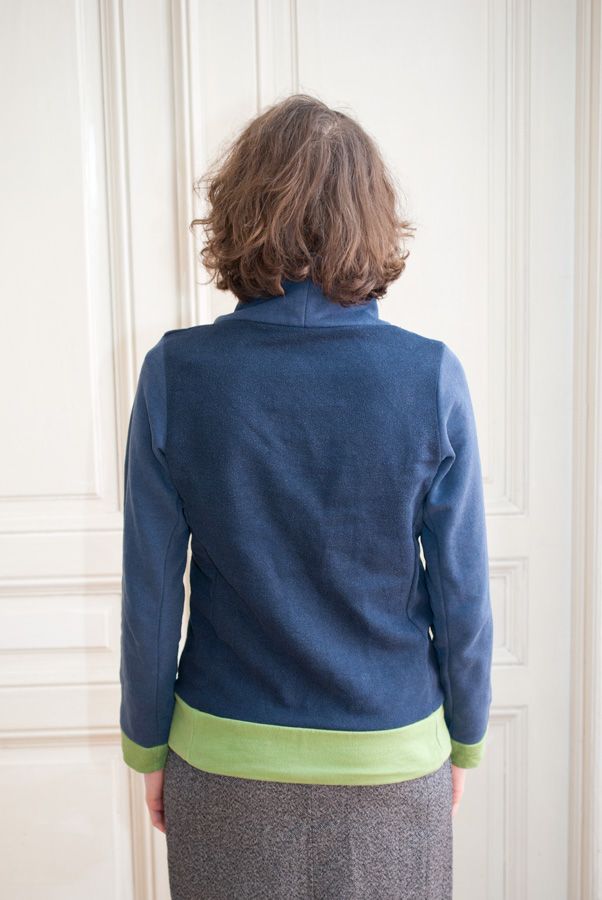 Adjustments
As mentioned above, I graded between three sizes. I started with a size 1 for the shoulders, bust, collar and sleeves and then graded to a size 2 for the waist and a size 3 at the hem.

I sewed the sleeves (and cuffs) with a smaller seam allowance, tapering to the original 1.5cm under the arm. The original sleeves felt a little tighter than I like in a fabric with very little stretch. This sounds odd to me now that I see the finished sweater, which seems to have rather wide sleeves. It was probably mostly the underarm area that needed it and I could have left the sleeve width alone. Oh well.
What I want to do differently next time
This is really hard to say, since I made this sweater from the test pattern and the final pattern is quite different. I'm noting down my issues here anyway, even if I will probably just start from scratch with the final pattern rather than tweaking this one.
The sleeves are too short. They look okay to me when I have my arms down, but when I bend them, e.g. when I work on my computer, the sleeves move up enough that my wrists are exposed—and I really don't like that when I'm cold! Lisa lengthened the sleeves for the smaller sizes in the final version, so this will hopefully not be an issue any more next time.

There is something wrong with the back neck, the collar and the neckline below the collar are forming odd wrinkles. Lisa changed the shape of the back neckline, so this might also be resolved by now.

I think that the shoulders are a tad narrower than they should be. They feel a tiny bit restrictive. Not unwearable by any means, but I would just like them to be a little wider. I think that I should just cut a size 2 for the shoulders/sleeves/collar/bust next time. I considered doing that this time, but I was afraid that there would be too much ease at the bust, which would highlight my small bust. Given that the size 1 looks quite fitted on me, I don't think that that would be an issue—but I don't know for sure, since Lisa also changed the bust shaping a bit, I think.

If I make the collared version again, I will either omit the epaulet and button or I will invisibly tack the epaulet to the collar. It seems to be too heavy and always slips down. (I could still do this on this version. So far I couldn't be bothered.)

I want several more versions of this pattern! I want to try the dress variation, and I also really want to try the hood, which was what drew me to the pattern in the first place. It has interesting, unusual seam lines and I want to see how it is constructed and how it fits.
Photos taken by my boyfriend—except for the back neck detail shot, which my dad took a few months ago (as you can tell by the much shorter hair).