Finished: Grainline Studio Portside Duffel Bag, Times Three
As I've mentioned before, I've made three duffel bags. I was initially only going to make one for my dad's birthday, but then I was feeling insecure and made a "toile" first, which turned out just fine. And when I was finished and my brother saw my "toile" and then my dad's bag, he also wanted one, so I offered to make him one for his birthday too.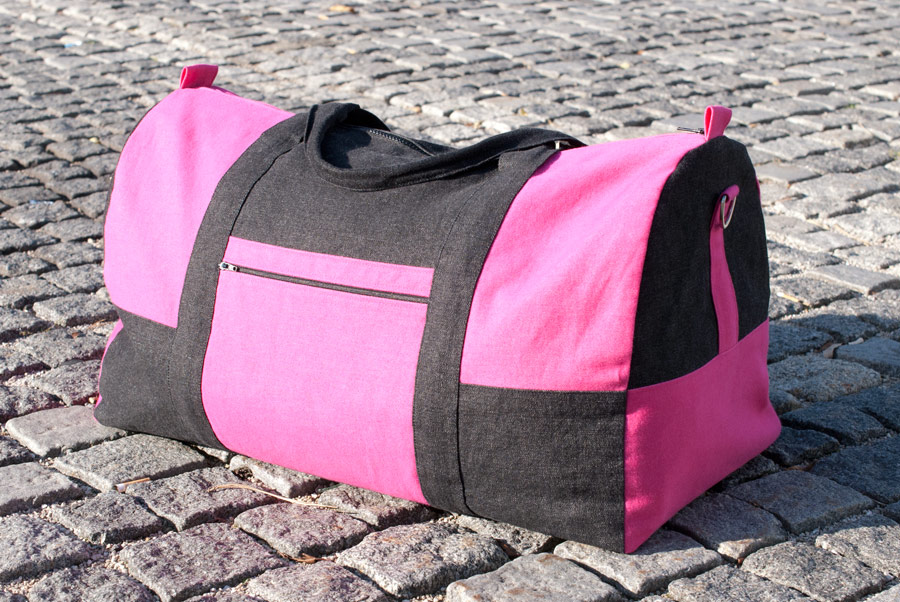 Pattern
The pattern is the duffel bag from the Grainline Studio Portside Travel Set. For my brother, I also made a matching dopp kit from the same pattern as a surprise.
Fabrics and Hardware
All of the lovely hardware is, as always, from the 3dpatternpaper Etsy Store. It's great quality at an affordable price and Dan is always very polite and helpful when I have any questions or special requests.
I underlined all of the bags using lightweight nylon fabrics from UK Fabrics Online. They're my go-to source for cheap, waterproof underlining fabrics for my bags. (I don't care about the colour of the nylon, I just get whatever they have when I need it because no-one will ever see it anyway once the bag is finished.)
The "toile", a.k.a. my fab new duffel bag
For my bag, I used my beloved striped IKEA SOFIA as the "main" fabric and red IKEA LENDA as the "contrast". I lined the bag with IKEA MINNA in dark grey. These were all left-over pieces from other projects. I also made fabric straps out of the SOFIA and LENDA fabrics rather than using webbing.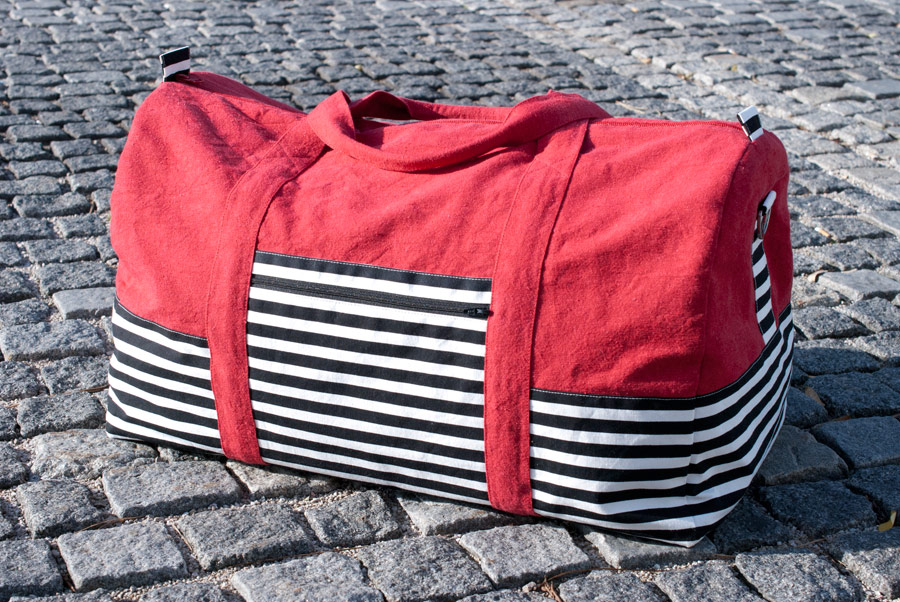 My dad's birthday bag
My dad's birthday bag was a surprise, so I couldn't ask him which fabrics or colours he would like. I decided to play it safe and make it black and orange, which I know is a colour combination he likes.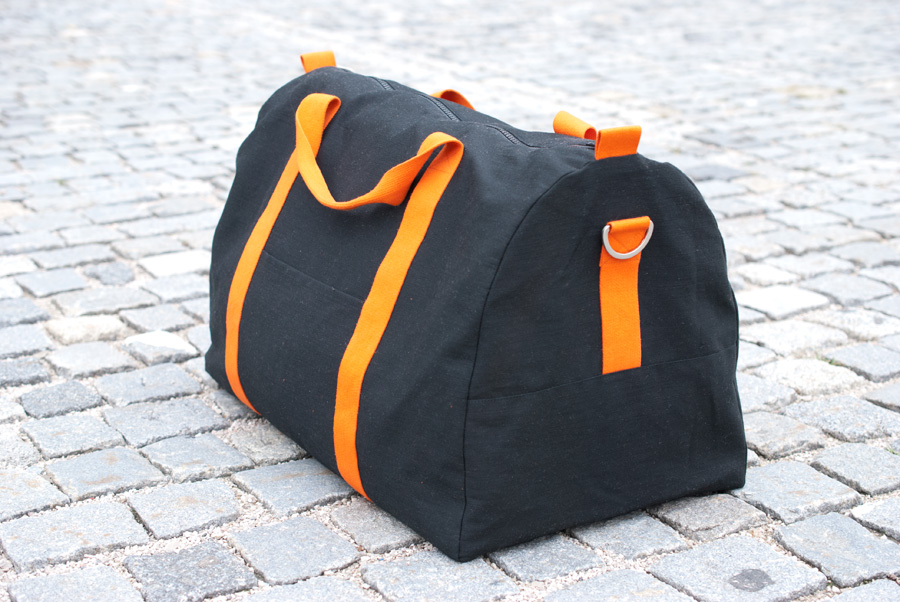 I ordered some lovely black twill with a stripey weave from Stone Fabrics. It's a little lighter-weight than I was hoping, but since I was underlining and lining the bag, I didn't worry too much about it, and it turned out fine.
I bought undyed cotton webbing at Dieroff that I dyed orange using Dylon fabric dye in Goldfish Orange. I used IKEA MINNA fabric for the lining again, this time in white, which I dyed together with the webbing for the straps. The colours didn't turn out exactly the same and the fabric got a bit of a splotchy effect for some reason, but it was good enough for the lining.
My brother's birthday duffel bag and dopp kit
Since my brother already knew what he would get, I took him to Komolka and let him choose the fabrics he wanted. He picked a black cotton denim and a hot pink cotton/poly blend stretch denim (the same fabric that I used for my Minoru jacket and my second Kelly skirt, only in a different colour). I made fabric straps for the duffel bag again because it would have been impossible to find matching hot pink webbing and I also lined both of my brother's bags in dark grey IKEA MINNA.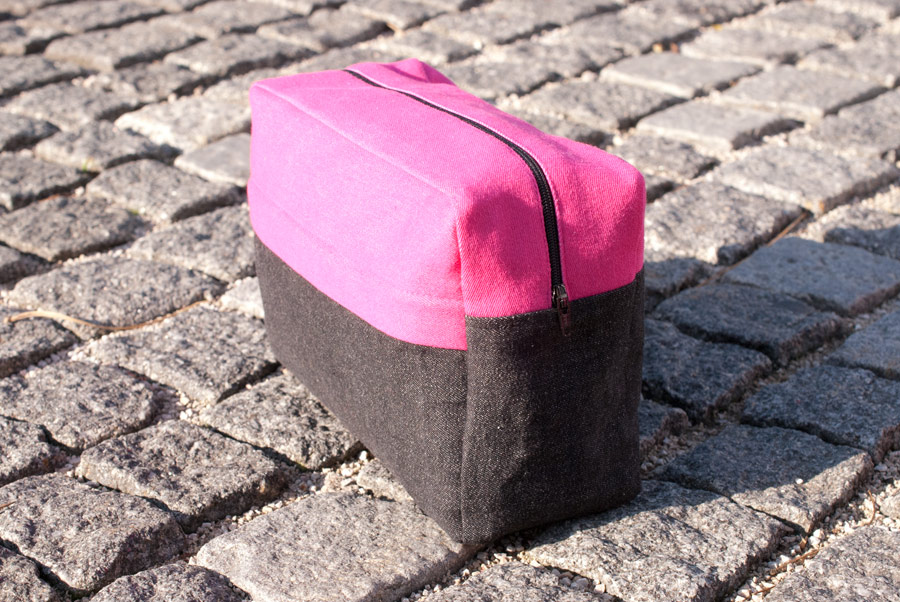 Adjustments
Duffel bags
I fixed the grainlines on the "end" pattern pieces (pieces 4, 5 and 8). For some reason, they are perpendicular to the grainlines on the other pattern pieces in the pattern—which doesn't work with pretty much any fabric you might want to make a bag out of. It's particularly bad with stripes, obviously, but if I'd followed the directions, all three of these bags would have looked wrong.

I converted one of the side pockets into a zip pocket. I just cut the included pocket piece for that, then cut the same pocket piece out of a lining fabric, and cut a piece of the main fabric that was the width of the pocket piece but only a few centimetres high. I sewed the small piece to the zip on one side, sandwiched the other side of the zip between the main and lining pieces, then top-stitched the top and bottom of the top piece to the bag. The edges of the pocket pieces are hidden under the straps just as they are for the basic pocket in the original pattern. On my bag, I camouflaged the zip pocket. My mum found this slightly amusing, but she said that she wouldn't have expected any less from me—which I think was supposed to be a compliment.

I added little "pull tabs" on both sides of the main zip. I just think those make it a lot easier to open and close a bag like this and I was a little surprised that Jen hadn't thought of including this detail. I basically followed the relevant parts of the "Ruffle Duffle Bag" tutorial at We All Sew.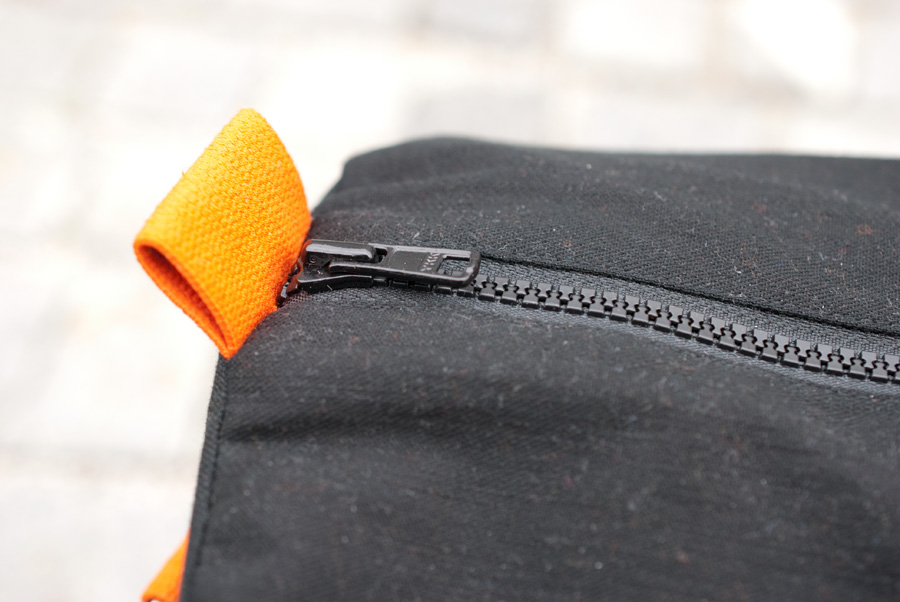 I changed the shoulder strap to use a rectangular slider instead of two D-rings. I couldn't wrap my head around Jen's D-ring construction method and I still had some matching sliders from my Cooper backpack, so I just adapted the Cooper instructions instead of trying to figure out the Portside ones.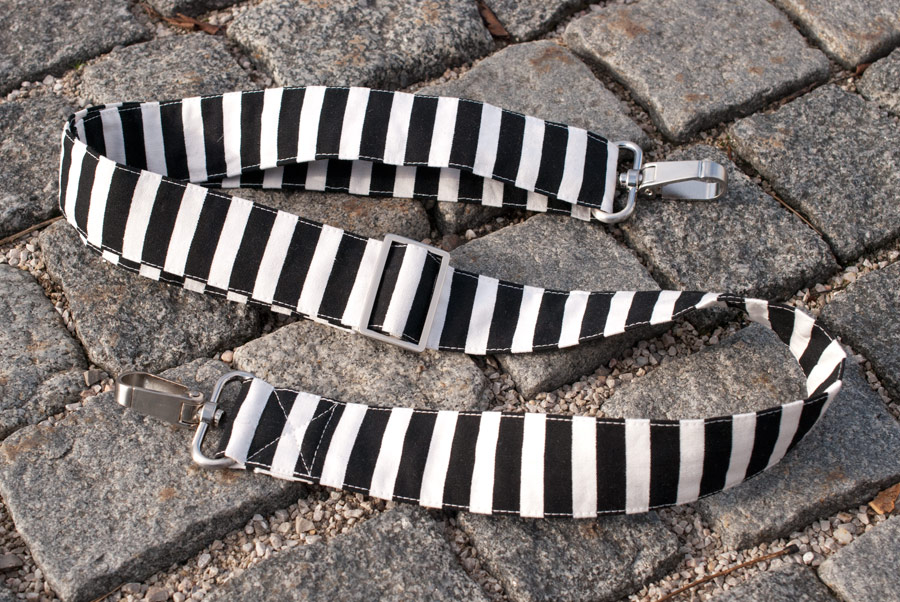 On my dad's bag, I eliminated the colour-blocking. I used the lining side pattern piece (piece 7) for the exterior sides. I did use the upper and lower end pieces (pieces 4 and 5) because I needed them for the D-ring strap pieces, but I cut them both out of the same fabric.

On my brother's bag, I added extra colour-blocking. I wouldn't have gone with this crazy checkerboard-ish design myself, but I asked my brother to colour in a line drawing of the bag and this is what he came up with. So I cut the upper side piece (piece 2) into three pieces between the strap placement marks, added seam allowances, cut four of the resulting side pieces and two centre pieces and sewed them together before assembling the bag as usual.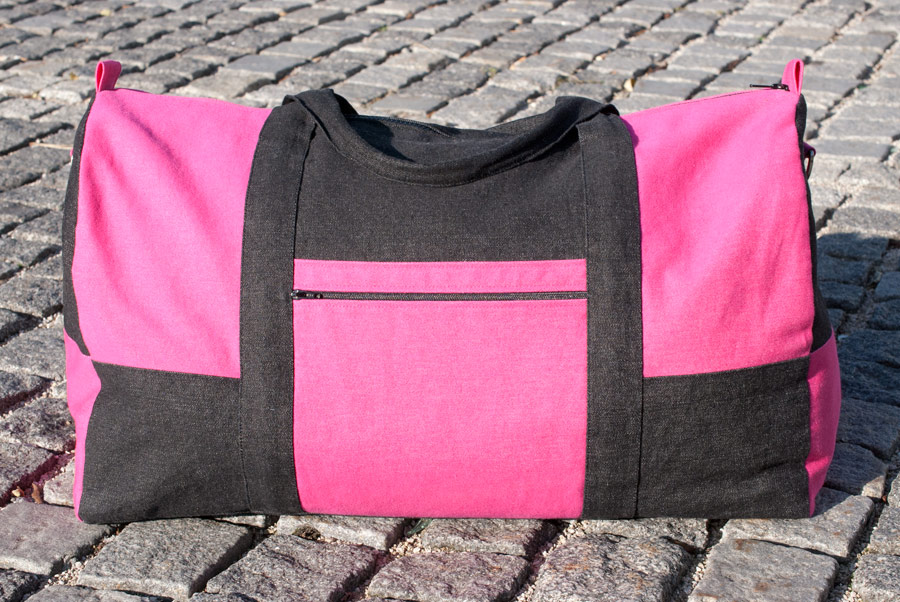 Dopp kit
I lined the exterior pocket. The original construction leaves an exposed edge inside and I didn't like that.

I left off the strap. This was an accident. I cut it and had it ready to add, but then misread the directions and only realised when the exterior bag was almost finished that I should've sandwiched the strap in between the layers when sewing the bag together (quite obviously, really)—and then I didn't feel like unpicking and redoing it.
What I struggled with
Duffel bags
Almost everything went really well even on my first try. (So no, I wouldn't have had to make a "toile", but of course I didn't know that before I tried, and I really wanted my dad's bag to look as neat as possible.)
The only step that I think is a real pain in the construction of this bag is attaching the bottom piece to the bag (and the same for the lining). On my first try, I had to play around a lot with that in order to get a semi-decent result, and most (all?) of the finished Portside Duffels I've seen don't have perfectly neat corners either. I found a way that worked a lot better for me than the one Jen describes in the instructions, but it's still not perfect. Just for reference, instead of sewing around the whole bottom piece and pivoting at the corners, I'm sewing the two long sides first and then the two short sides separately—which I find a lot easier to handle on my sewing machine.

I also struggled with sewing the shoulder straps. They are really bulky, particularly the two I made from fabric, and my sewing machine didn't like that at all. It was a pain to sew on the hardware and the result looks somewhat homemade rather than handmade. Hopefully, no-one will look at the straps too closely.
Dopp kit
I don't know what caused it, but there was something wrong with my pattern pieces for the dopp kit. They did not fit together and I had to cut some width/length off several pieces to make them match up. Either I was terribly inaccurate when cutting/sewing, which usually I am not, or on the version of the pattern that I have, the pattern pieces are wrong somehow. I managed to finish the bag by cutting some pieces down to make them fit, but I'm pretty sure the bag is not the intended size now, and it was a pain. Had this not been a gift and had I not been determined to make it work, I might have tossed the thing out halfway through the construction.
What I want to do differently next time
Now that I've made three of the duffel bags, I think that I have the construction and all of my desired extra features sorted out, and I would make the next bag exactly like the ones I've already made. Having said that, I really, really don't feel like making another duffel bag anytime soon! They're quite some work and my boyfriend is also getting tired of hearing me whine about them. Unfortunately, my sister is now terribly envious of my brother and insists that I have to make her a duffel bag too. Sigh. I told her that we could talk about that again closer to her next birthday.
As for the dopp kit, I don't think that I am going to make that again. I'm very slightly tempted to figure out what's wrong with the pattern pieces or what I did incorrectly, but … not tempted enough to actually do it, I don't think.