Here's another summer pattern that I finished months ago. (It was on the photos for my Day-to-Night Franken-Nettie, so it must've been done since mid-June.)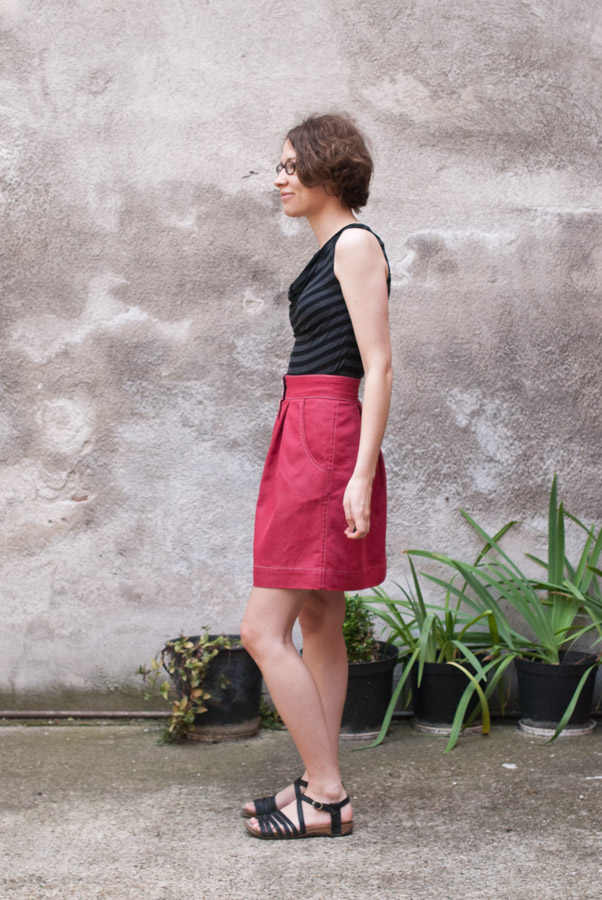 Pattern
The Megan Nielsen Kelly Skirt, in a size XS.
Fabrics & Notions
Less than a metre of red stretch denim, which was left over from my Minoru Jacket. That pattern really overestimated the amount of fabric needed and I could easily fit the Kelly onto the remaining piece.
For the inner waistband and the front pieces of the pocket bags, some plain black cotton. I would have preferred something with a cute pattern, or at least a white fabric, but I didn't have anything suitable and didn't want to buy anything for this project.
The buttons are from my mum's stash.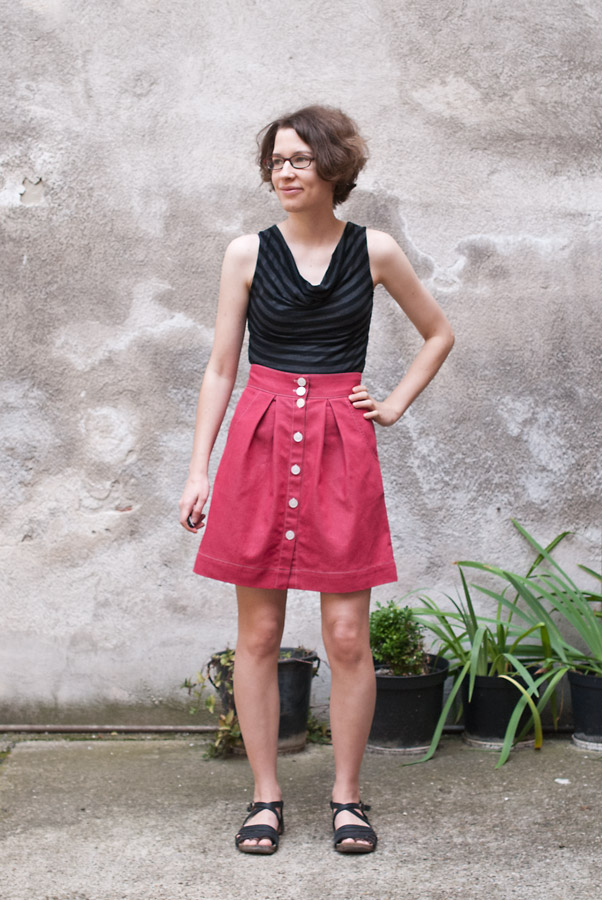 Adjustments
I added a centimetre of ease to the waistband and the back piece. My first Kelly fits, but is a little snug, and I thought it would be more comfortable if it were just a little looser. I think that the adjustment helped, but perhaps I could still use a little more room in the back.

I didn't cut the waistband as one piece, but as separate pieces for the outside and inside. That way, I could cut the inner waistband from a lighter-weight fabric in order to reduce some of the bulk in that area.

I repositioned the buttons slightly to fix the not-quite-flat-waistband issue. I got the idea from Abbey's version when I researched this after finishing my wearable toile. She put the third button right under the waistband and hers looked much better than most other versions I've seen, so I copied that idea.

I was thinking about flat-felling the side seams last time, but have since realised that that wouldn't be all that easy with the cut-out front pockets. So I flat-felled them from the inside instead. That way, the raw edges are still hidden and the seams should be quite sturdy. This didn't turn out as neatly as I had hoped because this fabric is a bitch to press and frays like crazy—but it looks okay from the outside and that will have to do.

I added quite some topstitching. In white. Because I could. I used white thread for the whole construction, in fact, including the buttonholes and buttons.

I French-seamed the pocket bags again, of course.
What I want to do differently next time
I wonder whether I could somehow fix up the back. The pleats never want to lie flat there and I feel like the effect is not very flattering on my shape. (It looks even worse in a partly-synthetic fabric like this one that doesn't press well.) Perhaps I should try to convert the pleats to darts and just keep the front pleats, which are mostly behaving themselves. (Also, I'm an idiot and I took only two photos of the back, both of which don't look great.)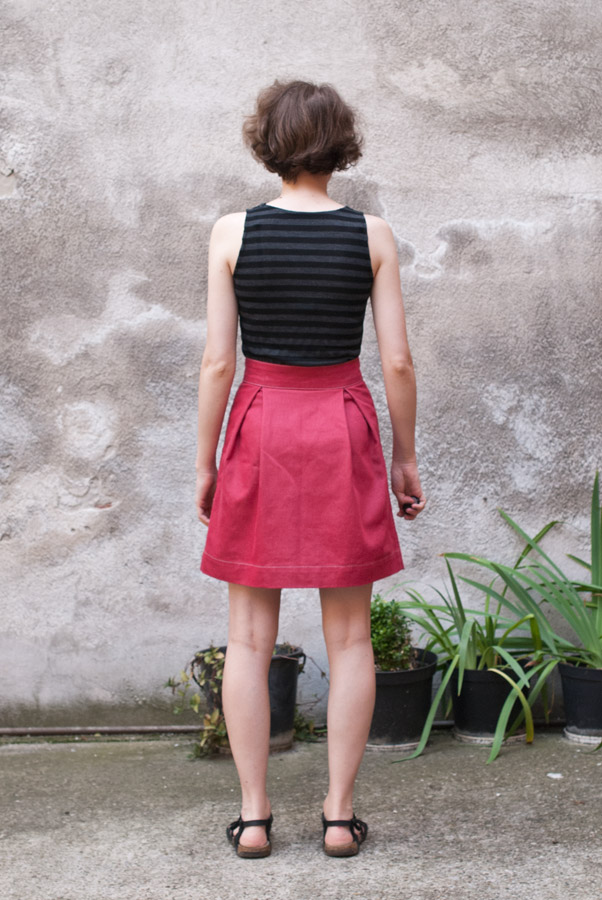 I still want to make a mini variation. I was going to make that next, in fact, but the fabric I chose for it needs matching at the seams, and I'll have to re-draft the skirt pieces in order to make this work. I know it's only rectangles, but I haven't felt like dealing with it yet.

I'd like to try a version with a separating zip instead of the button band.

Using a contrasting fabric for the pocket facings would be fun.