After finishing my first Nettie, I immediately wanted to make another—but not an ordinary, straight Nettie! This franken-pattern was actually what I wanted to do with the Nettie pattern right away, the instant I saw it. I just thought I'd rather make a version of the original pattern first, to work out how it's put together and all that, and then start to play with it.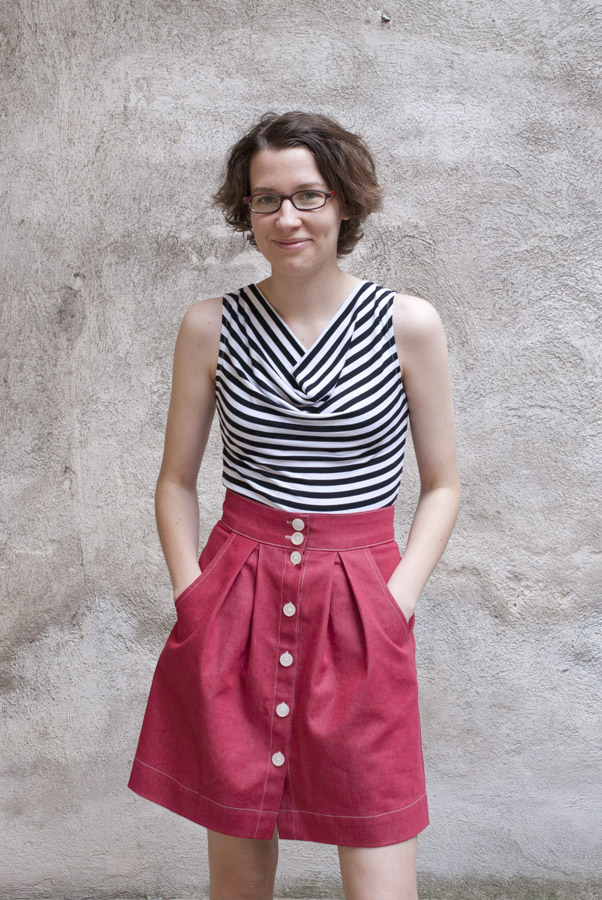 Patterns
The top part is the Maria Denmark Day-to-Night Drape Top, in a size XS. I really like my first version, so was going to make another if I found any suitable fabric—only now it's a bodysuit rather than a top. (:
The bottom part is, obviously, the Closet Case Nettie Bodysuit. Since there was some excess fabric in my first version, I cut the bottom part down to a size 6 this time, and it's still quite roomy.
The two patterns didn't fit together perfectly, but since I was going to work with a very stretchy knit, I thought that I should be able to make things work anyway. I basically just put the two patterns together around the waist somewhere and merged the lines as neatly as possible—and that worked out really well. I removed the seam allowance from the Nettie, since the Maria Denmark pattern comes without seam allowances and I actually prefer it that way. It's particularly helpful to have the seam lines on the fabric when you're trying to match stripes!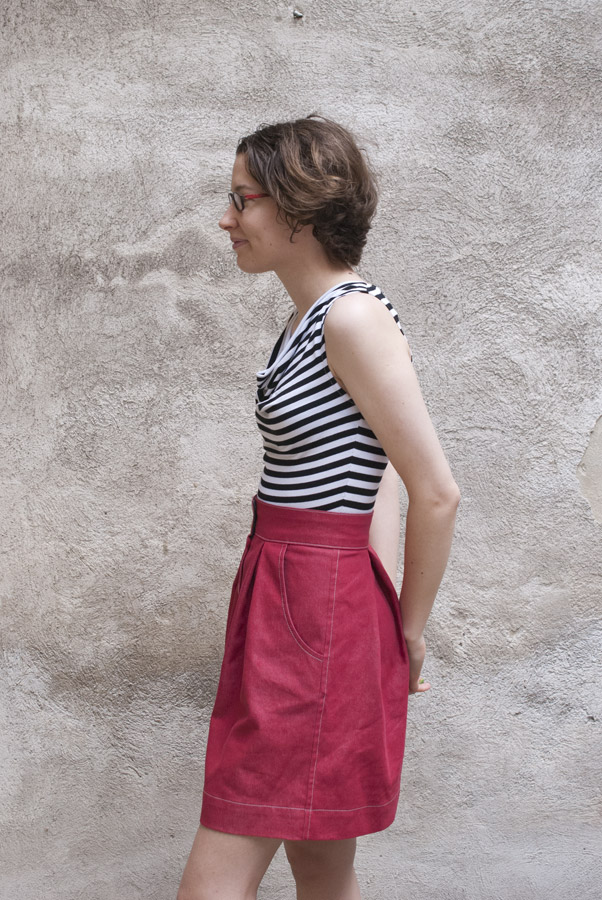 Fabrics
The main fabric is a drapey viscose knit (95% viscose, 5% elastane) from stoffe.de.
For the snap crotch lining, I used a scrap of teal shot cotton that was left over from the lining for my first Victoria Blazer.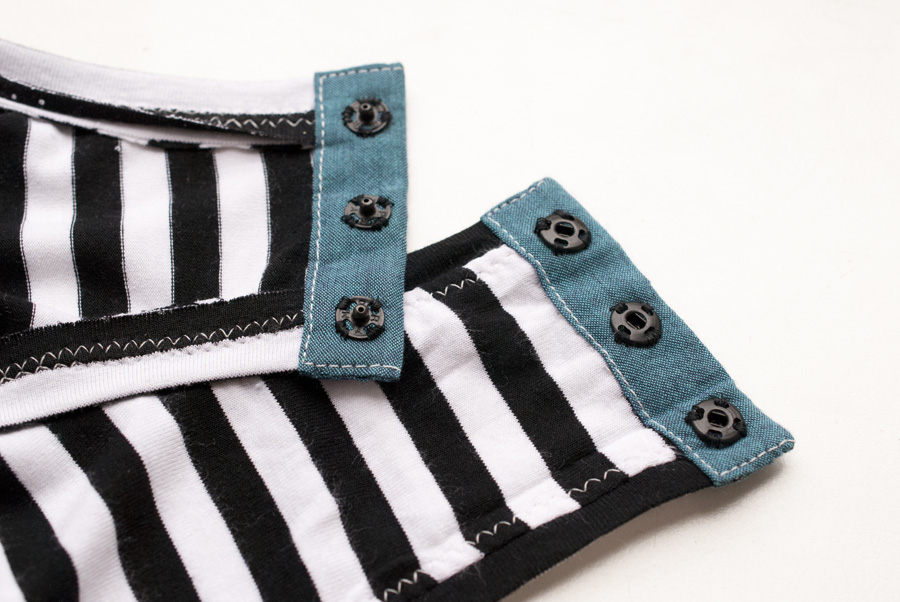 Adjustments
Other than merging the two patterns, I didn't really change anything relevant. I don't believe how well this bodysuit fits, actually! Nothing ever fits me right out of the envelope. But then this is a very stretchy knit, so a lot more forgiving than the things I usually attempt to make.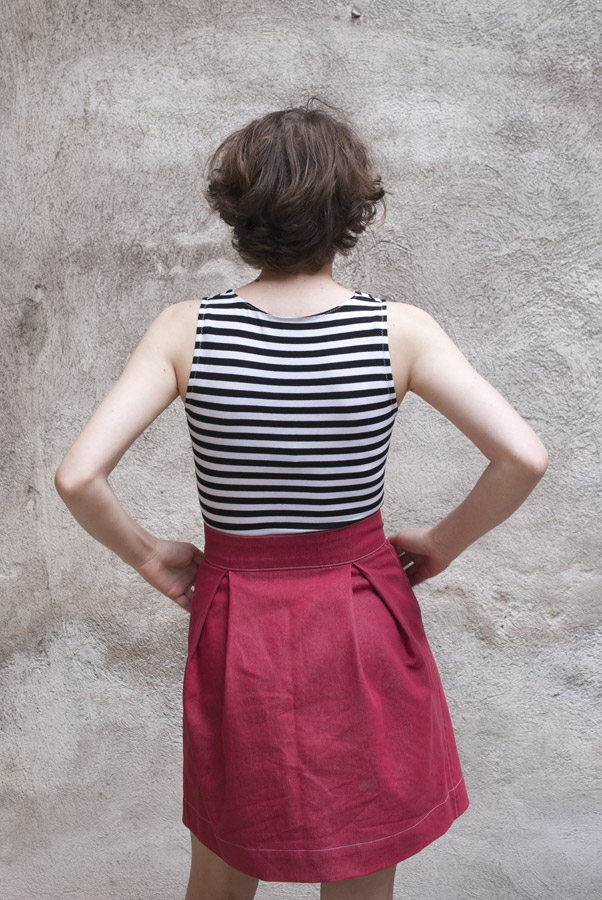 The only little thing I adjusted was the width of the crotch on the front and back pattern pieces. I made the two pieces a little wider at the bottom because for some reason, the lining piece didn't fit correctly on my first Nettie and I had to make it narrower than intended. I'm not sure why that is and whether it was my fault or the pattern's. I've written to the designer about it, but haven't heard back from her yet.
What I want to do differently next time
I'm quite happy with how this turned out, so I don't really want to change much!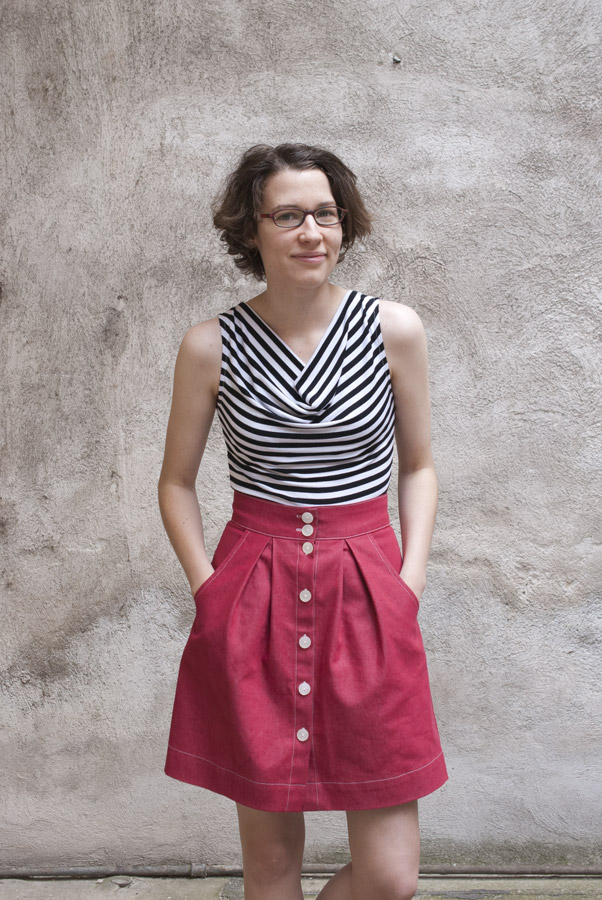 I might want to play with the fit of the bottom part of the Nettie a little more. It fits fine, but I think that it might still be a tad too long, so I could probably take a little length out of it.

I would have liked to add a shelf bra because I was afraid that this fabric would be too flimsy without it, but I wasn't sure how to do that with the drape on the front piece, and it has actually turned out fine. I might still play with pinning a piece of fabric to it to figure out how this might or might not work, but it isn't really necessary for this version.
Photos taken by my boyfriend.